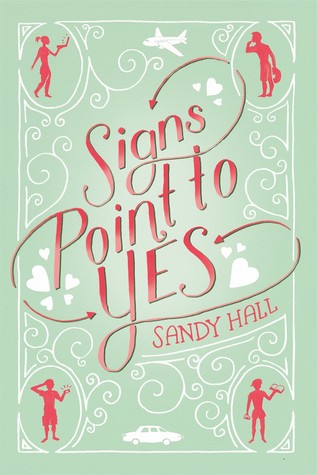 Signs Point to Yes,
by
Sandy Hall
Publication:
October 20, 2015, by Swoon Reads
Genre:
Young Adult Fiction, Contemporary, Romance
Pages:
288
Format:
Paperback
Source:
Borrowed
Rating:
½
If only Jane's Magic 8 Ball could tell her how to get through the summer. With her "perfect" sister, Margo, home for her "perfect" internship, Jane is not going to be able to spend the summer writing fan fiction, as she had planned. And her emergency babysitting job requires Jane to spend the whole summer in awkward proximity to her new crush, Teo, a nerdy-hot lifeguard with problems of his own. With his best friend out of town, Teo finds himself without anyone to confide in…except Jane. Will Jane and Teo be able to salvage each other's summer? Even the Magic 8 Ball doesn't have an answer…but signs point to yes.
My Thoughts:
Signs Point to Yes is like a batch of pink, fluffy cotton candy. Sometimes it only works to compare books to food, haha. This is such a fluffy, adorable story by Sandy Hall, an author who I really look up to, because she writes so magnificently, and with a concept that is easy to think of, she just mastered this grand story. This is even better than A Little Something Different, her first novel that was written in many perspectives—even that of a squirrel. Believe it. If you have never heard of Sandy Hall and her books, what are you doing here reading this review? Go out and purchase her beautiful stories, because when I read this one especially, I felt that love exists, even with teenagers. I read this in a jiffy (literally)—I read it in a sitting because I was too obsessed with it and after reading some hardcore HUGE books (some were even disappointing), I needed a quick read that carried fluff, instead of science-fiction that I have to deal with frequently. This is the perfect read for anyone at any time of the year. Agh.
I LOVED THE CONCEPT OF A MAGIC 8 BALL. Romance can be romance, love can be love and fluff, but adding some extra thing in is literally the best. Jane, our heroine, spends a big chunk of the novel wondering about her future and how things will end up to be, and for starters, she uses her Magic 8 ball to make these decisions initially. Afterwards, once her connection with Teo blooms and they start having feelings for each other (it's a no-brainer!), she realizes that she doesn't need the Magic 8 ball anymore and that she should just let life flow like water. That's inspiring and adorable. I LOVE WHEN BOOKS HAVE SPECIAL MESSAGES LIKE THAT. There are honestly some contemporaries in the world that are just so cheesy and the author spends the three hundred or so pages writing about making out. I swear, I have seen that before. This? Never. There is also a huge focus on superstitions and fear—Jane has a fear of thunderstorms, which I could really relate to because I'm downright terrified of them. FOR ONCE. FOR ONCE I CAN RELATE TO A CHARACTER IN TERMS OF FEAR.
I was afraid to read this one because I didn't want this to be a love-fest that is so cheesy that my throat will hurt as if I ate ten chocolate bars. I read many negative reviews prior to, and I was a little more scared than I should have been. Sandy Hall, you wrote this magnificently. I loved the simplistic writing, the fact that this takes place during the summer (which it is here in Canada) and how there wasn't insta-love. I swear, if there was an instant romance between Teo and Jane, I would've thrown this book out of the window. They have known each other since they were kids, which I always love to read about since the guys I was friends with when I was young go to a different school than me currently. THANK GOODNESS.
There is a big influence on perfection throughout Signs Point to Yes. For once, we have a protagonist who is in no ways perfect. Jane struggles with the subject of stupidity and perfection so much that I just felt so bad for her. She has to live with her "perfect" older sister, Margo, who actually has some secrets of her own that could change how other people look at her. Jane feels stupid and that she has no potential, no reason to go to college because she feels that she'll end up achieving straight C's. Even Teo's as*hole friend, Ravi (who I HATED), thought she was stupid and basically said it to her face. But Jane was like so many other characters I have read about: she was so intelligent and I admired the decisions that she made. Although I am not planning on doing the same things that she wants to do in terms of college and her future, it's a change from your ordinary perfect Harvard/Brown protagonist who still gets into so much trouble and is a character who is never doing schoolwork in the actual novel. Those books are seriously unrealistic, while this one absolutely is.
I began enjoying it from the first page where Jane speaks of being antisocial over the summer. This is such a hilarious, realistic story that could honestly happen to anyone. Honestly, I'm thinking of seeking a babysitting job so I could find someone like Teo along the way, because hot damn, HE'S HOT. I loved Teo and his sweet, playful personality and aw. He has my heart. I say that with every male character I meet in books, but this is serious. JANE AND TEO ARE ADORABLE. I loved their shy personalities and how those two personalities mingled. They are legitimately perfect for each other. *heart skips a beat*
What made me not want to give this a perfect 5 star rating was Jane's (dumb) incident having to do with Teo's father. I would have never done what she did in this situation: snooped around in Teo's home, discovered that he was looking for his father, found his birth certificate, found his father's name, and tried to find him. I would've never done that. I was frustrated for about twenty pages, including during the fight that she and Teo had when she revealed all that she discovered to him. OF COURSE HE SHOULD BE UPSET, YOU WEIRDO. Hah, but I got over it. That was just a minor plot detail that could have been presented differently, in my opinion. I really did admire the whole theme of discovery, though. Teo seeking his father is something that is rarely written about in YA (or in books at all), and it gives us readers a first look at how life can be when you don't know anything about your family.
We also see a SISTERLY RELATIONSHIP between Margo and Jane. AW. They eventually head on a road trip together (alongside Ravi, ew) and they are goals. I always admire sibling/parent relationships in books, and this was just another great one. Yay for diversity of Teo (Spanish) and Ravi (Sri Lankan) as well as the fact that JANE WRITES FANFICTION. Okay, so I'm not a fan of Doctor Who, but it was a great addition for the crazy fangirl audience we reviewers are these days. Yay for that, and yay for the whole book!
This is just a book for a teenager, you know? I sought that, and that's what I ended up getting. It's fluffy, cute, has a swoon-worthy romance (perfect since the publisher is Swoon Reads) and will make your heart flutter because it's so addicting, raw and real. It's more than just the relationship between Teo and Jane—it has so many messages that it would take me a year to explain.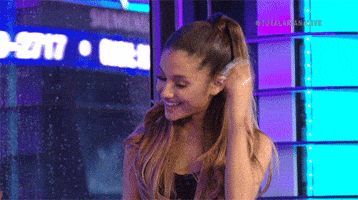 Signs Point to Yes is perhaps one of the brightest, best contemporary-romance/chick-lit novels I have read this year. It's not for everyone, but if you were/are in the depressed sci-fi mood as I was before reading, this will be the uttermost perfect read for you. Now, if you excuse me, I'll be jetting off to find my own Teo and swoon over him. At least, I'll be doing that in my dreams. Currently, I'll be binge-reading Sandy Hall's next book, arriving in bookstores in August, Been Here All Along. Woo!
What is the best contemporary-romance book you read this year? What do you seek when reading chick-lit?