The Possibility of Somewhere,
by
Julia Day
Publication:
September 6, 2016, by St. Martin's Griffin
Genre:
Young Adult Fiction, Contemporary, Romance
Pages:
320
Format:
ARC
Source:
Author
Rating:
½
Together is somewhere they long to be.
Ash Gupta has a life full of possibility. His senior year is going exactly as he's always wanted-- he's admired by his peers, enjoying his classes and getting the kind of grades that his wealthy, immigrant parents expect. There's only one obstacle in Ash's path: Eden Moore—the senior most likely to become class valedictorian. How could this unpopular, sharp-tongued girl from the wrong side of the tracks stand in his way?
All Eden's ever wanted was a way out. Her perfect GPA should be enough to guarantee her a free ride to college -- and an exit from her trailer-park existence for good. The last thing she needs is a bitter rivalry with Ash, who wants a prized scholarship for his own selfish reasons. Or so she thinks. . . When Eden ends up working with Ash on a class project, she discovers that the two have more in common than either of them could have imagined. They're both in pursuit of a dream -- one that feels within reach thanks to their new connection. But what does the future hold for two passionate souls from totally different worlds?
My Thoughts:
Are you dedicated? Do you have your future set up before you? Do you love diversity? What about romance? What about family issues? Julia Day has just delivered all of those things, including the best protagonist possible in a contemporary-romance novel, diversity, using Indian characters, and a new atmosphere for readers, since The Possibility of Somewhere stems from the perspective of Eden, a girl who lives in a trailer park, who doesn't have a mother but a stepmother, and who doesn't know if she will be accepted to head to the university of her dreams, University of North Carolina, Chapel Hill. I found myself absolutely relating to some of Eden's struggles, and I found that this novel was a book specifically created for teenagers like myself, teenagers who would call themselves overachievers, teenagers who enjoy reading about a variety of topics that many authors shy away from, including diversity in a contemporary-romance. I haven't seen that for a long time, and when Julia Day first announced Ash's character to be Indian, I cheered. I was so interested in reading about his family and their customs.
The Possibility of Somewhere lacked a few things here and there, but I am still struggling to comprehend what exactly was missing. That's why I decided to rate this four point five stars out of five complete stars. Everything, practically, was perfection. I was so excited to win an advanced reader copy of this, became more excited when it arrived in the mail, and now am the most happy that a person could be. After reading many meh-feeling books, this brightened my day(s) completely. I felt like I needed to run off and find myself a beau like Ash, someone who is similar to myself, and talk about our struggles. Occasionally, without it sounding absurd or creepy in any manner, I felt like Eden related to me perfectly and that she was speaking my voice and all of that yadda yadda yadda. Julia, thank you for creating a character who is unafraid to show that she's curious and intelligent. Agh, I WANT TO READ THIS AGAIN AND AGAIN.
This is about a competitive romance, *twiddles eyebrows* specifically the romance of Ash and Eden, although it seems that they totally hate each other at first. YAY, NO INSTALOVE. Ash is set to go to Stanford, where he feels that his whole life is set out in front of him by his parents. They don't want him to go to Stanford, they would rather see him on the East Coast. Eden, on the other hand, is laying out her future by herself, with no help from her father and stepfather. She is set to become her class's valedictorian and with her perfect GPA, she feels that she is able to leave her hometown and trailer that she lives in soon. They have a mutual hate relationship at first, both competing for the same thing constantly, being put in groups together, and later finding out that they're fighting for the same scholarship.
BUT THEN THERE'S A ROMANCE. An unexpected romance for sure, if one hasn't read the synopsis prior to reading. I seriously adored Ash and Eden together. THEY'RE THE NUMBER ONE BEST COUPLE. People say that opposites attract, but after reading this, I found that people sharing the same interests are even more likely to find some greater connection between themselves. They were together through the good and bad and all of that stuff. More than anything, I just wanted them to stay together throughout everything, even when it seemed that they were close to splitting because of some differences. I seriously had tears towards the end, because I just felt what the author was writing—about the romance, themes, everything.
Since Eden is the narrator of this whole gorgeous story, we have to deal with her family more than Ash's, though we do get a few sneak peeks of his, too. I felt so bad for Eden—you cannot understand. Her father is a racist, bad-mouth, who acts like he's drunk all of the time (although I'm sure that he wasn't intended to be), bad-mouthing Eden and never supporting her with anything that she achieves or wants to do in the future. He thinks that her passion for teaching children with special needs is useless, and would rather have Eden still living at home. HOW? I still don't know. I ached for Eden at these moments where her past before her stepmother came around, and it just hurt when she had no one by her side.
HIGH-FIVE FOR CHARACTER DEVELOPMENT. We get to initially know Eden as a "mean-sounding" girl who doesn't have any friends. She eats lunch by herself, but is super involved with everything she does. She's smart, has a perfect GPA, works in the computer lab, and babysits two adorable children who I wish I would get to know. She does have these personal inner demons that she doesn't really want to admit to, but once she meets the new girl in school, Mundy, they grow a bond that Eden would do anything to keep. Eden grows so much more confident with herself and mentality—she begins wearing clothing that shows more of herself and begins acting like the person that she wants to act like.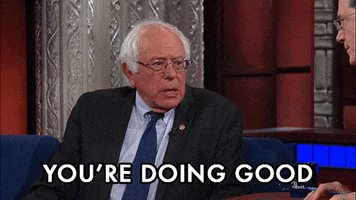 I FREAKED OUT ABOUT THE ENDING/AIRPORT SCENE. I couldn't stop going crazy. If you would like to see a Nicholas Sparks approved ending, you have to read this. I would have to call that the most addicting, impressive part of the whole novel because I just needed some things to work and to be beautiful and wonderful. I won't spoil what actually happened, but let me tell you: I was pretty impressed/ecstatic. But I must say, this is a novel I just couldn't put down. Lately, I have been able to leave a book for a few hours, but with Day's debut in YA, I just felt that I needed to have it in my greedy hands 24/7.
The Possibility of Somewhere has a stunning cover that makes me want to run to the bookstore right now and grab a finished copy, and I just cannot stop fangirling over the romance and characters. Julia Day has just created the most lovely mixture of a novel. It seemed so perfect as if it were a recipe. Now, since I would like to write a novel one day, please: let me know what this recipe is and if it is easy to prepare.
*A review copy was provided by the author in exchange for a honest review. Thank you so much!*
What is a book with a HUGE character development for the protagonist? What are some newer books that have diversity in them?