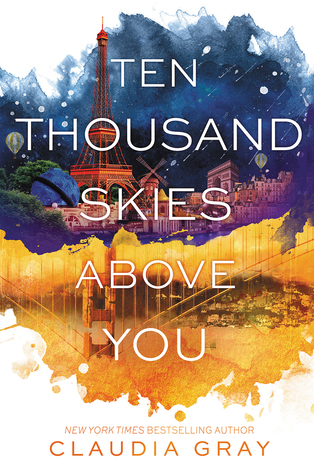 Ten Thousand Skies Above You (Firebird #2),
by
Claudia Gray
Publication:
November 3, 2015, by HarperTeen
Genre:
Young Adult Fiction, Science-Fiction, Romance
Pages:
424
Format:
Paperback
Source:
Purchased
Rating:
Ever since she used the Firebird, her parents' invention, to cross into alternate dimensions, Marguerite has caught the attention of enemies who will do anything to force her into helping them dominate the multiverse—even hurting the people she loves. She resists until her boyfriend, Paul, is attacked and his consciousness scattered across multiple dimensions.
Marguerite has no choice but to search for each splinter of Paul's soul. The hunt sends her racing through a war-torn San Francisco, the criminal underworld of New York City, and a glittering Paris where another Marguerite hides a shocking secret. Each world brings Marguerite one step closer to rescuing Paul. But with each trial she faces, she begins to question the destiny she thought they shared.
The second book in the Firebird trilogy, Ten Thousand Skies Above You features Claudia Gray's lush, romantic language and smart, exciting action, and will have readers clamoring for the next book.
My Thoughts:
The utterly stunning (more stunning than all of the books that currently exist, to be honest) Ten Thousand Skies Above You has been awaited by me for ages. AGES. I read the first book in the Firebird trilogy, A Thousand Pieces of You, last year, and was more satisfied than I could have ever imagined because, finally, a book has mastered the concept of time-traveling and parallel universes so well that I was unable to think or really want to enjoy a book for a while after that. I purchased this sequel a few months ago, didn't think much of it, but I have only realized that at this moment, I feared second-book syndrome. I feared disappointment, confusion with the plot (because I actually read this more than a year ago) and most of all, I feared a let-down in terms of my favourite couples not being able to be together. Listen: I love my feels going out of control, but I strongly didn't want to cry or rage at Claudia Gray's newest masterpiece.
The Firebird trilogy is one of my most recommended trilogies. Every person, even if they are not a fan of science-fiction, would adore the focus on love in this trilogy. The story is not just a story or just a book—to me, it just means so much that this is not just about the science-fiction aspects, the physics of time-traveling and multiverses. This is surely a continuation to the first book, and I thank the BOOK LORDS FOR NOT CONFUSING ME WITH WHAT HAPPENED. Honestly, I would have loved to reread the first book and re-feel everything once more, but I have no time to do that. Thankfully, Gray just retold the ending of the first book to us in the beginning of this, and I suddenly remembered what happened again and how much I needed this sequel. And from there? Everything just began again.
There wasn't a moment in this story where I wanted to stop reading, take a look at my phone, go on Goodreads, read some reviews, write some reviews, or even take a breath. It's amazing and so much is happening every moment and every page of the story. I couldn't stop going crazy and obsessing over everything that was happening. The plot was fast-paced, and things got into the real very quickly. I was in legitimate shock at every corner, and especially during THAT ENDING WHERE I JUST NEEDED SO MUCH MORE, ENDLESS AMOUNT OF PAGES TO CONTINUE THEO/PAUL/MARGUERITE'S STORY. I was absolutely addicted to it all and I feel this absolute need for the sequel at this absolute instant.
At the start of the story, things seem well again, especially with Theo and Marguerite's relationship after everything that happened to the Caine family. All of the sudden, Theo gets sick after taking too much Nightthief (the addictive drug for travellers), Marguerite wants to meet with Wyatt, wherever he is, to find a cure for Theo, since she knows that doctors wouldn't have any cure whatsoever. When it seems that she has everything under control, Paul's soul is splintered, and split into four pieces that Marguerite must seek in different universes.
"I've come to believe that there really is something that flows through every version of us, one common identity that outweighs our different situations in the various worlds" (35).
Can we just chat about how smart, how intelligent, how powerful this sequel is, equal to the first novel? I rarely call books smart, because there has to be a true reason for it, whether it's terminology, explanations, equations—anything in that matter. Ten Thousand Skies Above You, like its previous novel, is all of that. There is so much thought put into the story by Gray, so much energy flowing through it that I just want to get up and create my own Firebird, travel to a different universe where Marguerite, Paul and Theo all exist and talk physics with them. Claudia Gray is the best author genius in the entire universe. This trilogy is why I enjoy science-fiction and seeking different books that are not your typical story about different societies or fighting until death. (You certainly know which books I am talking about). Instead, this is a book that takes readers to different settings, perhaps settings that they have never visited, but have heard tons about, all mixed with the mystery of "Where's Paul?" or "What is Marguerite's life like in this universe?" all throughout. The questions seriously never ended in my end, but they were not out of confusion, but out of curiosity, and some were answered, some I know will be answered in the last novel.
I still am in utter shock that these beautiful characters will be leaving us in the next book. I AM GOING TO THROW THAT IDEA OUT OF MY HEAD NOW OR ELSE I'LL GET SAD. This is such a complex, event-crazed story that I felt so overwhelmed after I finished reading. I began reading this late at night, had to stop at around sixty pages, and then finished it in a sitting the next day, today. Afterwards, my head was pounding, but sometimes these side effects do not matter at all to me. Especially when the book that effected me so much was astonishing.
I love rating books five stars, and this is one of the most stellar ones yet. I needed a refreshing read that will make me smile, because this certainly turned out fabulous. How is someone able to rate this less than five stars? *cries of shock* I wish I could reread it over and over again and go crazy and create an Instagram page and promote it fifty million times and... my dreams won't come true, hah. My dreams did come true when we travelled to San Francisco yet again (though in a dystopian setting, I'm pretty sure), Paris, New York City and Russia once more. Every step or universe that Marguerite took into consideration, she experienced something new and a thousand new secrets were revealed to her, things that she didn't even know about herself in her reality universe.
"Ten thousand skies, and a million worlds, and it still wouldn't be enough for me to share with you. Nothing less than forever will do" (421).
I've saved this bit to chat about the romance. Is there a love triangle? Kind of. I mean, we definitely did see it in the first novel, where Marguerite was torn between Theo and Paul for the whole novel, until she realizes who she really loves, but this book was a slight bit more complicated, only for the reason that Marguerite is eventually found in a situation where she is in a setting where she is in love with Theo, hilariously. They even travel to this world (the war-torn San Francisco) and end up in the weirdest situation when they get there. It was hilariously awkward, and it made the book ten times more entertaining, proving that even book fictional characters don't have it perfect from time to time. I DON'T KNOW WHOSE SIDE I AM REALLY ON AT THE MOMENT. My feelings are still all over the place because I ship Tharguerite and I also ship Parguerite. I CAN'T PICK. We see a lot of Theo in this one, since he is Marguerite's travelling companion, doing so much for her and showing her that he will always be there, waiting for Marguerite if things don't end up well behind her and Paul. But there's also the dedication that Marguerite has for her and Paul's relationship, and how she is willing to do just about anything to save him. It is truly obvious that he loves her with all of his heart, and I loved their intimate moments.
As usual, we are fortunate to be able to get appearances of Marguerite's parents and Josie. I love Marguerite's relationship with her family—it's truly important for the reason that she is making all of these sacrifices, going travelling and finding out answers for them. She loves her "parents," even in the other universes where they truly aren't... themselves. I could definitely admit that more than a few tears sprawled on my face from time to time, and I was strongly awaiting a reunion for the Caines.
THAT CLIFFHANGER, PLOT TWIST AND SECRET THAT IS REVEALED ABOUT EVERYTHING THAT MARGUERITE HAS EVER KNOWN. WOW. HOLY MOLY FIREBIRDS. I don't know how I could wait any longer. Seriously, if you thought the last book was full of twists and jaw-dropping turns, wait for this one. Everything that you thought you knew about the anatomy of the world(s) that Claudia Gray created is absolutely inauthentic. Fake. Lied about. My stomach weirdly churns when I think about it all over again.
Ten Thousand Skies Above You is certainly the best title I have read this year. I constantly say that when I read five-star reads, but this is pure seriousness. Marguerite, Theo and Paul are going to sit with me in my dreams tonight, I know it. I NEED BOOK THREE WITH ALL MY MIGHT, AND I JUST CANNOT STOP GOING CRAZY OVER THIS. The cover is completely gorgeous, just as the novel is (which is even more prettier). From the first page, I knew that I wouldn't be disappointed, and I am still struggling with the fact that I waited this long to finally pick it up. This book deserves ten thousand stars.
What is the best sequel you have read? Do you enjoy Claudia Gray/Amy Vincent's work?