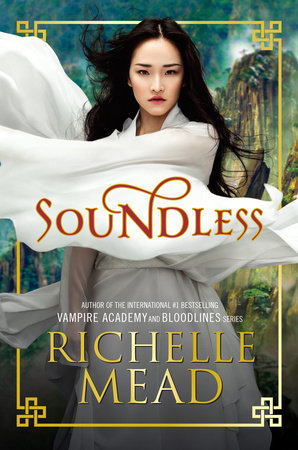 Soundless,
by
Richelle Mead
Publication:
November 10, 2015, by Razorbill
Genre:
Young Adult Fiction, Fantasy, Romance
Pages:
266
Format:
Hardcover
Source:
Borrowed
Rating:
In a village without sound… For as long as Fei can remember, no one in her village has been able to hear. Rocky terrain and frequent avalanches make it impossible to leave the village, so Fei and her people are at the mercy of a zipline that carries food up the treacherous cliffs from Beiguo, a mysterious faraway kingdom.
When villagers begin to lose their sight, deliveries from the zipline shrink. Many go hungry. Fei and all the people she loves are plunged into crisis, with nothing to look forward to but darkness and starvation. One girl hears a call to action… Until one night, Fei is awoken by a searing noise. Sound becomes her weapon. She sets out to uncover what's happened to her and to fight the dangers threatening her village. A handsome miner with a revolutionary spirit accompanies Fei on her quest, bringing with him new risks and the possibility of romance. They embark on a majestic journey from the peak of their jagged mountain village to the valley of Beiguo, where a startling truth will change their lives forever… And unlocks a power that will save her people.
My Thoughts:
I've officially almost read all of Richelle Mead's books, guys! Soundless is a very interesting take on a diverse fantasy novel taken place a mystery faraway kingdom called Beiguo, which features Chinese (supposed) characters who live in this kingdom and they're all basically suffering. I never got why. Or understood why. Anyways, Richelle Mead for the first time (from what I have read) has created a standalone novel that features myths, creatures and searing noises. *laughs* I didn't really enjoy this one, and I must say that it's one of Richelle's worst books, in my opinion. WHERE WAS THE EXPLANATION BEHIND ALL OF THE DIVERSITY AND THE COOL FIGHTS? This was just hideously boring and I almost DNFed it because I was bored out of my mind and didn't have the patience to read more about Fei.
Richelle Mead never has created a snoozefest for me in the past. I'm surprised, because she is one of the only fantasy authors who I could read, and actually enjoy. Vampire Academy and The Glittering Court were both great. Hmmph. Khanh explained her worries about this book perfectly in her review. I totally agree with her, though I saw a tiny bit more light than she did. I liked Fei and her wicked Mulan-like mentality. I read this a few weeks ago, and I cannot remember anything about this book, though. I am pretty sure that's a bad sign. I won't change the rating of this, because I have no classified information into why I didn't like it so much. Oh, well.
I've never read anything like this before, so that was a highlight for me. I unfortunately missed out on a copy of this at BEA in 2015, and my life was ruined from that moment on. I didn't purchase a copy of this because (a) hardcovers are too expensive, and this is only 266 pages, really short compared to Richelle's other big, chunky books. Thank goodness I didn't buy it. I did want to meet Richelle last year, though. *cries* Soundless seems to be a hit or miss for many reviewers out there, especially on Goodreads. I see a mixed of positive and negative reviews, and I'm more in the negative crowd, I feel. I wanted action, I wanted explanations, though not too many explanations that I would call "info dumping." I just wanted to know the reason why behind the starvation of the citizens of Beiguo, and why Fei herself is put in the situation she was.
Richelle Mead always writes with passion in her books. It always seems that she researches a whole lot before she actually writes a particular story. Soundless had that rich culture in it, but it was too boring and eventless for my liking.
AND GUYS. This book was about deaf villagers. THAT'S NEW, RIGHT? But it was just a minor thing, and Richelle confused us a whole lot because there was a mix of weird dialogue. I'm still confused. That was a weird addition to the plot, for sure.
Soundless is a weak telling of a diverse fantasy that has such an unique interesting twist: a community of deaf people, but it turned out to disappoint than please. I liked our protagonist, Fei, but this was a snoozefest as well. Thank goodness I liked the idea, though, or the fact that I was initially interested, but would I reread this ever? Nah. Thanks fate, for not making me waste my time for a review copy when someone else could enjoy this more.
What is your favourite Richelle Mead novel? Do you like Vampire Academy? What is a book that's fantasy and has been written so well unlike others?