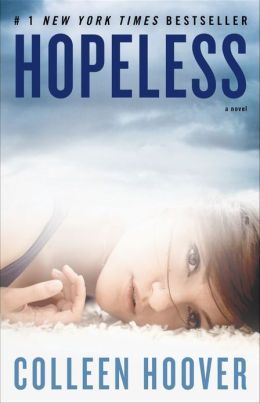 Hopeless (Hopeless #1), by Colleen Hoover
Genre: New Adult, Contemporary, Romance, Mystery
Rating: 4/5 stars
Publication: May 7, 2013, by Atira Books
Format: Paperback
Goodreads Summary: Sometimes discovering the truth can leave you more hopeless than believing the lies…
That's what seventeen-year-old Sky realizes after she meets Dean Holder. A guy with a reputation that rivals her own and an uncanny ability to invoke feelings in her she's never had before. He terrifies her and captivates her all in the span of just one encounter, and something about the way he makes her feel sparks buried memories from a past that she wishes could just stay buried.
Sky struggles to keep him at a distance knowing he's nothing but trouble, but Holder insists on learning everything about her. After finally caving to his unwavering pursuit, Sky soon finds that Holder isn't at all who he's been claiming to be. When the secrets he's been keeping are finally revealed, every single facet of Sky's life will change forever.
Review:
"I'd like to think most of the decisions I've made throughout my seventeen years have been smart ones. Hopefully intelligence is measured by weight, and the few dumb decisions I've made will be outweighed by the intelligent ones."
Colleen Hoover is known as one of the most popular NYT bestselling New Adult authors to this day. You can't even imagine how many times I've been recommended or even pleaded to read one of her books. Hopeless has been on my shelf for over a year now, and now that I've finally gotten to it, I seriously understand why you guys went crazy for me to read this.
She writes with passion. It's a very difficult job to write picture-perfect romances that get the air around you steamy and gets you fanning yourself. Not everyone can handle it. I've read many books where the romance was completely off, or there was the negative tweak of instalove.
I'd really just like to state that Colleen Hoover is now one of my favourite authors, especially coming from my thoughts of this beauty. Hopeless was addicting, intriguing, and all of the other words ending in -ing that speak about captivating and alluring you. It was kick-ass and sexy.
"I've gone so long trying to find ways to feel numb any chance I get, but seeing the enthusiasm behind his eyes right now... it makes me want to feel every single thing about life. The good, the bad, the beautiful, the ugly, the pleasure, the pain. I want that. I want to start feeling the same way he does."
Coming from a New Adult novel, you really expect cute romance and a little bit of drama in between to spice up the flavour of the book and the author's writing. Here, there's mystery. Sky is a girl who's been through a lot in her life. She's adopted, but strongly loved/hated by her mother whom she really can't relate to that much. Her life is all brightened up when she meets Dean Holder. Dean isn't your average NA hottie. He doesn't have the flawless personality that those men keen to have. Dean... Dean's different. But Sky likes different, right? Things seem to be going good until she finds out more about the past that she was forbidden to look into, and it somehow has to do with Dean, and his sister who committed suicide not too long ago.
Through the middle of the novel, I really thought that it was just me who was freaking out.
Now that I look back onto other reviews, I can see that I wasn't the only one confused and going all blurred-eyed in the middle of the book. Colleen really left me stumped and I was wondering about what-the-finigins was going on to these characters. This isn't your typical romance, as you can tell. There's a whole lot more trouble, drama, and sexy that keeps your head going and preventing your mind from exploding of boredom.
So yes, that answers your question: Did you like what it was about? Yes, yes I did. In fact, I was obsessed with this storyline. Colleen did an amazing job of captivating me, leaving me unable to co-operate with any of the things going around me and my surroundings. I totally wasn't let hopeless.
In ways, I felt like this was a full-out thriller. My hands were trembling, I felt like ripping my nails out of my fingers. Okay, forget about the gore. :')
And the romance? I was waiting for it to become amazing.
*sighs* It sure didn't entertain me as much as it did to some of you, but it was okay... mainly. I didn't get the squeals or had my feels going out of control. I let the ship sail itself but it didn't really get anywhere. It didn't become amazing and it didn't suck either. Dean and Sky sure were a cute couple, but I wish that their relationship went more out of the "friends-with-benefits" boundary and into the "full-out hot-steamy couple" boundary. Those are two completely different lines that the author needed to cut. Hmmph.
I didn't really have any trouble with the characters either. Neither Dean or Sky pained me. I liked their presence, haha. Dean was a guy who I actually loved. He was cute and one of those dream guys that I have in mind. *thinks of Will Herondale as well* Sky, on the other hand, was really kick-ass and tough. For a girl like her in a situation that she was going through, I'd seriously give her a million high-fives because she knew how to react in different occasions.
So in the end, cheers to Colleen Hoover for a magnificent plot, idea and characters. Add some extra shots to clean up the romance and make it 10x more adorable. Other than that, we've got a toast.