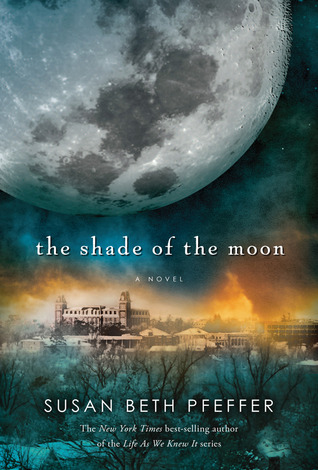 The Shade of the Moon (The Last Survivors #4),
by Susan Beth Pfeffer
Genre: Young Adult Fiction, Dystopia, Romance
Rating: 1/5 stars
Publication: August 13, 2013, by HMH Books for Young Readers
Format: Hardcover (borrowed)
Goodreads Summary: The eagerly awaited addition to the series begun with the New York Times best-seller Life As We Knew It, in which a meteor knocks the moon off its orbit and the world changes forever.
It's been more than two years since Jon Evans and his family left Pennsylvania, hoping to find a safe place to live, yet Jon remains haunted by the deaths of those he loved. His prowess on a soccer field has guaranteed him a home in a well-protected enclave. But Jon is painfully aware that a missed goal, a careless word, even falling in love, can put his life and the lives of his mother, his sister Miranda, and her husband, Alex, in jeopardy. Can Jon risk doing what is right in a world gone so terribly wrong?
Review:
DNF @ page 50-100
Doesn't it suck when you love an author's books but then you read that one book that went completely downhill? That's exactly what happened with The Shade of the Moon. The writing was poor, and I wasn't intrigued at all. What happened to the fourth book of a series that I love so much?
NO. IT'S NOT OKAY. I loved the other books so much! They brought me to a whole other bookish-environment that had a perfect idea of a dystopian read. And now, four books? I actually didn't know that this even existed until I spotted it at my local library. And now, I feel disappointed because I had such high expectations. I expected to give this book a 4.5 or 5 star rating!
As you may tell from other reviews, there is so much negativity hitting this book, and I agree with it all. There were so many things wrong with this book that made me just not want to make it to the halfway mark, even. I stopped somewhere between pages 50-100, and there was no looking back or doubts made. For one of the first times ever, I don't feel guilty about DNF-ing a book, because it sadly deserved it.
For the amount of pages that I read, nothing much was happening. This is Jon's story this time around. I actually had to go grab my copy of the first book and look up who the heck is Jon because I was lost. Yeah, the author didn't help us with who was who at all... He's basically being distracted in this book by things that he was forbidden to do during the time of the world's craziness in the previous book. And yes, apparently his family is at stake whenever he does these things.
The whole plot was a messed up event. I didn't enjoy it at all. I wasn't into anything happening at all, so I eventually let it go without any questions asked.
Without much more to say, Susan Beth Pfeffer has truly lost her magic in writing through this book. I am very disappointed, and I hated this book. There was no good about it and I'm really glad that I didn't waste my time with this. Don't waste your time—you'll do better without reading this book in the series, no difference.