Roomies, by Sara Zarr & Tara Altebrando
Genre: Young Adult Fiction, Contemporary, Chick-lit, Romance
Rating: 3/5 stars
Publication: December 24, 2013, by Little Brown Books
Format: Hardcover (borrowed)
Goodreads Summary: It's time to meet your new roomie.
When East Coast native Elizabeth receives her freshman-year roommate assignment, she shoots off an e-mail to coordinate the basics: television, microwave, mini-fridge. That first note to San Franciscan Lauren sparks a series of e-mails that alters the landscape of each girl's summer -- and raises questions about how two girls who are so different will ever share a dorm room.
As the countdown to college begins, life at home becomes increasingly complex. With family relationships and childhood friendships strained by change, it suddenly seems that the only people Elizabeth and Lauren can rely on are the complicated new boys in their lives . . . and each other. Even though they've never met.
National Book Award finalist Sara Zarr and acclaimed author Tara Altebrando join forces for a novel about growing up, leaving home, and getting that one fateful e-mail that assigns your college roommate.
Review:
I've read the rare few books that take place in college, and they're usually so cute! (Anna & French Kiss even had that sort of vibe, although it was boarding school!) Sara Zarr has always thoroughly impressed me, and I guess you could say that Roomies was more of a bummer compared to her better "classics."
I'd definitely have to say that this book is full of teen drama and angst: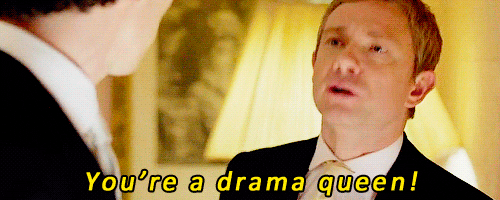 And really, there are the few people who actually enjoy angst. I'm not one of them. Right when I began reading this, I got the vibe from the characters, especially Lauren. But really, both EB and Lauren were struggling, and their emotions were all over the place. They acted like they didn't care about nothing during all of the book's wild events.
So this reminds me of Will Grayson, Will Grayson, in a way. Lauren and EB hated each other (well they got the feel), and then by the end of this book, they were total besties and more. Imagine what a surprising relationship can do to you. And it's all because of college, the magical place where dreams come true. *says sarcastically*
When Elizabeth gets her soon-to-be roommate's email address, she writes right away, talking about mini-fridges and microwaves. But she instantly gets a vibe telling her that Lauren isn't that willing and friendly to become friends. Sooner than they know it, their relationship through email grows and secrets are revealed. And then with family trouble, they can only count on each other.
The characters were... interesting.
Elizabeth and Lauren were so alike. If you couldn't tell the difference between their POVs, you would never think that they're different people, except for the fact that different names are flowing around and different situations. I guess sometimes in friendship you've got to be alike, or different. Opposites don't always attract from what it seems like.
Really, this book didn't have any special qualities that stood out from regular, mainstream contemporaries.
The plot was a little boring at times and too round-sided with basically no plot twists or suspense at all, and although that wasn't done the best way, the idea and romance between different characters was enjoyable.
The concept of friendship was perfected. Together, EB and Lauren really fit well, and the romance between them and some guys (won't mention nameeesss!) was a-d-o-r-a-b-l-e!
Overall, by the end, I truly realized that this book wasn't filled with all of the feels that I wished it had. I'm looking forward to see what else Sara Zarr has in store for us!