A Sense of the Infinite,
by
Hilary T. Smith
Publication:
May 19, 2015, by Katherine Tegen Books
Genre:
Young Adult Fiction, Contemporary
Pages:
400
Format:
Hardcover
Source:
Borrowed
Rating:



It's senior year of high school, and Annabeth is ready—ready for everything she and her best friend, Noe, have been planning and dreaming. But there are some things Annabeth isn't prepared for, like the constant presence of Noe's new boyfriend. Like how her relationship with her mom is wearing and fraying. And like the way the secret she's been keeping hidden deep inside her for years has started clawing at her insides, making it hard to eat or even breathe.




But most especially, she isn't prepared to lose Noe.




For years, Noe has anchored Annabeth and set their joint path. Now Noe is drifting in another direction, making new plans and dreams that don't involve Annabeth. Without Noe's constant companionship, Annabeth's world begins to crumble. But as a chain of events pulls Annabeth further and further away from Noe, she finds herself closer and closer to discovering who she's really meant to be—with her best friend or without.
My Thoughts:
What's the best and most powerful thing in the world? L-O-V-E! And what does love have to do with? Friendship. Smith's A Sense of the Infinite is truly one of the most meaningful sisterhood stories that have touched my heart since Ann Brashares' The Sisterhood of the Traveling Pants. Except in this case, the story deals with a much broader subject matter, and I found myself loving it much more than a typical contemporary.
To be honest, this story all captivated me after I saw the cover, and I immediately knew that this would be that perfect summer read that will get me thinking about life and what really happens to you or to a young teenager when her life is turned upside-down, and she has nobody to talk to and seek advice with. This is your answer. I adored this inside and out, though seeing it as a quick, light read probably made me enjoy it even more without having to get too much into it—which I did. I felt all of the emotions that Annabeth feels constantly, and I wanted to be there by her side. She wasn't just a character, she was a young girl stuck in the worst possible situation for her time, and if I told you, it sure would be a spoiler.
"I was not a girl in a TV show. I'd made my decision in the seconds it took me to throw up in a garbage can. There was no going back and forth. No waiting for the decision to appear like a package in the mail. It just landed there, thud. It was strange to be so certain. You were supposed to agonize. What did it mean that I wasn't agonizing?" (Hardcover, page 149)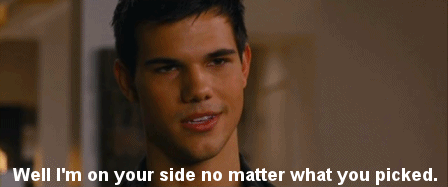 I'm Taylor Lautner, and Annabeth's Bella.

Noe and Annabeth have been best friends since freshman year when they met in the best possible way. It's senior year, and things are actually beginning to fall apart in their friendship. Annabeth is afraid of growing apart from the girl who knows and understands her completely, but others argue and believe that she's too attached to her best friend. What happens when the worst possible scenario strikes your life, and you've got no one to talk about it with? Isn't that the time when you need your best friend?
It certainly is. It most positively absolutely is. Family also is a huge issue discovered by Smith's writing, especially the relationship between Annabeth and her mother. After Annabeth discovers what's happening in her life, she doesn't have Noe, she doesn't have a boyfriend, or any other close friends. She seeks out to her cousin, who thankfully helps her (Ava rules) but realizes that she needs to tell her mother. Imagine the kind of lie that would explode if she hadn't told her at all? The book would've turned into a complete glitch of Annabeth having to deal with her life problem, and trying to gain a better relationship with her mother. Girl power, yes.
What most struck me to the heart was the fact that Annabeth was an independent young girl who doesn't need a man by her side. I bet that 95% of the books that young adults read today are all incorporated with some romance. Sure, I adore the feeling of having a new fictional boyfriend in my eyes, but I do believe in change and diversity in authors' writing, and this surely is the case. We obviously did have a reencounter of some hook-up at the start of the novel between Annabeth and... Oliver. This led to the probably, evidently, but she didn't need him to rely on and him to solve all of the problems and difficulties in her life. (In fact, he was a total loser. But, I won't get into that really since it'll spoil the whole novel.) So romance? Uncheck, but for a total good reason.
"Annabeth, honey, life keeps on changing. You don't get one chance at friendship, or one chance at love. Things die. Things grow. It's hard to see that when you've only been around for seventeen years, and you've only ever had one of everything, but it's true."
That quote will be my life motto from this very moment, just saying. And all of Smith's writing is completely inspirational. This woman has a way with her words—she knows how to change readers' lives and give them a point of view in life that they've never read about before. Everything about the beginning to the end was just spectacular, and I truly enjoy reading when I don't know I actually am, instead I'm just watching the characters interact and deal with their issues just like that. Books like this are rare, but this one is a keeper.
THE BOOK IS A TRUE KEEPER.

As I mentioned above, Annabeth is independently perfect. The decisions she made were exactly what I was hoping she'd do, and there were no signs of her being an idiot at any time. So many young people can probably relate to her and her story, and she's an example of a teenager who broke free of the typicalness that people expect of them. She can definitely compare to some of the best protagonists that I've read about in years, and that's something remarkable. And her without Noe? I'd say it's a total better match than with, although their relationship was something completely understandable at the same time.
Smith has readers thinking about the importance of friendship and family all throughout her latest novel, from the first page to the last. All in all, this left me with teary eyes and sudden heart bursts when something good or crazy would occur. Everything about it made sense to give it a pure 5 star rating, since it actually gave me a sense of the infinite little by little until it actually struck me into its own world that I've never been through before.
What's the latest friendship oh-so-cutesy contemporary book you've read?