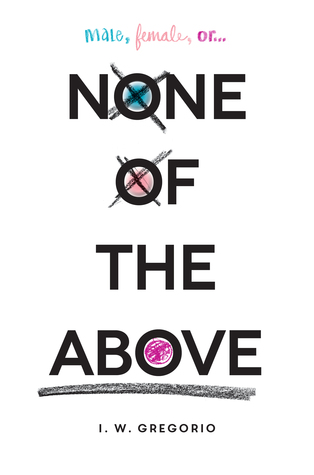 None of the Above,
by
I.W. Gregorio
Publication:
April 7, 2015, by Balzer + Bray
Genre:
Young Adult Fiction, LGBTIQ, Contemporary
Pages:
352
Format:
Hardcover
Source:
Borrowed
Rating:
A groundbreaking story about a teenage girl who discovers she was born intersex... and what happens when her secret is revealed to the entire school. Incredibly compelling and sensitively told, None of the Above is a thought-provoking novel that explores what it means to be a boy, a girl, or something in between.




What if everything you knew about yourself changed in an instant?




When Kristin Lattimer is voted homecoming queen, it seems like another piece of her ideal life has fallen into place. She's a champion hurdler with a full scholarship to college and she's madly in love with her boyfriend. In fact, she's decided that she's ready to take things to the next level with him.




But Kristin's first time isn't the perfect moment she's planned—something is very wrong. A visit to the doctor reveals the truth: Kristin is intersex, which means that though she outwardly looks like a girl, she has male chromosomes, not to mention boy "parts."




Dealing with her body is difficult enough, but when her diagnosis is leaked to the whole school, Kristin's entire identity is thrown into question. As her world unravels, can she come to terms with her new self?
My Thoughts:
2015 is actually shaping up to be the year that everyone has been waiting for—the year of diverse YA novels that are released by the greatest debut authors to have ever hit the planet. And holy moly macaroni (does that cheesy phrase still work out for people?) did I.W. Gregorio shape up to that definition. Her newest that was just released 2 months ago, None of the Above, was heart-pounding and such an unique interpretation to the loosely used definition of "intersex." I adored it, and NEED more. A struggle for the need, and I bet that y'all must feel the same way.
I really really really really really really like this book! *thinks about 2015's trends* Don't you guys want to feel the same? It's a very rare situation where I actually find a LGBTQ novel that's so different than the rest, and this is the case. Gregorio proves that Kristin Lattimer is a protagonist who feels that she's not different than the usual at all, and her friendships with others depend on them realizing this. She's a senior and just realizes that she was born intersex, what's she got to do? Other people really need to build respect for this concept, especially since it's not her decision or fault at all. It's fate and luck that put her in this situation.
"She still had her hand in knocking position but her mouth gaped open like a fish's. I turned away from the shock in her dark-brown eyes. 'Never mind, Coach. I'll come back later.' She always was one of our best sprinters. Pain was my friend, my ass."
This shockingly has one of the most easiest summaries to actually explain, because it's one of those "finding yourself" developments that only takes and needs time to build. In this case, it's obviously Kristin's journey, and she discovers that she's intersex after her first time hurt a little too much after spending time with her boyfriend, Samuel. Kristin discovers that she's intersex, where she has the physical outlook of a female, but has hidden boy organs. What happens when the whole world takes her diagnosis by storm and sees her as a completely different person when Kristin just wants to fit in?
Young Matt Damon is as reckless as Gregorio's Samuel. Teehee.
Life is a fucking hellhole for people in Kristin's situation. As Gregorio actually met and interacted with a young girl who was similarly stuck at the same spot as Kristin, readers are actually able to tell what it's like to be in the shoes of a young teenager never knowing that she's different from everyone else when it all seemed possibly okay. And peer pressure is huge, too. Fitting in as well. It's not Kristin's fault for wanting everything to be the same as it was 24 hours before her diagnosis. Teenagers these days are all about fitting in and having the right "reputation," and Gregorio nailed the research and human instinct added into the character's perspective. Who can possibly blame her for doing the things she did? For going to a bar and making out with a guy who can make her feel like a pure woman when she knows she's not? Life.
Continuously and continuously I find myself sitting around and feeling guilt as well as sympathy for a character. It's rare too, though. This book was the perfect new experience for me where I was able to go beyond my surroundings and the usual contemporary climaxes and plots that my library surrounds me with. Who wouldn't want to be living in the world of a young lost girl, who doesn't even have a mother to help her out with? The fear of cancer is disintegrated, but I bet that Kristin rather would have wanted to live with the risk inside of her, instead of everything that life all of the sudden threw on her. It's like barf, really. You don't want it coming but you'll have to deal with it to get better. Sorry for the gory description that I might've set in your mind for the rest of the night.
Why do you want to be different? Why don't you want to be yourself? Those are the questions that Gregorio must've placed hand in hand with the readers' thoughts and I bet that this whole view on being different relates to the lives of many people. Cheers to feels and abilities to understand what Kristin's going through. CHEERS TO GORGEOUS 2015 DEBUTS.
"But more importantly, perhaps, it doesn't make clear that the opposite is also true: reality shapes perception as well. Sometimes the change is a slow, a day-by-day evolution.' She paused and met my gaze. 'Or, as you know, sometimes perception can change in an instant."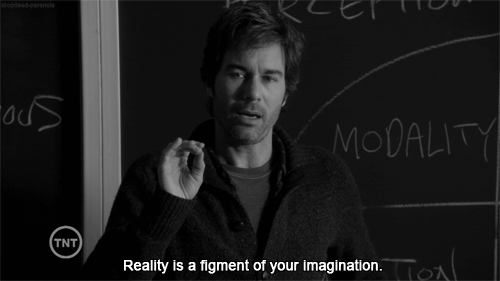 I BELIEVE IN THIS, OHMYGOD.
This storyline sure hadn't disappointed my passion for reading this gorgeous read. From start to finish, it seemed like such a process that I couldn't forget. If I could list the changes of character that Kristin inhabited, I'd make a lengthy list. At the same time, it was a quick read that you just wanted to devour slowly since it seemed to push you in that direction. Everything about it was SO brilliant, and the amount of research and experience that the author has is so abstract and it shows. A regular person wouldn't be able to retell a story like this in such a matter like Gregorio did. She's a doctor-turned-author, which is what I'd want to be!
I believe that this novel had a stand or two of the most awesomest things possible in a contemporary novel that every single person can grab and relate to. Whether it's the romance that longs to be mended together again, or the struggle of finding yourself, Gregorio speaks from her heart and I regret not going to grab myself a physical copy at BEA this year. (TIME, TIME, TIME RUINS EVERYTHING.) Yet again, I'd like to purchase myself a copy since everyone needs to throw their wallets in a pile for this book, really. Are you a lover or none of the above?
What are some other YA intersex novels out there? I've never heard of one, to be honest.