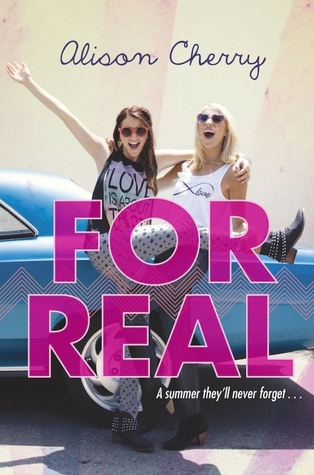 For Real,
by
Alison Cherry
Publication:
December 9, 2014, by Delacorte Press
Genre:
Young Adult Fiction, Romance, Contemporary
Pages:
304
Format:
Hardcover
Source:
Borrowed
Rating:
No parents. No limits. No clue what they're in for.




Shy, cautious Claire has always been in her confident older sister's shadow. While Miranda's life is jam-packed with exciting people and whirlwind adventures, Claire gets her thrills vicariously by watching people live large on reality TV.




When Miranda discovers her boyfriend, Samir, cheating on her just before her college graduation, it's Claire who comes up with the perfect plan. They'll outshine Miranda's fame-obsessed ex while having an amazing summer by competing on Around the World, a race around the globe for a million bucks. Revenge + sisterly bonding = awesome.




But the show has a twist, and Claire is stunned to find herself in the middle of a reality-show romance that may or may not be just for the cameras. This summer could end up being the highlight of her life... or an epic fail forever captured on film. In a world where drama is currency and manipulation is standard, how can you tell what's for real?
My Thoughts:
You all watch or have heard of the reality game show, The Amazing Race, right? Well if your answer is yes, then picture a young adult contemporary novel about two sisters who sign up for a show very similar to that with a twist. THAT'S THIS BOOK. And if your answer is no, then look the show up. *laughs* For Real was a twist on the ordinary contemporary romances that us readers are forced to read, and I loved it.
If you say that you've read something very much like what I described above, then you're 100% wrong, because Cherry has written a relatable novel for readers that has never been written about before, ever. I'm actually hoping that you all will be prepped up and prepared for the awesomeness that is shooting your way, because it'll hit you and you'll sit there, shocked, wanting more handed over to you like a bag of popcorn. Though seriously, this book is a munchie, light, fluffy but beautiful.
"But at this moment, with the candlelight dancing on my face and my fingers twined with Will's, I feel like I could belong anywhere." (Hardcover, page 216)
Even without having to check back to the summary of the book and opening the cracked spine of the hardcover copy which I borrowed from the library, I can easily recall what this book had in store for readers. It all began with Claire's older sister, Miranda's, boyfriend, cheating on Miranda right when she was supposed to move in with him. It basically ruins her life, when you think about it, and when Claire tries to think of ways to perform revenge to help her big sis out, she thinks of auditioning for a show that'll bring them to different places in the world, where Miranda's ex will also be playing. When all goes well, the girls discover that there's a terrifying twist that'll break their team apart, and all will go to chaos when Claire has the chance to fall in love.
I'm such a sore loser when I read book. To be honest, I just figured that now after reading this book because I probably let the most predictable twist fly by without thinking about it. And when the end came, I realized that I never saw it coming because I was too lovestruck with the story and adored it too much to even be thinking about what may be coming. I had the feeling that Claire would win the show, and then I let some clues slip by me and I ended up embarrassing myself with this review. Haha. I won't spoil anything, but those of you who have read this book must be sure to let me know if they saw the ending coming and what Claire discovered afterwards. *smiles*
I bet that anyone is able to bring this pretty read with them anywhere and they'll be able to fall in love with it, whether you're on the beach or stuck at home in the middle of a hell-like blizzard. It all works, my friends! Luckily in my situation, I was stuck at home, reading in my backyard on a comfy lounger. From page one, I was sucked into the girly world of Alison Cherry's writing, and I never looked back. Is it that easy to fall in love with a book, you ask? And my answer for you this time is: YES. Especially with this wonderful lady's writing. I can't wait to read something else by her, my heart desires it.
Can we first talk about the gorgeous cover? I feel that it just screams out in its high-pitched girly voice: SUMMER. It has bits and pieces of other covers that I love, like Since You've Been Gone by Morgan Matson's, but it's gorgeous. It also screams out: SISTERHOOD. Did I mention that Miranda and Claire were the cutest sisters ever? But I did have issues with Miranda, I must say. (Though that didn't effect my rating of this book, at all, so that's okay.) And then, family and love were both a huge factor incorporated, and I must say that I developed a serious case of wanderlust. I HAD TO GO TO THE BOOKISH DOCTORS. *laughs*
From beginning to end (as you can most definitely tell), I was in love and so addicted with all of the events. There was never a shortage of something or details in plot and nothing ever dragged. I must say that the book was a perfect length and granted me all of the happiness that the sun does. *hates the cheesy phrases that come to mind* What can I say? It was fast-paced and I loved the premise. That's what I usually look for when it comes to a good writer's prose. And the characters? Forget about that rhetorical question and move straight to them without giving an one-word opinion.
Claire really resembled me. Okay, I'm quiet but not too quiet as she was at times, but her independence and intelligence is what really shone in her character. I loved her personality and how she took the game show truly seriously and that it wasn't a joke. She did it all for her sister, after all. Sisterhood actually really does count in a ton of situations. But sadly, Miranda probably was one of the worst sisters for her. THIS GIRL RAGED CONSTANTLY AND LOVED TO BRAG ABOUT HERSELF WHEN CLAIRE DID THINGS TOO. I wanted to punch her a million times, and hopefully her personality wasn't an accident and Cherry actually made her like that on purpose. If she was the opposite and it wasn't made to be, then I'll be punching the book like a punching bag. Whoops.
And then we move onto the romance, which was an essential factor for this kind of novel. I mean, it totally was adorable! I won't spoil who Claire's love interest may be, but you'll possibly figure this out from peering at the quote above, just saying. THEY WERE ADORABLE AND WERE ON A WORLDWIDE ADVENTURE TOGETHER WHICH MADE EVERYTHING A HUNDRED TIMES CUTER… and then that happened which also shattered my heart since I realized that authors can make everything so depressing and ruin the magic that a book is able to hold At least that part wasn't predictable… or maybe it was, again, for some of you. I was just acting like the person who feels like it's okay to focus on the happiness and positive things and forget about what could happen eventually. *cries for the fortieth time*
When it comes to the end and I look back at this all, I realize that this was first pictured as such a simple, easy read, when it actually wasn't. There were so many things that made the whole book fabulous and interesting, complex really. A contemporary slash game show book? What is this beauty, you may ask? Well then, you'll have to actually think about it for real, my friends. A book like this is something that you'll have to read if you wish upon a star or wish for it because of a genie. Good luck with finding something exactly the same, BUT YOU HAVE TO GO FOR THIS FIRST.
Would you take the risk to go on a show like this for revenge? What would you do to ace your goals?