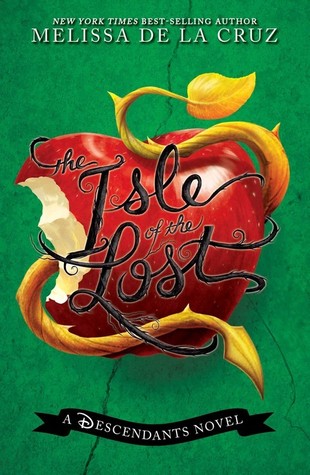 The Isle of the Lost (The Descendants #1),
by
Melissa de la Cruz
Publication:
May 5, 2015, by Disney Hyperion
Genre:
Middle-Grade, Fantasy, Retelling
Pages:
320
Format:
Hardcover
Source:
Borrowed
Rating:
½
Twenty years ago, all the evil villains were banished from the kingdom of Auradon and made to live in virtual imprisonment on the Isle of the Lost. The island is surrounded by a magical force field that keeps the villains and their descendants safely locked up and away from the mainland. Life on the island is dark and dreary. It is a dirty, decrepit place that's been left to rot and forgotten by the world.




But hidden in the mysterious Forbidden Fortress is a dragon's eye: the key to true darkness and the villains' only hope of escape. Only the cleverest, evilest, nastiest little villain can find it...who will it be?




Maleficent, Mistress of the Dark: As the self-proclaimed ruler of the isle, Maleficent has no tolerance for anything less than pure evil. She has little time for her subjects, who have still not mastered life without magic. Her only concern is getting off the Isle of the Lost.




Mal: At sixteen, Maleficent's daughter is the most talented student at Dragon Hall, best known for her evil schemes. And when she hears about the dragon's eye, Mal thinks this could be her chance to prove herself as the cruelest of them all.




Evie: Having been castle-schooled for years, Evil Queen's daughter, Evie, doesn't know the ins and outs of Dragon Hall. But she's a quick study, especially after she falls for one too many of Mal's little tricks.




Jay: As the son of Jafar, Jay is a boy of many talents: stealing and lying to name a few. Jay and Mal have been frenemies forever and he's not about to miss out on the hunt for the dragon's eye.




Carlos: Cruella de Vil's son may not be bravest, but he's certainly clever. Carlos's inventions may be the missing piece in locating the dragon's eye and ending the banishment for good.




Mal soon learns from her mother that the dragon's eye is cursed and whoever retrieves it will be knocked into a deep sleep for a thousand years. But Mal has a plan to capture it. She'll just need a little help from her "friends." In their quest for the dragon's eye, these kids begin to realize that just because you come from an evil family tree, being good ain't so bad.
My Thoughts:
Disney has always been part of my life, whether it's the movies, stories or morals related. Since Beauty and the Beast as well as The Lion King, my two favourite movies to this day, I've bene obsessed and I won't ever forget or set aside the stories that brought my childhood together and taught me so many things. After discovering that Melissa de la Cruz, one of my all-time favourite authors, will be releasing a prequel to a coming Disney movie that's all about the children of the villains that every kid knows about today, I WAS STOKED. I still am stoked, feeling excited and so thankful to have gotten the opportunity to read such a fabulous novel.
Before reading, or in your *points to review reader* situation, I recommend thinking about your likings of books. This is middle-grade, by the way, but I firmly believe that anyone will like this, young or old. ANY DISNEY LOVER will become obsessed, just saying. *giggles* Do you enjoy some fantasy associated with goblins, dwarves and plain spells and magic? If you're okay with that (because I know I am) then you'll totally love this. Get ready for a true enjoyable read.
"This was the Isle of the Lost. Evil lived, breathed, and ruled the island, and King Beast and his sickly sweet billboards cajoling the former villains of the world to do good had no place in it. Who wanted to make lemonade from lemons, when you could make perfectly good lemon grenades?" (Hardcover, page 21)
No one knows Disney better than Melissa over here. Just saying. I can imagine the amount of research and awesomeness needed to be put to make such a complex novel like this! And really, the storyline may seem simplistic and all, but there's so much to it. Kids have to be interested and have weak attention spans these days, so shouldn't this be full of details? *nods* AND THERE WAS. Where can I simply begin on the subject of plot and all? This was fabulous.
But before I get head of myself, let's talk about my personal synopsis for you. :) It all begins with the story of each child, Cruella de Vil's son, Carlos, Maleficent's daughter, Mal, Jafar's son, Jay and the Evil Queen's daughter, Evie. They're all thrown into each other's life somehow, and at first, things don't work well, but as their island and home is put at stake, they realize that they have to work together for peace, and to maintain their reputations, as well as discovering who they really are. And finding the Dragon's Eye, of course. But, that's an adventure that you're going to have to take this time around, heh.
I feel that the Descendants movie that'll be premiering on Disney Channel this summer's going to be a hit. Think of Camp Rock, but for this generation of kids. *thinks of my sister* And of course, there's all of the Disney live-action retelling films that are releasing now, like Maleficent and Cinderella. Everyone wants to see the children of the villains that we were grown to be scared of, no? It's a new way to see Disney, and this was a perfect retelling. I mean, I bet not every kid's going to pick this up and read it since it's what happens before the main events of the movie, but it'll always be there to hand a background story over to readers and give them a twist on the usual Disney that comes to mind. Right? Right.
This was the ultimate twist on Disney. ALL OF THE CHARACTERS THAT WE FELL IN LOVE WITH WHEN WE WERE KIDS ARE BACK. You'll see flashbacks and moments with Ariel, Cinderella, Belle and the Beast, just to name a few. And you know how the princesses were all teenagers when their main story occurred? This is after the ever-after, and then you'll get to read about what they're up to now, and more on where they live and their kingdom. How did I not know anything about their USA? *lets everyone know that it's not America* WOOT. The world setting was unlike anything I've read of before, filled with evilness and classes that are made according to your EQ (like your IQ, though all about how much evil you have inside of you). It's a magical isle, I must say.
Evie had to be my ultimate favourite character. She had to deal with so much, and her mother's manipulation and her forcing of Evie having to be the fairest literally broke my heart, but it made it so much better because there was an outside issue that the characters had to deal with. And just to let you know, things did get better for her and her self-esteem. CONFIDENCE IS THE BEST REPUTATION TO HAVE. And she grew stronger, not letting some stupid evil girl get in her way out of jealousy. *coughMALcough*
And then we obviously had the other three main people: Jay, Mal and Carlos. (By the way, Belle and Beast's son, BEN also makes appearances!) They pissed me off, just saying. I'm not sure if they were supposed to be really annoying and snobby, or it was just me and THE EVILNESS that they portrayed. Ugh. That sure was an issue for me, and I kind of dreaded when Mal's POV and perspective came along because she annoyed me to the full extent. Huh. *sits grumpily in the corner* That could possibly be JUST me, just saying.
Was there romance? No, this is a middle-grade. PLEASE PLEASE PLEASE don't ask me that question. Hah. But there was some crushy-cutesy related stuff happening with Evie and Carlos, possibly. Thankfully this wasn't one of those unrealistic middle-grade fantasies where anything can happen, even though this is pure Disney. IT WASN'T PREDICTABLE, SO THAT'S A GOOD START.
All in all, I was really REALLY impressed with this pretty. It's actually unlike anything I've ever read, and I normally don't ever read middle grade unless I'm sure of it and know that I'll like it and that it'll be perfectly okay and fine for me. In this case, it certainly was and I ended up being the proudest person alive. Since I borrowed this from the library, I'LL HAVE TO grab myself a copy and get my little sister to read it, if she's okay with goblins serving coffee. Hah. I want to live on the creepy island, the Isle of the Lost!
What are some Disney-like books you've read?