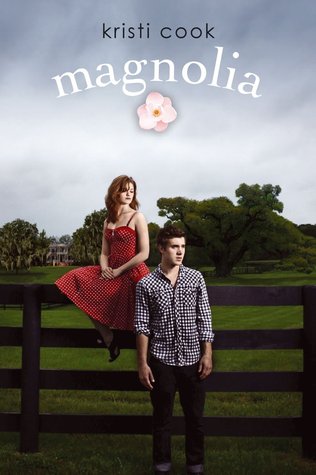 Magnolia,
by
Kristi Cook
Publication:
August 5, 2014, by Simon and Schuster
Genre:
Young Adult Fiction, Contemporary, Romance
Pages:
336
Format:
Paperback
Source:
Purchased
Rating:
In Magnolia Branch, Mississippi, the Cafferty and Marsden families are southern royalty. Neighbors since the Civil War, the families have shared vacations, holidays, backyard barbecues, and the overwhelming desire to unite their two clans by marriage. So when a baby boy and girl were born to the families at the same time, the perfect opportunity seemed to have finally arrived.




Jemma Cafferty and Ryder Marsden have no intention of giving in to their parents' wishes. They're only seventeen, for goodness' sake, not to mention that one little problem: They hate each other! Jemma can't stand Ryder's nauseating golden-boy persona, and Ryder would like nothing better than to pretend stubborn Jemma doesn't exist.




But when a violent storm ravages Magnolia Branch, it unearths Jemma's and Ryder's true feelings for each other as the two discover that the line between love and hate may be thin enough to risk crossing over.
My Thoughts:
The awfully lovely story of Romeo and Juliet by Shakespeare captured my attention a few months ago when we started reading it in school. Now, as I'm almost done reading and analyzing the play, I know that I don't have enough and will never get enough of the gorgeous love story that changed everyone's look on romance forever. Magnolia came into my heart almost a year ago where I fell in love with the cover and purchased it, not even knowing that it's a retelling. BOY, WHY THE HELL DID I WAIT?!
To this second, I seriously don't know why I waited. The gorgeous copy has been placed back and forth between shelves and I never felt the urge to pick it up. Then suddenly a week ago, I starred at it, it starred back at me, and I FINALLY decided to give it a chance. And I must say that it's yet another addition to my favourites list of 2015. WHOA. Now I just feel like bawling my eyes out because I have no other choice than to not do that. Contemporary romances seriously rule and my heart feels warm, gooey and like a marshmallow of love. *draws a heart in the air*
"I lie there quietly, trying to make sense of it all—to understand the workings of a thirteen-year-old boy's mind. But my thoughts keep going back to something he'd said earlier. "You really thought I was he prettiest girl in Magnolia Branch?" "I still do, Jemma," he says, his voice quiet." (Paperback, page 201)
AWWWWWW! And by the way, the lovely characters here aren't thirteen, if that's what you're getting at. There's this whole message and scene back from when Ryder and Jemma were in eighth grade, that's all. They're actually seniors in high school, and that age group plays a huge role in the whole novel, to be honest. Can I just mention again that Magnolia was a pure branch of fresh air and real magnolia? It was just as gorgeous as the flower, pink and precious.
Before reading, I actually hadn't gone through the summary in a desperate-must-read way, so by judging the looks of it, I expected this to be taking place back when the Civil War was taking place? Hah, true story dated back to my amateur days, people. Nope, this is pure modern-day contemporary romance. And here we have two main characters who've always been destined to be together noted by their families, rivals back in the day—Ryder and Jemma. (Romeo and Juliet? Hmmmmm... O_O) They're high school seniors and are about to graduate high school, though both are having tons of troubles in their lives. When a huge storm is set to pass through their small town in Mississippi, their families may have been correct since the start.
I guess I can say that I'm always in the mood for a novel that takes place in modern day complete with tragedies. Cook added tons of tragedies that occurred to both sets of characters, whether it was major or minor. Death, security, friendship... those are all things that affected themselves, though they hadn't realized it at first. LET ME JUST SAY THAT I ADORE NOVELS THAT TAKE PLACE IN THE SOUTH. I just love picturing everyone with their accents and their adorable dresses and living on the farm complete with furry animals and adorableness. Anywaaayssss (sorry for my fangirling)...
This is pure Romeo and Juliet. If you take a look at the names, everything's meant to be. The story obviously wasn't A COMPLETE RETELLING WITH EVERYTHING THE SAME INCLUDING THE WHOLE FREAKING STORYLINE, but there were similarities that just made me blush of happiness. Like Ryder and Jemma? Ben—Benvolio? Their last names—Cafferty and Marsden? (Capulet and Montague?) I loved that, because I believe that readers of the play beforehand will be able to spot those similarities, and even those who hadn't read the play can read this, then read the play and remember that back in the day, they once read a book that was awfully similar to this gorgeous play. It all makes perfect sense, and I never have read a RandJ retelling before.
Do others possibly suspect and think that I will hate on the instant love that was formed? Or the love-hate relationship that Jemma and Ryder mutually had? That is complete and utter nonsense since there's no way that I possibly see that as an issue or error made in the writing. In fact, the insta-love is what made the novel fast-paced and so devouring for me. To see how impossible things like this are in reality makes me think that it is possible, know what I mean? Ryder and Jemma were honestly a couple that I will remember forever, and it's a STORM that brought them together! The sleeping bag scene and the tornado sirens did scurry some things around, but I believe that they fought against all of the negativity in life to be together. AND THEIR PARENTS DIDN'T SUSPECT A THING. *laughs at these innocent teenagers*
"You know those tragic stories where two kids from feuding families fall in love? Okay, flip that inside out and turn it on its head and you've got our story. Ryder's and mine." (Paperback, page 3)
As for the plot, one cannot seriously argue that this was predictable. We all knew what was going to happen from the start and from the first few phrases that Cook provided readers with. IT'S MEANT TO BE. The plot wasn't all captured on the ending or what's going to happen, but it's all about the tiny events and progression of the romance and characters that truly brought this whole beautiful together. THAT'S WHAT MADE THE PLOT AND WRITING PERFECT. Agh, everything was.
Moving on to the characters, they were all such a happy bunch. I fell in love with Ryder from the start, obviously. Doesn't he seem like a perfect fictional boyfriend just for ME? I truly believe so. And unlike what others have been saying about Jemma not sticking up for herself, I related to her. She's a teenager, we all make mistakes, done. And she had tons of that Southern glam and glow in her, too. Each of the characters bits and pieces of something special in each of them, and I can tell you that we certainly had a positive bunch of secondary characters. They formed this book and impacted it in many ways. What the heck would Jemma do without her best friends, Morgan and Lucy? (DIVERSITY TOO, PEOPLE.)
There's actually not much more I can say without biting my whole fingernail off out of anxiety. (Not in a bad manner, though.) This book just lit fireworks and sparklers off in my heart, and it's truly been a while since I've read a contemporary romance like this. It was happy, adorable, but also relatable since things didn't always come hand-in-hand to the characters whenever they dreamt of it. What more can we seriously ask for? Nothing else, since Magnolia was absolutely stellar. IT GLOWS IN MY BOOKSHELF WITH ITS SOUTHERN GLAM. (Did I mention that the storm and sirens even left me shivering? Now we all know what it's like to survive a tornado and hear the effects of it right outside of your door. (You'll find all of that action in Act II. KRISTI EVEN ADDED ACTS AND SCENES!) *jitters inside*
What other surviving disaster adorable stories are there that you know of?