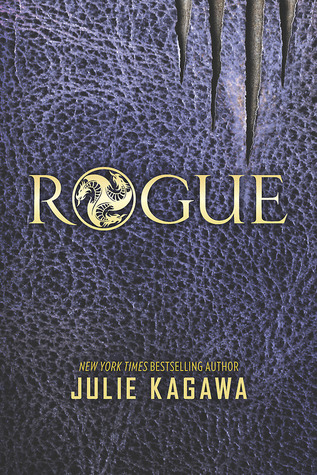 Rogue (Talon #2), by Julie Kagawa
Publication: April 28, 2015, by Harlequin Teen
Genre: Young Adult Fiction, Dragons, Fantasy, Romance
Pages: 348
Format: Hardcover
Source: Borrowed
Rating:
½
Ember Hill left the dragon organization Talon to take her chances with rebel dragon Cobalt and his crew of rogues. But Ember can't forget the sacrifice made for her by the human boy who could have killed her—Garret Xavier Sebastian, a soldier of the dragonslaying Order of St. George, the boy who saved her from a Talon assassin, knowing that by doing so, he'd signed his own death warrant.




Determined to save Garret from execution, Ember must convince Cobalt to help her break into the Order's headquarters. With assassins after them and Ember's own brother helping Talon with the hunt, the rogues find an unexpected ally in Garret and a new perspective on the underground battle between Talon and St. George.




A reckoning is brewing and the secrets hidden by both sides are shocking and deadly. Soon Ember must decide: Should she retreat to fight another day…or start an all-out war?
My Thoughts:
Talon was the last book I read in 2014 and one of the best actually. Never in a million years had I expected such a heart-racing, full of dragons read to struck me with such integrity and realism in a contemporary world. I hadn't had the best experience with Kagawa's other books, and this series seemed to be "it" for me. I still agree with that statement, though this sequel was rather disappointing compared to the first, where I couldn't sleep after reading it late into the night. This? A little boring at times. Huh.
Kagawa actually delivered a gift to readers—a surprise, in the most sense, where we all expected action, heartbreak and all, but instead, it was more bland at times, topped off with a juicy, gorgeous cover to get the facts straight. Not that I died while reading about Garrett having to be killed... it's just that I lost the hope of getting a five-star read next, and this book kind of threw me off into a reading slump built with anger and rage. WHY DID THIS HAVE TO HAPPEN TO ME?!
"The hardest thing about waiting to die is being torn between wanting more time and wishing they would just get it over with already. You can't sleep, of course. you can't focus on anything else. Your mind keeps tormenting you with questions and memories and what-ifs, until you wish they'd just do the favor and knock you senseless until it was time."
The facts are now straight and cleared up, the storyline is thrown into a puddle of rebellion with readers expecting the unexpected, and Ember is going mad. But who can blame the poor soul, who just had to be a dragon stuck in a contemporary-romance novel? Why did the St. George have to spy on her and her brother, what about the rogues at the time? These are the rhetorical questions that spied on the readers after we all finished (and adored) Talon. And this whole macho storyline is added into the sequel, where it simply felt like it add to have been added so everything can be stretched out. A book being stretched out, you ask? Absolutely, positively, I reply. Ember's honestly under so much pressure that I wonder how she is able to handle everything, including the "death" of her boyfriend and fellow human, Garrett. And then there's the confusion between who actually loves her, Garrett or Riley. UGHH she's one busy chick. And did I mention that she's a Rogue, and Talon is after her, alongside Dante?
GUILT, PEOPLE. GUILT! SYMPATHY! If one does not feel these strong emotions while reading, then you're lost in a different atmosphere, I must say. The feelings, the emotions were real, and I felt myself panicking like it was my best friend stuck in this situation. (Not that I would know what it feels like to fly or seek revenge on a controlling business.) This is what classified the novel as contemporary-romance. One does not simply hate Julie Kagawa's romance.
WHY DO I LOVE THE ROMANCE? No, it's not because of the outrageous love triangle that's taking over my life (no, no, it's DEFINITELY not about that), but because of the fact that there's loss and the struggle between having to live with a relationship that just doesn't seem to work out. Human + dragon = NO, just so you get the equation and picture. I guess you'll have to choose your own Team or such, but I'm letting you know that Garrett's my love and I won't ever change this. HE FUCKING TOOK A RISK FOR EMBER, DIED FOR HER SO THAT SHE COULD BE SAFE. He easily could've took the step and allied with St. George again, reunite with his bastard-of-a-friend. Yet again, Ember's always his choice. *cries for the sixtieth time*
For now, you may be suspecting that all I'm speaking of are the positives. Yes, they are for now. Though... this just seemed too rushed and planned out. The story hadn't flowed smoothly and easily like caramel syrup being laid on a sundae. It went the opposite, like chunks of mangoes. Ember does this. Now she's going to do this. Garrett here. Happiness. Robotic plots aren't my type of thing, just saying! WHERE'S THE PASSION? WHERE'S MY SUGARY STRAWBERRY SYRUP? *calls McDonalds* Brace yourself for boredom, dragons of mine.
Ember was kick-ass... as usual. There's no doubt about that. Julie's protagonists always tend to share the spotlight alongside the side characters (which shows that she always put the same amount of depth into her characters for equality), and this was her book to shine. Screw Talon, screw my brother's idiotic choices. LET ME BE WHO'S INSIDE OF ME, THE REAL ME. That's always a fantastic reason to shine, and I find that fantasies usually have that special aspect unlike others. (Celaena Sardothien, woo!)
Here's a final thought: Where are the answers? I truly wish that we discovered more about Talon, Riley's past as well as the kingdom from where Ember + Dante came from, or at least their past lives. This mostly stayed on the now look of things, so we need better world development!
Minus the lack of cherry syrup added into the plot and world development, this was pretty great. Kagawa's characters and romance never fails to impress, and again, I'm stuck on the edge, trying to keep my senses and thoughts together for the next book! Now when I think about it, a large series doesn't seem so horrible, as long as the science and awesomeness is put into it, like I saw in the first book. I can't get enough, in other words!
What are your favourite dragon reads? I NEED RECOMMENDATIONS!