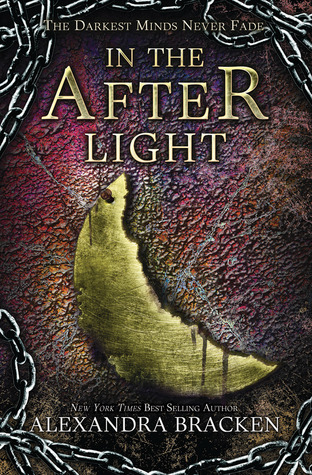 In the Afterlight (The Darkest Minds #3), by Alexandra Bracken
Publication: October 28, 2014, by Disney-Hyperion
Genre: Young Adult Fiction, Dystopian, Romance
Pages: 535
Format: Hardcover
Source: BEA
Rating:
Ruby can't look back. Fractured by an unbearable loss, she and the kids who survived the government's attack on Los Angeles travel north to regroup. With them is a prisoner: Clancy Gray, son of the president, and one of the few people Ruby has encountered with abilities like hers. Only Ruby has any power over him, and just one slip could lead to Clancy wreaking havoc on their minds.




They are armed only with a volatile secret: proof of a government conspiracy to cover up the real cause of IAAN, the disease that has killed most of America's children and left Ruby and others like her with powers the government will kill to keep contained. But internal strife may destroy their only chance to free the "rehabilitation camps" housing thousands of other Psi kids.




Meanwhile, reunited with Liam, the boy she would-and did-sacrifice everything for to keep alive, Ruby must face the painful repercussions of having tampered with his memories of her. She turns to Cole, his older brother, to provide the intense training she knows she will need to take down Gray and the government. But Cole has demons of his own, and one fatal mistake may be the spark that sets the world on fire.
My Thoughts:
The reason why I began reading this trilogy was: I was going to see Alexandra Bracken at BEA, and because everyone was raving about it. Mostly because of the first point, since it was coming very soon and I had The Darkest Minds in my shelf for a while. It never hurts to give something you've been looking forward for a try, especially when it has the chance to get you obsessed and make you smile! That's what In the Afterlight did.
This finale was ultimately a success. I had such an enjoyment while reading it, running through the pages and experiencing Ruby's thoughts and wishes for her life. Since I binge read this trilogy in a matter of days, it was so much easier to feel Ruby and the other characters grow up into wonderful beings who changed the dystopian fiction world a teeny bit (no scratch that, a lot bit) and the ending was the perfect finish to a (not-so) perfect series that changed my viewpoint on YA. It's been with me forever.
"It had been so easy, even for a damaged girl terrified out of her mind, to trust that what he said, he meant—that when he offered something to you, it was only with the purest intention of wanting to give it to you, no catches, no takebacks, no favors." (Hardcover, page 154)
Ruby + Liam = LOVE IN THE AIR 24/7

They are so perfect. The perfectest perfect bunch in the perfect world. Ugh. Agh. Oh. Wow. Okay, this is getting a little awkward, but that's another way to classify their relationship. I found it ultimately awkward at first, but in a cute, adorable way that made sense for everything to flow. Isn't it awkward when you're stuck in the same situation as somebody, and you're forced to spend time with them even when you know it isn't the best thing to do? In Ruby's case, it was difficult for her to get to know Liam, since she knew that she could cause him a great amount of pain. And vice versa, he the same with her. But somehow, in some beautiful, impossible way, they made it work, without it looking like the author had something to do with it. Isn't that a stellar interpretation of a young-adult romance that isn't real? But whatever, whatever, I do like to think of it as real, since there's no takebacks in their relationship. Readers can't send that relationship away when they know it's real. I APOLOGIZE, I HAD TO STATE THIS PARAGRAPH IN THE BEGINNING BECAUSE I COULDN'T GET IT OUT OF MY HEAD. OKAY? OKAY.
There are my thoughts on the romance *points above* and I certainly know that you know what I'm talking about, even if you hadn't ever read (or heard of, which would've been horrible and horrifying) this book before, or even the first one. There has to be some book, some couple, somebody who has that kind of relationship, too. THEY MADE IT WORK, and I'll get to their characters a little later on, just saying.
After the devastating ending of Never Fade which Bracken left her poor-souled readers with (including myself), we're stuck here with the awesome sci-fi crew again, where they head north to discover secrets about their society and what life actually has in store for them. AND THEN WE'RE REUNITED WITH COLE, COLE, COLE, WHO IS THE MOST SECRETIVE CHARACTER EVER.
"Relief, pure and beautiful, bloomed in me as his mouth covered mine. When he pulled back, he watched my reaction carefully. When I offered a small smile, he kissed me again, and my last reservations fell away, shattering." (Hardcover, page 406)
Cole + Liam = HOTTIESSSS!

Sh**, Bracken seriously knows how to begin a nice reuniting between two guys who seriously may be so intelligent enough to find the answers to everything, and anything. I don't see either of them as villains of any sort, it was just interesting to see the way they'd react in the same situation. And is it just me or... was there something going on between Cole's thoughts revolving around Ruby? Not that I'd wanted a stupid love triangle to ruin anything. Though, the more action and romance, the merrier, as I always say. Just kidding, I actually never say that. Please don't point out that I do, or I'll cry. *smirks*
So if I ever made a diagram or graph of how my feelings splurged while reading this trilogy, it'd be at its highest point in the first book, drop in the second, and make its way back around with this one. That's something I like to see—regrouping and happiness all over again. Yay. I did have some issues with this that I wish could've been fixed to make this one just as good as the first. PLOT, PLOT, PLOTTTTT! *rages* Why. Why? If it only hadn't been for my lack of concentration, I may have been obsessed. Maybe it wasn't the best time to read this book? I don't know. Likewise, I feel that I can't look back and try to love it even more all over again. It came, it departed, that's the way I like to look at my opinions of wonderful reads.
Intriguing and riveting have always been my favourite two words to describe a great set of characters. And this is it. There's a bit of every kind of human personality in each of the characters, whether it's Vida, Olivia, Ruby or Chubs. I adored each and every one of them equally, even Clancy (who seemed to annoy everyone else except for myself). I love how this series doesn't seem to revolve around one person (Ruby) although it does take place in her perspective. Authors don't usually try to look at everyone equally, but this is absolutely what makes Bracken's writing more diverse and different from the rest. She deserves the Bookscar for: Best Writer in Terms of Uniqueness. I say this every time after reading a good book, but this is the real deal.
In terms of the feel of reading a good book associated with the feels, and a bit of everything else in a good way that makes up a novel, this has to be the winner of the month for me. This had the complete finish to what I'd call an alien subject to me (by alien, I mean—different), and it left me with the answers to all of my questions. Whether it was a background shot of something Bracken mentioned at the start of the first book, or a broad subject, she always had the answer and made the story a million times better. What an ending and series!
Who's EXCITED FOR PASSENGER?!! WOOOOT!