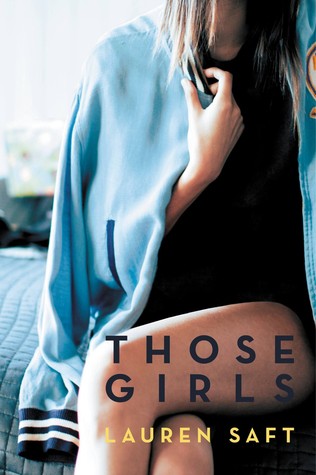 Those Girls,
by
Lauren Saft
Publication:
June 9, 2015, by Poppy
Genre:
Young Adult Fiction, Contemporary, Romance
Pages:
336
Format:
ARC
Source:
BEA/Publisher
Rating:
½
Junior year, the suburbs of Philadelphia. Alex, Mollie and Veronica are those girls: they're the best of friends and the party girls of the school. But how well does everybody know them--and really, how well do they know one another? Alex is secretly in love with the boy next door and has joined a band--without telling anyone. Mollie suffers from a popular (and possibly sociopathic) boyfriend, as well as a serious mean streak. And Veronica just wants to be loved--literally, figuratively, physically....she's not particular. Will this be the year that bonds them forever....or tears them apart for good?




Lauren Saft masterfully conveys what goes on in the mind of a teenage girl, and her debut novel is raw, honest, hilarious, and thought-provoking, with a healthy dose of heart.
My Thoughts:
Boo. I have so much empathy for a book when it's so hated on (and I turn out to adore it). Those Girls certainly is a book with that case, and I was so disappointed to see the low Goodreads average rating. Although I haven't read Gossip Girl, I know that it has that sassy, wild touch to it. Beware of screaming girls, swearing and explicit scenes. If you can't handle that, then I'm sure this book isn't for you. It's the pure definition of wild teenage girls, which I totally won't turn into.
I may be a fairly easy reviewer, handing 5 star ratings out like free hugs, but this novel deserves it. Lauren Saft's debut is astonishingly written—her vivid descriptions of our three catty protagonists: Alexandra, Veronica and Mollie—are stellar. She certainly knows how to intrigue readers and leave them wanting more, and I'm so excited for her other works in the future, which I'll grab on release day surely. (And it has such a gorgeous cover too!)
"How many times did we have to kiss before it was expected that we would? I wondered if this was how it always was with these things or if this was just how it was with me, if I was doing something wrong and screwing this up, perpetuating my own self-fulfilling prophecy." (ARC, page 128)
I just stepped in a big pile of bitchiness.
To tell you the truth, that's the book's mood. Saft hands readers three different perspectives of similar events and occasions from three different personalities as well. They may be best friends, but they each have their own secrets that they can't bear to even tell each other. Alex is joining a band and she's in love with the boy next door without admitting it. She spends most of the novel with her bandmate, Fernando, but nothing moved on from a basic kiss-zone. They didn't even admit that they were 'dating.' Mollie is with her boyfriend, Sam, who's a little too rough and may be keeping something from her as well. And last but certainly not least we have Veronica, who is known as the "slut" of the group, but when she meets someone who doesn't want a hookup but a real physical relationship, things get a little complicated for her.
I'm going to let you know now that there are tons and tons of kissing, making out and hookups. I personally don't know any people or are as scandalous as these characters, but I can imagine what things are like in some friend groups. There's tons of backstabbing, too, and these people are just so fucking rude and bitchy. I guess that we can all say that we've went through this experience with characters now? And it was essential and meant to be, so that's actually why it didn't get me so frustrated either. But why had my 4.5 rating not been a 5 in the first place? The characters, of course. The message was there, and it was memorable.
Readers often expect messages to be good, positive ones with a nice vibe, but Saft honestly just gives us a viewpoint on a horrible friendship between three girls. I've always believed that threesome-friendships aren't going to work out, and it kind of didn't for these chicks. We often see them talking about each other behind their backs and calling each other: whores, sluts and losers. *barfs* They're in eleventh grade, NOT some chicks who have just heard a swear word and chooses to use it continuously, all the time. That's surely a life lesson.
From start to finish, I couldn't stop reading. It basically took me a full sitting and from the beginning, I knew that it was my 'kind of read' and couldn't understand the hate. So in that matter, LET ME START THE HYPE. The plot, the writing, everything was balanced and I was in pure affection.
"It's weird [...] that people can actually die, because of nothing—because of an accident. As stupidly and easily as someone spills a drink or stubs their toe, a whole life can just end." (ARC, page 214)
And then we have the bossiest, rudest female characters in all of contemporary-romance fiction: Alex, Veronica and Mollie, which I listed from most liked to least.
Alex
was badass and she had all of the qualities that I wanted in a friend, excluding the drugging thing, which she kind of didn't even participate in. IT WASN'T HER IDEA EITHER. I liked her the most—her being in a band, being kind of punk and supercool like that made me love her qualities more than I expected.
And then we have
Veronica,
who is known to hookup with any guy she sees as an one-night stand kind of thing. I liked her probably the same as Alex, because she has sass and she isn't afraid to use it. It didn't really matter that she broke Mollie and Sam up in the end (they weren't the best couple either) and she threw the best parties and had humour, so what else is there to ask?
Ew, Mollie.
She was the absolute worst character in the trio and I just couldn't stand her. What girl would want to prance around in her friend's house just to get attention from her little brother? Puh-leeze. Every reviewer didn't like her, and I'm with the team on this one. She deserved to be single after everything she'd done, just saying.
We also had a romantic relationship that was the
big thing of this book—
Alex and Drew. THEY WERE ADORABLE. I'm always a shipper of those boy-next-door relationships because they always seem to work. It's not instalove at all, and they seem to know everything about each other. Friends with benefits was the casual definition of them, but I know that it was much more. I just wish that the author made something occur, a progression of their relationship in the end. But I don't blame Drew for wanting a break from those girls... Just saying.
Those Girls was a ray of sunshine, with some clouds ahead in front of Mollie's character, who frustrated me so much that I really didn't look forward to her perspective coming up. Saft knows how to balance her writing and still get readers to be provoked with an endless amount of thoughts streaming over them for days and days. It's such a powerful story with a gorgeous setting, message and romantic relationships that truly show the life of wild teenagers who are used to always getting what they want. It seems like this was a huge life lesson for them, taken place over the span of eleventh grade. WE NEED A CONTINUATION, LITTLE BROWN!
*A review copy was provided by the publisher via BookExpo America in exchange for an honest review. Thank you so much!*
I'm so proud to be one of the only 5 star raters of this book on Goodreads! Has that ever happened to you?