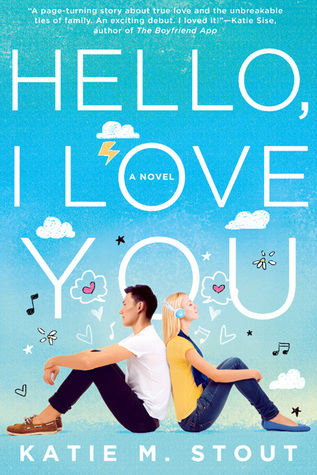 Hello, I Love You, by Katie M. Stout
Publication: June 9, 2015, by St. Martin's Griffin
Genre: Young Adult Fiction, Contemporary, Romance
Pages: 304
Format: Hardcover Finished Copy
Source: Publisher
Rating:
Grace Wilde is running—from the multi-million dollar mansion her record producer father bought, the famous older brother who's topped the country music charts five years in a row, and the mother who blames her for her brother's breakdown. Grace escapes to the farthest place from home she can think of, a boarding school in Korea, hoping for a fresh start.




She wants nothing to do with music, but when her roommate Sophie's twin brother Jason turns out to be the newest Korean pop music superstar, Grace is thrust back into the world of fame. She can't stand Jason, whose celebrity status is only outmatched by his oversized ego, but they form a tenuous alliance for the sake of her friendship with Sophie. As the months go by and Grace adjusts to her new life in Korea, even she can't deny the sparks flying between her and the KPOP idol.




Soon, Grace realizes that her feelings for Jason threaten her promise to herself that she'll leave behind the music industry that destroyed her family. But can Grace ignore her attraction to Jason and her undeniable pull of the music she was born to write? Sweet, fun, and romantic, this young adult novel explores what it means to experience first love and discover who you really are in the process.
My Thoughts:
Guess who's ready to roll their eyes? *points to self* But I'm OBVIOUSLY not rolling them because I disliked this book or anything like that. I'm rolling them because of the negative reviews! Hello, I Love You is one of those books that has many haters and when you find yourself as the occasional positive-star-rating giver, you really want to pat yourself on the back. It truly is a brilliant novel that is really a page-turner. How can many reviewers give it such a low rating?
At the same time, I see where some people are coming from. It didn't really bother me or impact me because I came here looking for an adorable romance that takes place in South Korea, but it did lack culture. This is about a girl named Grace who's from Tennessee, and she has no clue what Korea actually has to hold, including its dishes, what to do in Seoul, the capital city or the music that it has. It didn't bother me too much, but it was there and lacking. I'd like to give all of the other reviewers a pat on the back because hey, I get you.
"I'm in love with this boy. I love his hair that swooshes across his forehead, the jeans and colorful sneakers, and the way he sometimes cynically responds to life, like it's something to be endured instead of enjoyed. But, more than that, I love him." (205)
Can we just get to the point where I mention how attracted I was to this book from the start? The cover is freaking gorgeous and captivating, and the summary hit me like never before. I FELT THE AWESOMENESS RADIATION FLOWING FROM IT. I've listened to KPOP many times before and I really respect the music, and what's better than reading about it and a gorgeous band called Eden? Not much. And all of the descriptions of the food made my mouth water, at the peak of midnight. I wanted to head to Korea for a midnight snack, just saying. I couldn't stop reading when it came to the end.
What was the most adorable point was how Stout played with the love of music for the characters. It's not like Jason and his band were the only ones who had knowledge in music, KPOP and being a celebrity. Although it was pretty confusing at first, Grace Wilde is a celebrity, basically. Her brother is/was a country music star and Grace misses him so much after his 'accident,' and her father is a music producer who is always too busy to care. She decides to head to Korea to get away from her mother, who blames her for everything that happened to her brother and to get some new scenery. There, she immediately meets Sophie, her roommate and new best friend. Sophie has a twin brother, Jason, who happens to be a KPOP star and they soon find some attraction through a hot and cold relationship.
This does have a simplistic plot, but there's so many issues that Stout touches upon that I can't get the story implied out of my head. It's a real in-depth story that's not only about true love and traveling, but also about grief, alcoholism and friendship—the things that you have to get by with and get help with no matter what. Grace's decision to actually step a foot into her Korea boarding school seemed cliché for the wrong reasons (like picking the school off the first name on Google) but it all worked out. A girl in a new world, exploring her options and life? I like those kinds of stories.
"South Korea is my escape, my RESTART button, where no one asks for my autograph when I go shopping or knows the rumored balance of my savings account. This is where I get to start over." (18)
South Korea sounds AMAZING. I seriously now wonder if Katie actually went there to get her research. Her descriptions seemed so real and now I want to head to boarding school there. Her depiction of Grace was on-point and it's so cool to see all of the diversity in the Southern girl's life. It's usually always the guy heading to a foreign country and falling in love, but this time around it's the girl, and she falls in love with a celebrity who seems to be a tiny bit stuck-up and rude when he's around her in public for her reputation. But I love the reasons for everything.
I have to admit that I would've given this book all of the stars. It's so similar to Anna and the French Kiss in terms of traveling, love and friendship, but it seems to go deeper into other issues as well. But what had disrupted the perfect rating from hitting you right now was the beginning of the book. Grace's character seemed to annoy me far more and I was expecting to give it a 3 star rating for sure. Thankfully it all turned around and made me fall in love with all of the characters.
So what about Grace and Jason? It was freaking adorable. I totally get that they couldn't make out their feelings or understand what was going on between them. They're both from different cultures too, and the way their countries deal or see love's definition certainly differs. I just saw all of the affection and depth which left me shipping them so hard. And thankfully Stout didn't make it all insta-love. *sheds tears* I like bad boys hating the innocent chicks at the start of a relationship.
Hello, I Love You is one of the cutest contemporary romances I've read this year. No other book has ever been written with the same passion which Katie M. Stout adds into her writing. The friendship between Sophie and Grace is just perfect as well as the Grason relationship. *winks* Now I'm just so ready to head to Korea on a trip, I want to meet Eden and tell them that I love them!
*A finished copy has been provided by the publisher in exchange for an honest review. Thank you so much!*
If you could go to boarding school (travel back in time too) anywhere in the world, where would you go? I think I'd head to NYC, France or Japan.