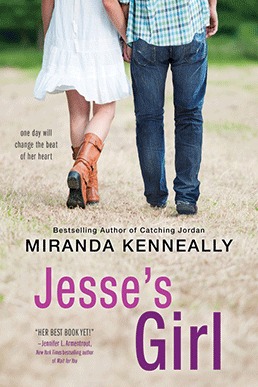 Jesse's Girl (Hundred Oaks #6),
by
Miranda Kenneally
Publication:
July 7, 2015, by Sourcebooks Fire
Genre:
Young Adult Fiction, Contemporary, Romance
Pages:
304
Format:
eARC
Source:
Publisher
Rating:
Everyone at Hundred Oaks High knows that career mentoring day is a joke. So when Maya Henry said she wanted to be a rock star, she never imagined she'd get to shadow *the* Jesse Scott, Nashville's teen idol.




But spending the day with Jesse is far from a dream come true. He's as gorgeous as his music, but seeing all that he's accomplished is just a reminder of everything Maya's lost: her trust, her boyfriend, their band, and any chance to play the music she craves. Not to mention that Jesse's pushy and opinionated. He made it on his own, and he thinks Maya's playing back up to other people's dreams. Does she have what it takes to follow her heart—and go solo?
My Thoughts:
Miranda Kenneally has done it again... and it's thousands of times better than I expected. I WANT TO BE JESSE'S GIRL, OKAY? As I've anticipated this one for ages after reading Breathe, Annie, Breathe and even before that. I find that we're unable to find that perfect music-associated book, and THIS WAS IT. I suggest heading over to the bookstore as soon as possible and falling in love right there, at the moment. HYPE, HYPE, HYPE, let's bring more of that out.
Jesse's Girl shocked me, whirled me around and left me longing for more gorgeousness. If you think that it's not the right type of read for you, I'd go over the summary again and suddenly realize that you've been a lost soul all along. The best thing is that you don't even have to read the other books in the series, Hundred Oaks, before going to this one. Each has a new storyline, a new beautiful and memorable couple that Kenneally focuses on, and Jesse and Maya have to be my favourite all along.
"A guy who clearly loves singing, who loves performing, and puts so much emotion and love into his songs—why would he quit? Give up something that is his whole world? The reason has to be big as life, right?" (eARC, Loc 587)
Jesse is a freaking big deal. He's life to me. But also... he's a country star that everyone knows and adores, especially the teenage girls. Think of Justin Bieber, 100x more hotter. Maya's your ordinary girl, who plays in a heavy metal band (although she hates metal music) and loves to play the guitar and wants to be a musician. When she gets the chance to job shadow Jesse Scott for school, she kind of is upset over the fact that he seems rude and careless. But as they get to spend more time together and do the things they love, they grow a connection and maybe, just maybe, fall in love.
Some may argue that this has a cliché premise—boy is superstar, boy meets typical girl, but what can you honestly expect from this? I suggest expecting amazing things, because it'll even blow those stuff away. Every single time Kenneally shocks me and I feel like an idiot for expecting less. It's always this, and I still shame myself for never wanting to pick Catching Jordan up in the first place. Boy, wouldn't I have missed so much in this wonderful bookish world? I think I would. I'm so glad to have gotten a chance to read this earlier, thanks to the publisher. Can't a girl fall in love with a country star?
I can just picture the accents, cowboy boots and hat and drawling that blurted out of Jesse's grins. That's just how romantic and descriptive Miranda's writing is. From start to finish, I couldn't put the book down and it was just a sitting of a few hours for me, nothing less or more. Her plots are not even like a book, it's an actual story. I feel so musical and with the need to grab my acoustic guitar and start jamming with old eighties tunes after Jesse and Maya's inspiration given. SWEET HOME HUNDRED OAKKSSSSSSS!
Miranda obviously can break the basics of a teenager's life straight into the hands of one main character. Maya is an extraordinary protagonist whom I could relate to SO SO much. She's sassy, but obviously has a soft side and is able to comprehend the most important things in her life. She took risks to follow her dreams and listens to everyone's advice around her. And the supportive, adorable family by her side? What else could a girl want? Jesse. That fucking beautiful sexy guy who makes me pee my pants of hunger.
So at the rarest times us girls are lucky to fall in love. This couple showed that these things are not rare, but all geared to fate and luck. Because really, it's luck that Jesse was the principal's nephew and got to meet Maya in the first place. They have the perfect chemistry and the issues that life gave them never affected their relationship. I found myself cringing, knowing that something'd come up when they'd hide something from each other, but they always seemed to handle everything positively. That's a healthy relationship, I tell you. And there were so many steamy scenes that made me want to die of excitement. Now that sounds awkward, please don't think it is.
"I know you'd make me feel better, Maya Henry.' [...] "Family's not always blood." (Loc 1973)
WHO CARES IF THIS ISN'T SPORTS-CENTRED? I mean, that was always another piece of enjoyment for me, but I'd never skip a Miranda read, just saying. The Jordan and Sam scenes made me feel like a twelve year old all over again, reading this series for the first time and never letting go after that. This had everything I wanted and more: a positive view on sex (finally), the summer-kind feel that makes me want to run toward the sunset for my future man and music. As well as interesting characters and pasts. We also get a glimpse at Annie Lennox being a guest judge in a TV show for wannabe rockers! Who doesn't want that?
This is your comfort read. And it's not something typical, either. Miranda has given us yet another contemporary-romance that left me giggling and in tears of fear often, and I just want everyone on this planet to give it a try. That's how much awe I am in, and that's something that doesn't appear often. Let's hope that I'll get to meet Jesse Scott on my impossible futuristic career shadowing day, because I'll lie and say I want to be a country musician. Watch out, Luke Bryan, a new teenage hottie perfect for me is in town, and he has stunned my feels with heart-fluttering moments. I WANT COWBOY BOOTS NOW!
*A review copy was provided by the publisher in exchange for an honest review. Thank you so much!*