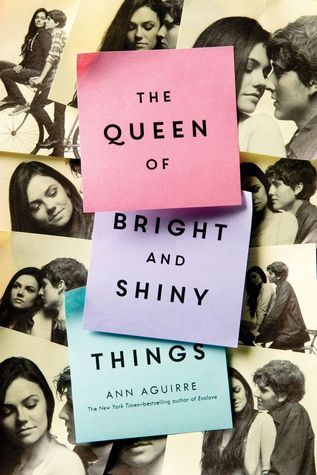 The Queen of Bright and Shiny Things,
by
Ann Aguirre
Publication:
April 7, 2015, by Feiwel and Friends
Genre:
Young Adult Fiction, Contemporary, Romance
Pages:
328
Format:
Hardcover
Source:
Borrowed (I NEED A COPY)
Rating:
Sage Czinski is trying really hard to be perfect. If she manages it, people won't peer beyond the surface, or ask hard questions about her past. She's learned to substitute causes for relationships, and it's working just fine… until Shane Cavendish strolls into her math class. He's a little antisocial, a lot beautiful, and everything she never knew she always wanted.




Shane Cavendish just wants to be left alone to play guitar and work on his music. He's got heartbreak and loneliness in his rearview mirror, and this new school represents his last chance. He doesn't expect to be happy; he only wants to graduate and move on. He never counted on a girl like Sage.




But love doesn't mend all broken things, and sometimes life has to fall apart before it can be put back together again…
My Thoughts:
I can't even comprehend my thoughts or organize my thinking at the moment, honestly. Speechlessness? That's a sure factor of enjoying a book so much (or horribly loathing it). But since I actually completed it and can't stop thinking about it, then I'm pretty sure that we're at the so-in-love moment of a book hangover. I'm not sure if I'm able to read anything else after this for a few... years. The Queen of Bright and Shiny Things was a complete blur when reading, and I can't even stop talking about it.
For months, this cover has haunted me in my sleep. No, I swear, I'm pretty sure that I've even dreamt about it once, no lie. This is my first Ann Aguirre book, and I actually never pictured this one to be the first. I could've went with Mortal Danger or her 2B trilogy, but this one somehow caught my attention the most. It's pure YA contemporary-romance, although a million times more believable than anything else I've read this year, and that's a mega-huge compliment, you have to take me seriously for this. I actually just headed onto my library's catalogue and requested her other books... because I just need more.
"You just pretend not to care if anyone talks to you because otherwise, you're the desperate loner begging for friends. Whatever, Shane's gone, long strides eating up the hallway, and he's not even rubbing his shoulder, like he's used to pain. For some reason, that bothers me." (Hardcover, page 9)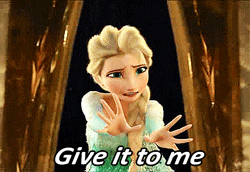 I WANT IT ALL!
With this kind of spectacular, memorable writing, I'm actually not even afraid to sound like a greedy, unreasonable bookworm. You see, if you give this beauty a chance right now, then we'll all be greedy and there won't be enough copies left in the world to enjoy and devour. So really, everything goes either way. You don't decide to read this, there'll be tons of copies in the world that I can purchase and add to my collection. You decide to read this, there'll be a shortage which will lead me to the saddest catastrophe of my life. I think we know which option we'll all rather take. *snickers* Moving on to what Aguirre handed readers through her moving story...
Sage has been living in her small town for three years with her Aunt Gabby. After a troubling past, it's the only option that she can take, and she's done with being the new girl. When Shane walks into her math classroom one day, with him being the new student, she can't keep her eyes off of him. It turns out that he's had a rough past as well and Sage wants to be there for him. Eventually, their friendship turns into something more and this is about their relationship forming together into something that's inseparable.
One cannot argue that this is insta-love. It's not. Sage eyes Shane from the first day when he gets to JFK (their school), and is it wrong to think someone's attractive? Absolutely not. Her character and personality is just the type to always be there for people, just like when she puts sticky-notes on people's lockers to make them feel good about themselves. It's not like it's her choice to only be nice to Shane. It's her spectacular character which leads this book into something memorable. Readers evidently question what's her shadowed side, who she is that she's hiding throughout the big part of the novel until Dylan, the 'bully,' steps in and basically tries to ruin her life. She's a troubled teenager who tries to make the past a blur, but she does it in a way that readers will surely never forget about—by doing good deeds for others, even if they're the worst person on the planet. I'll never forget about the way she showed compassion to Dylan in the end, I don't know if I'd be capable of doing something that kind. Shane is a fucking lucky guy, although they both had their flaws.
"I'm glad he didn't offer sympathy for my loss. That's bullshit. Most people who spout platitudes have no idea how you feel, the way loss chews at you until you're a bottomless hole. They just want to fill an awkward silence." (Hardcover, page 135)
Another factor that still lies in my mind, especially after reading is the way the characters changed each other. Their affection and romance wasn't just about the physical stuff, like kissing or touching each other, there was so much more to it, and understanding what they've gone through in the past is the biggest and most affecting. It's not everyday when you spot a couple who've been through a similar story. Both protagonists were struck with loss in different ways, and they'd do anything to save each other. The suffering that Sage went through while Shane was at juvie? That killed me, so toughly. Aguirre certainly knows how to play with our feelings, and she added mixtures of humour, passion and sorrow to give us the 5 star experience.
Many, many more stars needed to explain my love and affection.
I feel like I have the ability this afternoon to drone on and on about this novel. But then of course, you'll get bored and decide to leave.
I don't even have to mention anything about the literary elements like the plot or premise because it wasn't prominent.
This was a love story, a story that has nothing to do with a book, except for the fact that it's written like one. That's all. If someone told me the story, it wouldn't be the same at all because of the millions of details added that left me teary-eyed or gushing. I can't even count on my fingers and toes the number of times I smiled like an idiot while reading. It sounds like such a typical, predictable story, but none of that is true—there's so much more to the depth that it produces.
Every character in this novel has their own storyline that's far from the pages and the words written. Ryan, Lila, Gabby, Joe, Shane's dad... everyone made some kind of addition to the relationship whether it was great or not, positive or negative. I can't even speak or write anymore or else I'll just burst into tears, my friends, but it's now or never to discover your Shane or Sage.
Before I end this off, I realize that I haven't even spoken my true heartfelt feelings about Shane, but you've most likely guessed them.
He's hot, adorable and makes my heart skip a beat.
He plays the guitar, writes his own songs and lyrics, and will do anything to make his love happy. He always said that Sage is too good for him, but I also do think that it can be interpreted vice versa and the other way around, too.
I'm not asking you, I'm pleading and begging you to go and buy yourself a copy and then we'll gush about it together.
Ann Aguirre has written a story that's more than just what the words say. It's about a queen of bright and shiny things and an once antisocial teenager who found his voice. *gushes* I'm in love with you, beautiful novel, and it happened slowly and all at once at the same time.
I have no question for you this time around, just let me know what this book sounds like to you! I'm so in love, hah. *heart-eyed*