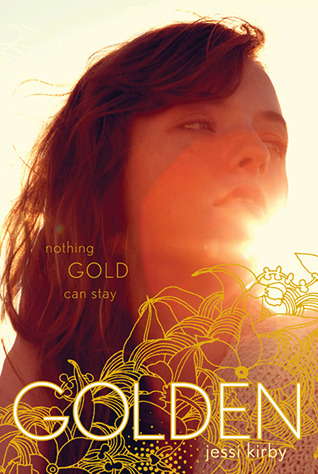 Golden,
by
Jessi Kirby
Publication:
May 14, 2013, by Simon and Schuster
Genre:
Young Adult Fiction, Contemporary, Romance
Pages:
278
Format:
Hardcover
Source:
Borrowed
Rating:
Seventeen-year-old Parker Frost has never taken the road less traveled. Valedictorian and quintessential good girl, she's about to graduate high school without ever having kissed her crush or broken the rules. So when fate drops a clue in her lap—one that might be the key to unraveling a town mystery—she decides to take a chance.




Julianna Farnetti and Shane Cruz are remembered as the golden couple of Summit Lakes High—perfect in every way, meant to be together forever. But Julianna's journal tells a different story—one of doubts about Shane and a forbidden romance with an older, artistic guy. These are the secrets that were swept away with her the night that Shane's jeep plunged into an icy river, leaving behind a grieving town and no bodies to bury.




Reading Julianna's journal gives Parker the courage to start to really live—and it also gives her reasons to question what really happened the night of the accident. Armed with clues from the past, Parker enlists the help of her best friend, Kat, and Trevor, her longtime crush, to track down some leads. The mystery ends up taking Parker places that she never could have imagined. And she soon finds that taking the road less traveled makes all the difference.
My Thoughts:
I'm such a girly book reader. By that, I mean the basic stuff: I constantly deal with squealing, fangirling and finding new fictional boyfriends that I'll never forget about, even if I never re-read the book ever again. Golden is one of those books that I've been meaning to read for a long period of time, and everyone has fawned over it. Why can't I join the club of lovers, I once asked myself. And then I realized that I needed to grab myself a copy, and I can tell you that Jessi Kirby is a stellar author.
Golden is a read that kind of makes readers think about life, and what's the most important in it: to enjoy your time. Parker is a protagonist who wanted to succeed in school and become someone as memorable as Julianna and Shane, though obviously not in the same way. It hit me hard and left my thoughts all provoked into something deep and full of illusions. I'm just so proud of the way it turned out!
"But it seems to me that the experiences that stay with you, the things you'll always remember, aren't the ones you can force, or go looking for. I've always thought of those things as the ones that somehow find you." (Hardcover, page 31)
And did I mention that I, myself, am so glad to have picked it up? The hype is real around Jessi Kirby's books, and I hadn't realized it until reading this. Moonglass hadn't gone in the right direction for me and it didn't turn out to be the best contemporary read taken place in a beach town. Summery, yes, fantastic, no. This is a book more revolved around finding yourself, knowing what you want to do in life and what love has in store for you, because everyone has their own soulmate. Though Parker's character wasn't all obsessed with the guy who always has been there for her (won't spoil), she did like to grab a little smooch from him when the time was right.
It's part-mystery, but three-quarters of contemporary and romance-related stuff. Parker Frost's high school is the coolest, actually. Her English teacher wants the senior class to write a journal throughout the year/semester about whatever they'd like, and he'd never read it, it's not meant to be marked. In ten years, they'd get it sent to them and can basically reflect on what they were like back then. Parker is chosen to be the one who'll send them out, and finds the journal of Julianna Farnetti, a young girl who died in a car accident alongside her boyfriend, Shane. They're known to have been soulmates and so in love, but as Parker reads her journal, she discovers more of the story than anyone else has ever known, and she goes out on a trip to discover who she is and some secrets through Julianna's story as well.
"What if, after all these years, I found her journal for a reason. I know it's impossible to change the past, but what if I could uncover a version that's been hidden all this time. One that leads me to the most important question of all. What if Julianna Farnetti is still alive?" (Hardcover, page 139)
To me, I actually believe that Parker found that journal for a reason: serendipity and fate. I believe in those two concepts, and it seems like the fabulous author, Jessi Kirby, does as well through Parker's character. Yeah, Parker does have goals in her life, like to go to Stanford, get that special scholarship and become a doctor. But she loves writing although she knows her dreams can't come true since it's impossible. It freakishly sounds like my life, to be honest. But I'm not going to get into my life story, as we're obviously not here for that reason, but it's pretty cool. Expectations of you are all over the place put onto you by certain people, but why isn't it your choice to pursue what you'd like in life? It's such a deep story, when you think about it.
I adored the premise and every single thing that has to do with it, including Parker and her story. Parker's an unique protagonist when it comes to these kinds of stories, because for once, a character's doing something that doesn't always have to involve them. She did something for the good of her heart, and that's LEADERSHIP AND GREAT INDEPENDENCE. I hope that her mother ended up seeing that, because she was being treated unfairly when it comes to making your own choices, and she's practically an adult. She deserved everything she got in the end, as well as happiness of course.
I just wish that the love interest had something to do with the story instead of driving Parker and Kat to the art town. He didn't seem like he cared about anything except getting Parker to make out with him and that frustrated me—bringing my rating down. I came to this looking for a summer read, which this was, but more of the romance seemed like it was applicable to come out, it was the right situation. Greatly, this was no insta-love and things did occur before the book's events did take place, though we needed more perspective on the awesome secondary characters, spotlight on them, perhaps.
2/4 of Jessi's books, people. I need to go out and lurk for the other two, because I see her books as comfort reads. You know, you can just begin reading one and it'll last you for a whole afternoon, leaving you with all of these thoughts on reality and real life. Excluding my tiny dilemma with romance-issues, I can admit that I'm a happy teenager. This certainly can turn into a box-office worthy film that I'd go and see. It gets me in a road trip mood, actually. Cheers to small towns and art!
What are some books that actually focus on issues other than the main protagonist's?