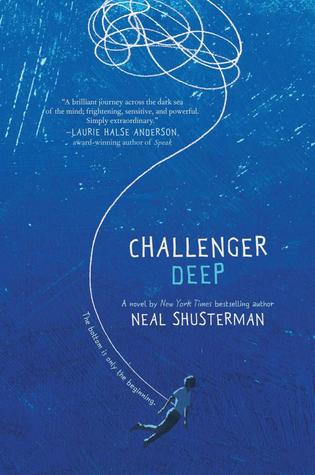 Challenger Deep,
by
Neal Shusterman
Publication:
April 21, 2015, by HarperCollins
Genre:
Young Adult Fiction, Contemporary
Pages:
320
Format:
Hardcover
Source:
Borrowed
Rating:
½
Caden Bosch is on a ship that's headed for the deepest point on Earth: Challenger Deep, the southern part of the Marianas Trench.




Caden Bosch is a brilliant high school student whose friends are starting to notice his odd behavior.




Caden Bosch is designated the ship's artist in residence, to document the journey with images.




Caden Bosch pretends to join the school track team but spends his days walking for miles, absorbed by the thoughts in his head.




Caden Bosch is split between his allegiance to the captain and the allure of mutiny.




Caden Bosch is torn.




A captivating and powerful novel that lingers long beyond the last page, Challenger Deep is a heartfelt tour de force by one of today's most admired writers for teens.
My Thoughts:
Huh. I don't really know how to organize my feelings after this one. Shusterman's Challenger Deep actually was a huge challenge for me, and I'm certainly surprised to see most of the bookish general public adoring and continuously raving about the book with high hopes. To me, this was a huge let-down and filled with mostly negatives. To sum it all down, I'm just going to state what I liked and what I disliked because this is just an annoying mental-illness read. AND I USUALLY LOVE THEM.
"The thing is, I never had social anxiety before—I was always pretty confident and outgoing. They don't know—I don't even know yet—that this is the start of something bigger. It's just the dark tip of a much larger, much deeper, much blacker pyramid." (Hardcover, page 35)
Before I actually get started, I'm just going to let you know that it's a very eerie, strange book. It's written in two perspectives, both of the same character, our protagonist, Caden. Though in one, it's actual reality and the other talks about him being on a ship headed to Challenger Deep, the deepest point of the Marianas Trench. I guess that kind of makes sense in the way Caden's struck with a mental illness that he just can't comprehend and realize, but it's just plain weird. In the real world, he's so monotone and doesn't have the attention span to look upon positive things, join a sports team to disfigure his anxiety and make friends. He can't do none of that, instead he spends most of his time in his imaginary world with the ship, captain and other people. Childish much?
My reaction.
What I Disliked About the Book and Shusterman's Writing:
-Again with the weird thing. This book seemed so childish, and I certainly hadn't come here for a pure middle-grade novel. I just can't bear to see the importance of the ship, the artwork, just about everything. This book lacked a real plot that would make readers learn and enjoy the symptoms of mental illness, all in my opinion.
-Caden's perspective. Most of the time I grow to have a relationship with characters who suffer from anxiety and depression. Caden? Not so much. It's not that I didn't feel sympathy or anything like that... I just couldn't get what he was trying to tell readers about his story. It's like there was some mega-huge wall barrier between readers and his inner thoughts, and I grew bored. Everything he mentioned seemed super dumb, and this wasn't the time to go deep with the meaning. At least, the mental illness was broadcasted nicely, which we'll soon get to.
-The constant questioning of the right thing to and flashbacks. The flashbacks which Caden brought readers back to were nice... but he made them look so negative. The happy moments he shared with his parents—those were like hell to him when nothing was wrong. Although he has a mental illness, I wish that it wasn't looking like something that he understood too well. He seemed to "know the right thing to do" but would question the wrong.
"I try to relax, but I can't. My reflection looks worried. Am I worried? That's not quite what I'm feeling today—but lately my emotions are so liquid, they flow into one another without my noticing." (Hardcover, page 67)
Um. Well that was a little awkward to rant about, but it's the truth, my wonderful friends. I'd actually would like to explore the Marianas Trench, which leads me to my next point:
What I Actually Liked About the Book and Shusterman's Writing:
-The information that wasn't actually supposed to be facts. Caden's imagination leading him to basically 'hallucinating' the Challenger Deep thing was really cool, and the ending especially shocked me as he went to explore his destination that Shusterman meant readers to get introduced to from the start. It was really interesting to read about, and the ending probably was the best part of the book.
-The philosophical view of life presented. God and death are continuously mentioned throughout the ending, and I liked the way it all gave the book a fresh closing. Who would've seen that coming?
You go, Morgan Freeman.
When seeing this book at my local library's catalogue, I requested it right away because I was sure that it'd impress. And here I am, ready to bawl my eyes out because I'm disappointed. The cover was promising, the other reviewers' remarks of this being the new It's Kind of a Funny Story were promising, I just knew that I'd love it. In conclusion, after it all, this is one of the only mental illness novels that failed to impress me. It's a very sensitive subject found in YA that only certain writers can pronounce perfectly, and from my viewpoint, Shusterman was not an author who expressed it amazingly, though there were some positive aspects. I do recommend it to some who prefer a lyrical kind of story. (Not me.)
So that's my not-so positive review! What do you feel about disliking a book that others enjoyed?