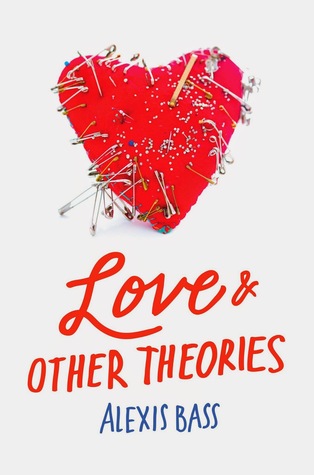 Love and Other Theories,
by
Alexis Bass
Publication:
December 30, 2014, by HarperTeen
Genre:
Young Adult Fiction, Contemporary, Romance
Pages:
376
Format:
Hardcover
Source:
Borrowed
Rating:
½
If you want more, you have to give less.




That's the secret to dating in high school. By giving as little as they expect to get in return, seventeen-year-old Aubrey Housing and her three best friends have made it to the second semester of their senior year heartbreak-free. And it's all thanks to a few simple rules: don't commit, don't be needy, and don't give away your heart.




So when smoking-hot Nathan Diggs transfers to Lincoln High, it shouldn't be a big deal. At least that's what Aubrey tells herself. But Nathan's new-boy charm, his kindness, and his disarming honesty throw Aubrey off her game and put her in danger of breaking the most important rule of all: Don't fall in love.
This was a crack of awesomeness. No, honestly. I found this to be a hilarious read that can brighten up your smile on any day with just the right amount of humour and romance. Yes, it lacked plot, but it was a read that you're able to finish in one sitting and recognize forever. It's been about 2 weeks since I last read this and I still remember the summary and events perfectly.
Doesn't that signify some goodness in this book?
Aubrey Housing was annoying. *rolls eyes* She's a girl who supposedly works hard for her grades, but she always seems to slack off and figure out her next hook-up. So how does this seem to work out? It's her senior year now, the year that she can relax and work towards going to the university that she had been planning to go to for years, until she meets Nathan Diggs, an adorable new guy from California who happens to be going to the same school as Aubrey.
THEY HAVE A HOOKUP RIGHT WHEN THEY MEET!
And of course, Aubrey thinks that it's real love when it obviously isn't.
I'm a teenager so I don't really know if I should be saying this about my "kind..." just kidding, but AUBREY WAS THE WORST PART OF THIS BOOK. She was whiny, and I just have to get all of my thoughts together about this girl. She ruined part of this book and if she was smart and made right decisions like a normal realistic person would, the outcome of this whole book would've probably been 5 stars. Instead, there was whine and the horror involved.
I grabbed this out of my local library, with large, cheesy hopes. I mean, you expect the best when you know people who also enjoyed this. Looking at the Goodreads rating though... now that's a different story. 3.20? That's a little horrifying. HarperTeen's romances are usually adorable and totally my type of thing with one of those contemporary plot twists that will blow your mind... and this was an average one to me. The concept was interesting, I was intrigued for the most chunk of the 376 long pages, and I enjoyed reading it on Valentine's Day. What else is there to ask?
Friendship is a pretty big factor in shaping this together. Where would Aubrey be without her buddies? She'd be homeless and living in a dumpster with Nathan, let me tell you. He was such a horrible influence on her although I had a love-hate relationship with him and my actual liking of him. Once he arrived to Aubrey's "town," I felt that there must've been some sort of unnatural coincidence that had actually been imaged and symbolized as something else? I felt that there had to have been some reason why he found Aubrey, the chick who will be going to the same university that he is going to and is his perfect match in life.
The connection that the characters had together was something magical. I have to doubt my thoughts of each of them separately, but I can say that I ship them, even though the ending was a little too disturbing for my liking. But there's no need to worry and tremble, it was simply a romantic catastrophe, nothing else.
I'm definitely keeping my eye on the radar of the future of Alexis Bass' books. Her writing is such to savour, where readers will find themselves picking it up on the beach, or any small moment like a quick trip on the bus—you will find a way to devour her writing. A classic, captivating way of capturing readers, this was a hit.