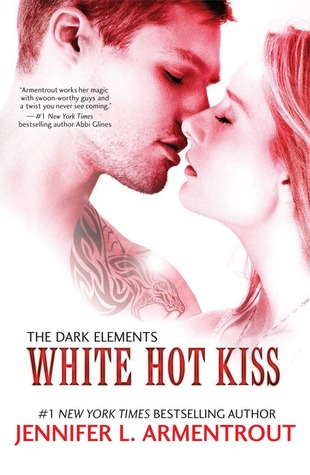 White Hot Kiss (The Dark Elements #1),
by
Jennifer L. Armentrout
Publication:
February 25, 2014, by Harlequin Teen
Genre:
Young Adult Fiction, Contemporary, Demons, Romance, Paranormal
Pages:
400
Format:
Paperback
Source:
Purchased
Rating:
One kiss could be the last.




Seventeen-year-old Layla just wants to be normal. But with a kiss that kills anything with a soul, she's anything but normal. Half demon, half gargoyle, Layla has abilities no one else possesses.




Raised among the Wardens—a race of gargoyles tasked with hunting demons and keeping humanity safe—Layla tries to fit in, but that means hiding her own dark side from those she loves the most. Especially Zayne, the swoon-worthy, incredibly gorgeous and completely off-limits Warden she's crushed on since forever.




Then she meets Roth—a tattooed, sinfully hot demon who claims to know all her secrets. Layla knows she should stay away, but she's not sure she wants to—especially when that whole no-kissing thing isn't an issue, considering Roth has no soul.




But when Layla discovers she's the reason for the violent demon uprising, trusting Roth could not only ruin her chances with Zayne… it could brand her a traitor to her family. Worse yet, it could become a one-way ticket to the end of the world.
JLA's writing is my remedy to give me a good romance, I swear.
As I've read three of her books so far, counting this one, I feel that I now know the kinds of good stuff that she writes... and then there's also the boring, more dull stuff like
this one. White Hot Kiss
could've been good, but I guess you have to be in the right mood at the right time to read something like this. Being on a vacation? Um, not so perfect as I wish it could've been.
"All I'd wanted to do was outline All Quiet on the Western Front tonight. Not almost devour a soul, nearly get killed, meet my very first Upper Level demon or watch a tattoo turn into an anaconda for chrissake. I glanced down at my empty hand. Or lose my phone. Crap."
This is like a demon joke-book. You know, it isn't so serious with all of these satanic terms where everyone is unsure of who is who and what is what. There's just a few types of demons that have different powers and that's pretty much it. As we know, JLA isn't an author who's prone to start confusing us with her magical skills of writing a novel, instead she can write a book in a genre that not-everyone enjoys as much as some others do.
Layla, our protagonist here, is a half-demon half-gargoyle. She's an orphan, and when she was younger she was adopted by the Wardens, who are a gargoyle race who hunt demons and keep everyone in the world safe. You see, when Layla meets up with a demon named Roth, she realizes that she's more demon and evil than you'd expect her to be. And of course, she falls in love with Roth although her "foster brother" Zayne, has always been on her mind and he's beginning to show feelings for her. Um, cliché much? I felt JLA was trying to create some kind of TMI remake with a crew of demons (or Shadowhunters, if you look at Clare's demons) where they're fighting and trying to figure out who they are. And of course, the protagonist is stuck in a love-triangle situation where she doesn't know which guy to pick to be with. *smacks head because she can't make up her mind*
"'A commercial copy?' He nodded. 'Yep, for the little Satanist wannabes out there. It's incomplete, obviously.'"
Looking at this concept again, demons are cool. Please don't get the wrong message and think that I'm some kind of
hater,
because I'm not. I actually wish that there would've been some more history to this and realism. The story wasn't believable, and that was a big point here especially since I wanted to feel the action scenes and imagine that a gargoyle was sitting on my roof, you know what I mean?
Looking at the characters, I had a connection to Layla. Yeah, she's a little awkward, but she was confident and would do whatever it takes to get what she wants. She's kickass and I guess that's just another reason why she had so many guys running after her. In a way, she's so much better than Lux's Katy. The romance? Um, I didn't enjoy it so much to be honest. Roth and Layla aren't a good mix as I totally prefer ZAYNE. Roth is really bitchy in his own-little-way and definitely unlike Daemon. He's so confident (too confident) and he thinks that he can get a girl to touch his abs in the snap of his fingers. Together, they were similar in a way but I believe so because JLA made Roth know Layla's secrets which got them to spend more time together since Layla was curious to find out more about her mother and who she really is and all of that. Zayne didn't know much, but he was a total heartthrob and I fall for those softer guys.
My favourite couple was Sam and Stacey. AGHHHH! Okay, they were side characters and also Layla's two best friends, but I just love it when best friends fall in love and they were adorable as they both loved each other but didn't want to admit it until the end as Layla persuaded them both to. *squeals* Is it weird that I ended up liking them even more?
I expected JLA to make it much better. But hey, at least I gave a book with a different genre that she has written another try, and it pretty boring and not for me. There were some positives, as I liked the romance and some of the characters, but if something else was taken out, this may have been a DNF. If you don't like demon books but are willing to give one a try, you still shouldn't go for this one. Curiosity scares the cat, no? You'll be frightened and never want to give this author another try. SO DON'T DO THIS.