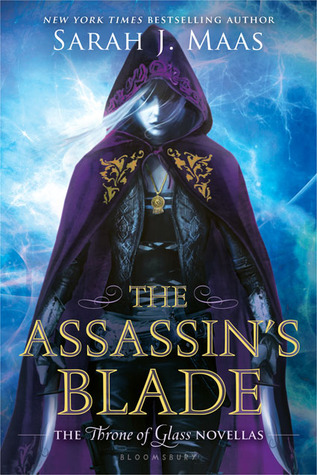 The Assassin's Blade (Throne of Glass #0.1-0.5),
by
Sarah J. Maas
Publication:
March 4, 2014, by Bloomsbury Children
Genre:
Young Adult Fiction, Fantasy, Romance
Pages:
448
Format:
Hardcover
Source:
Purchased
Rating:
½
Celaena Sardothien is Adarlan's most feared assassin. As part of the Assassin's Guild, her allegiance is to her master, Arobynn Hamel, yet Celaena listens to no one and trusts only her fellow killer-for-hire, Sam. In these action-packed novellas - together in one edition for the first time - Celaena embarks on five daring missions. They take her from remote islands to hostile deserts, where she fights to liberate slaves and seeks to avenge the tyrannous. But she is acting against Arobynn's orders and could suffer an unimaginable punishment for such treachery. Will Celaena ever be truly free? Explore the dark underworld of this kick-ass heroine to find out.
AGHHH. So this is the only book by Maas that I haven't read yet (or at least haven't read before I have) and I actually wanted it for the longest time, and had considered reading it before even beginning the rest of the series.
Everyone on my friends list on Goodreads is giving it 5 STARS, so I knew I had to go and get it.
Everyone should go read this book, honestly. Although there were some weaknesses in the plots of some of the stories, the base is here. It's before everything had happened, and before Celaena had met Chaol and Dorian, the men who are also her love interests now. Here, we discover how things came to be the way they are, how the world developed, and how Celaena's love with Sam had been performed. Lovers of Celaena or not, you should grab this goodie, as it's almost 500 pages of interesting subjects and themes.
"She didn't really know why she'd offered to teach her to defend herself. The last time she'd helped anybody, it had just turned around to beat the hell out of her. Literally."
That was simply the plot. Though I don't seem to remember each and every moment and part of every story, I found that all of the stories were pretty good, but
The Assassin and the Desert
was the absolute best, with a 5 star rating. Action, romance and some questions answer, Maas gave us a perfect novella.
SAM SAM SAM SAM SAM SAM SAM SAM SAM SAM SAM SAM SAM SAM SAM SAM SAM SAM SAM SAM SAM SAM SAM SAM SAM SAM SAM SAM SAM SAM SAM SAM *continues for five years* I LOVE YOU. Like Maas keeps creating such gorgeous male characters that I find that I'm unable to take it anymore. WHY? I'm not sure, but I just love them all and I can't enough. New ship? Absolutely.
The fact and what you've heard about Celaena and her being "kick-ass" in this book is absolutely damn right. Maas has taken another step in Celaena's development, with her becoming stronger as a character as we get to know more about her and her terrifying past. We can tell that she's worked so hard to be where she is, and that being an assassin has turned her life for the better.
"Gods, she moved like a black wind, such lethal grace and—"
Well we certainly did meet a large bunch of new characters. ;) There were people whom I thought would be Celaena's best friend, but ended up as an enemy... but I guess that Maas' regularity in her writing.
With this being a fantastic novel, there were some weaknesses in and out, especially through the plot where I found that some things were too bland and not needed to lighten up our minds. Anyone should definitely go to this book, especially if you haven't touched upon this series yet, though the romance is something absolutely need to compete to Chaol and Dorian. Great!