This Week's Headlines:
I'M BAAAAAAAACK! And I have tons of stuff that I'd love to share with all of you!
I came back from vacation Thursday night, and I was seriously drained. I actually didn't want to leave and come back home because I was having such of a fantastic time! I travelled tons and really got to know St. Maarten really well, including through its culture and all. Here's a pic!
Few of the resort from the top of the hill!
G-O-R-G-E-O-U-S, right? I even took a half-hour ferry ride and went to St. Barth's, the most beautiful place on Earth. No, it's even SO much better than St. Maarten. AND WELL, I ONLY COULD STAY ONE DAY AND DIDN'T EVEN GET TO GO SHOPPING BECAUSE I WAS TOO BUSY AT THE BEACHES! ;_; Here's an even-better photo of there!
Shell Beach, St. Barth's!
Yep, and now I'm stuck in -5 degrees weather. Boo hoo. At least there's NO snow and I'm able to walk around in sneakers! *throws winter coat away* While I was on vacation, I actually read 9 books, which isn't too many, but hey, there were some good ones! (With reviews coming up!)
After by Anna Todd (5 stars)
The Spectacular Now by Tim Tharp (4.5 stars)
The End Games by T. Michael Martin (2 stars)
Never Have I Ever by Katie Heaney (3.5 stars)
Awaken by Katie Kacvinsky (2.5 stars)
Same Difference by Siobhan Vivian (4 stars)
All the Light We Cannot See by Anthony Doerr (4 stars)
White Hot Kiss by Jennifer L. Armentrout (3 stars)
The Secret Diary of Lizzie Bennett (3.5 stars)
1 FIVE STAR, PEOPLE. AGHHHH! But whatever, I wanted to really read most of them for a long time!
Now here comes the biggest news that I want to share with y'all!
I AM GOING TO BEA AND I GOT APPROVED FOR A PRESS BADGE!
I got notified on FRIDAY and I was seriously about to bawl! I'm so excited and this is going to be the best thing ever. AGH I CAN'T WAIT! 57 more days, people!
My Book Haul:
Really, there weren't any bookstores, but I did get some ereads from Netgalley!
Weightless
by Sarah Bannan: THIS LOOKS SO CUTE. Contemporaries are my favourite books at the moment, and hey, I'll be going for it soon!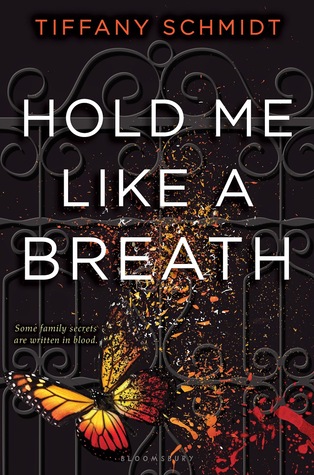 Hold Me Like a Breath
by Tiffany Schmidt: Fairy-tale retellings rule. And I've heard mixed reviews on this one, so we'll have to see the outcome!
If You're Lucky
by Yvonne Prinz: Mmmm hmmm.. This looks like a tragic story by seeing the cover, and I guess that my prediction is correct! *CHEERS*
*Thank you so much St. Martin's Griffin, Bloomsbury Publishing and Algonquin Books for these pretties!*
Posts You May Have Missed:
Are you going to BEA in May? What are your
newest additions? Have you read any of mine?