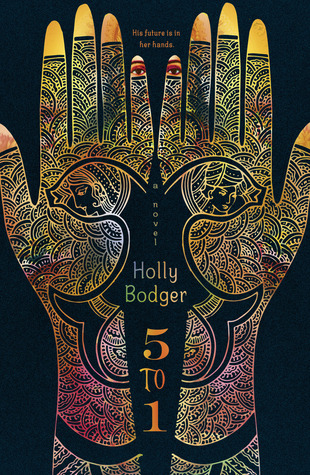 5 to 1,
by
Holly Bodger
Publication:
May 12, 2015, by Knopf Books
Genre:
Young Adult Fiction, Dystopian, Romance
Pages:
224
Format:
ARC
Source:
Publisher
Rating:
In the year 2054, after decades of gender selection, India now has a ratio of five boys for every girl, making women an incredibly valuable commodity. Tired of marrying off their daughters to the highest bidder and determined to finally make marriage fair, the women who form the country of Koyanagar have instituted a series of tests so that every boy has the chance to win a wife.




Sudasa, though, doesn't want to be a wife, and Kiran, a boy forced to compete in the test to become her husband, has other plans as well. As the tests advance, Sudasa and Kiran thwart each other at every turn until they slowly realize that they just might want the same thing.




This beautiful, unique novel is told from alternating points of view-Sudasa's in verse and Kiran's in prose-allowing readers to experience both characters' pain and their brave struggle for hope.
My Thoughts:
Never in a million years have I ever read a book so diverse and with so many different concepts and issues that I'm just sitting here, unable to go on with my life because I regret not focusing on the other themes that I didn't focus on. But then those would've gone to the dump too. *feels bad about life* 5 to 1 was unlike anything I've read, and I'm so excited for the hype to get real and have people seeing what I'm actually talking about.

Before I actually really get started, my overall thoughts are highly positive. I mean, I'm the proudest person at the moment, since no author has ever done a 5 to 1 like situation ever. Everything's so interesting about it—including the title. You're probably wondering what that is about, too. Don't worry, though, you'll eventually get it and feel like you're in the coolest club ever and feel like royalty. This book can probably be your soulmate, to be honest.
"That's when I see the longing in his eyes. He isn't running from someone—someone like me. He's running to someone. To his mother." (ARC, page 189)
The ratio of boys compared to every girl is 5 to 1. (HM, DOESN'T THAT SOUND FAMILIAR?!) In dystopian India, the stakes are high for boys to get married, since girls are worth so much and there's not enough for everyone. Sudasa is participating in the Test to find a husband, which she surely doesn't want. She's against all of the mistreatment that the government is required to give to all of teh boys, and she has five contestants fighting to be with her. Kiran, on the other hand, is contestant number five, and he is against it all as well—he rather cheat and pretend to fail than go for it all.
THIS WAS BEAUTIFULLY TOLD IN TWO WIDELY DIFFERENT POINTS-OF-VIEW. Obviously, as you can tell, it was Sudasa's and Kiran's. Boy, girl, different people with different views on life. And since Sudasa is absolutely in love with poetry, Bodger just knew that her POV had to be written in verse. That was one of the best parts of the novel since we got to play around with the different formats and look at Holly's best forms of writing. *cheers*
The concept, PEOPLE. I can just tell you that this sort of thing is rare to have and devour. It was a mix of different strings of the novels that we know about today. THG, Divergent, there was just a bit of everything all clumped up together to actually form its own thing. I kept awing over it and I tried to let my social media accounts know that this is it. Ask me for a memorable book name of 2015? I will probably name this one by the end of the year, although it surely wasn't a favourite read for me.
The reason why I hadn't given this a 5 star rating? The storyline. I mean, this was a rather short read, but I found it boring at times. Hmmph. It was just a routine, with each day having some kind of new Test involved to attract the contestants to try to prove themselves to Sudasa. Everyone was awesome and good people and all, but I just found the story a tiny bit unbelievable and unrealistic and I wanted something else out of it. Meh. I'd probably give the plot the one star out because of it. It took me a day to finish, but I wanted more.
"Fair is the weather. Fair is a complexion. Fair not something you are; something you do." (ARC, page 117)
Bodger honestly has a way with her words. She's so intelligent, and probably has thoroughly researched her stuff and took time writing this book. It's so easy to tell that it all comes from her heart and I'm obsessed and longing for more from her mind. Her voice is in each of the characters and so many ways, and although I don't personally know her, I feel that the characters have gotten me and helped me to. I'm able to read minds now, haha. *wiggles eyebrows*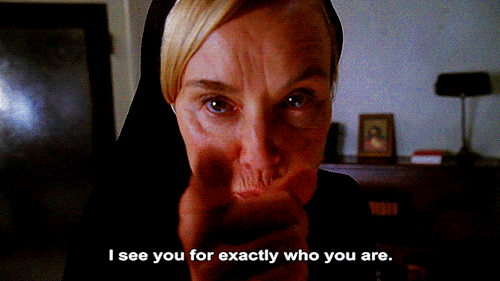 Sudasa was kickass to the fullest extent. She was a strong believer. She was an advocate of feminism, of going against her country's rules, and through all of the negative things that were impacting her world and all of the people around her. I felt so much sorrow for her, especially when her family went so stupid and got manipulated by the evilness. Kiran was the one who saved her!
And Kiran? OMG. FANS SELF FANS SELF WITH A HUGE FAN TO BLOW THE WORLD. I loved him, hah. Risk-taker, cool guy and friend. He's quiet and cares about his parents so much that we're unable to see anything else through him. I just can't believe the actions that he took at the end of the book. ;_; The quiet romance thing going on between them was adorable, but also forbidden since Sudasa's cousin was so wholly messed up.
5 to 1 is a fantastic read that will surely be remembered by every reader. From its gorgeous characters to issues that were strongly stated and advocated, to the crazy amount of different terms that readers had to have on standby and continue to remind themselves with, it was all a true joyride and I'm so glad to have spent a quiet afternoon reading it in two sittings. I'll definitely be first in line for Bodger's other works!
*An advanced review copy was provided by the publisher for review and tour purposes. Thank you so much!*
What are some great reads with issues being brought up over and over again?
a Rafflecopter giveaway