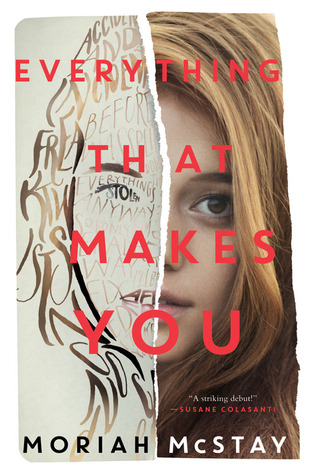 Everything That Makes You,
by
Moriah McStay
Publication:
March 17, 2015, by Katherine Tegen Books
Genre:
Young Adult Fiction, Contemporary, Romance
Pages:
352
Format:
Hardcover
Source:
Borrowed
Rating:
½
One girl. Two stories. Meet Fiona Doyle. The thick ridges of scar tissue on her face are from an accident twelve years ago. Fiona has notebooks full of songs she's written about her frustrations, her dreams, and about her massive crush on beautiful uber-jock Trent McKinnon. If she can't even find the courage to look Trent straight in his beautiful blue eyes, she sure isn't brave enough to play or sing any of her songs in public. But something's changing in Fiona. She can't be defined by her scars anymore.




And what if there hadn't been an accident? Meet Fi Doyle. Fi is the top-rated female high school lacrosse player in the state, heading straight to Northwestern on a full ride. She's got more important things to deal with than her best friend Trent McKinnon, who's been different ever since the kiss. When her luck goes south, even lacrosse can't define her anymore. When you've always been the best at something, one dumb move can screw everything up. Can Fi fight back?




Hasn't everyone wondered what if? In this daring debut novel, Moriah McStay gives us the rare opportunity to see what might have happened if things were different. Maybe luck determines our paths. But maybe it's who we are that determines our luck.
My Thoughts:
What would you do if you figured out that there's another person who has gone through the same life events as yourself? What about the fact that they look exactly alike as you? Parallel worlds, you may say—but this is a complete contemporary romance with a complexity of some tragic events involved. I guess that if you're not capable of reading a book like that, then you're seriously weird, because McStay has done a fantastic job of bringing readers into a completely different setting than we're usually used to. One girl. Two stories. You betcha'. This cannot be more correct than ever.
I'm pretty sure that I've read this two weeks ago (about that sequence of time), and it has definitely taken me a while to finally get into writing this review. I just have no words and I can't get the words to actually give my thoughts because this book was different. But don't expect me to say that it was different in a bad, negative way—it was weird, eerie. Get what I'm saying? Of course you do, especially since Fiona's character was weird too. I didn't feel for her, but we'll obviously get to that and chat about her.
"On February 27, she was scared. Every bit of her—face, heart, soul, brain—was mauled and mutilated. She was nothing but damage. She hated it all. Her scars, her self-pity, herself. She wanted to be whole."
So, so, so. This story is basically split into two. There are two points-of-view from the same person (basically) in two different situations. Both are Fiona Doyle, a girl who went through an accident twelve years ago and the scars on her face still lie there, and she's basically unable to let go of it all. What happens in her life where the accident did happen? She writes songs and has a crush on Trent and she's afraid. What about if the accident never had happened? She would be a star lacrosse player and her life is also going down the drain.
This book shows us the different possibilities and paths that one person can take if something in their life changes forever.
Things can go through many different ways, and McStay has gotten readers to imagine these things. I guess that it deals with parallel universes in a way, but there's more to it. McStay hadn't written this novel just to show readers some kind of sci-fi concept that's stealing our hearts, instead she wanted to write about Fiona Doyle, one girl who likes different things in her own virtual world that's about to change forever when her luck dissipates for good. And to also tell you the truth, THIS BOOK WAS SAD AND HEARTBREAKING AND MY FEELS EXPLODED ALL OVER THE PLACE. When beginning the story, I had been afraid that I was
going to lose all of the emotions eventually,
but I never felt that because of who McStay was writing the book for—for all YA readers looking for a contemporary twist in their lives, instead of only those who can relate to Fiona's character. Now that's the important and prominent thing here, no?
"I don't want you to stay. You need to do this. I can't force your life into what works for me, anyway. But at least I can tell you, make sure you understand—like, really understand. About me. And how I feel about you."
As for the actual plot, I'll admit that this is where the issues that evolved actually come into.
It's the writing that actually made the book explode into tiny pieces.
I don't know—it was pretty dull and boring if you ask me. I can see the potential that it had to become into something bigger, better and ten times more wonderfully addictive, but it didn't go there. Maybe this was because McStay wanted the Fiona-Trent thing to work out? There's another
possibility.
And if it actually revolved the way I wish it could've, there would've been a chance that I could give this a 5 star rating. But it is what it is, my friends.
Fiona Doyle. This may seem like the name of your average person with a reminder of Shrek (jokes!), but I'll tell you that it isn't. Fiona is traumatized and has fallen into the deep heart of stupid teenagers. I'm not saying that she is one—but they influenced her. She was normal, okay in the beginning of the book although she had fallen to become a weaker and more broken character to that point, but she afterwards became a carbon copy, a clone if you think about it. The influence of her nasty judgmental friends left her hanging and only thinking about a boy in her life—what about her music, life and happiness? She had gotten a little depressed, and her friends made her think about the opposite way of what it should have been to help her out. Naïve to society, much? I just thought that she'd be better, that's all.
The romance was cute, hah, and I'm glad that it was what helped Fi out in the end, although it wasn't the best decision. It was adorable and intriguing, but I'm not saying that I'd want my own Trent in my life because he wasn't an ultimate fictional boyfriend, that's for sure. But if you'd just like to read as an actual reader instead of living the life of an abnormal teenager, then take a chance on this one.
If you're looking for a fresh, new debut of 2015 with contemporary, romance and duel-character-importance POVs, then this book is honestly for you. I adored the concept and the way McStay handled the whole situation of the protagonist and the troubles that she continued to face for the largest part of the book. It took us to a blast of real life where we're unable to feel anything around us except the characters' emotions. Forget about the issues that I faced, because most people actually loved this one to pieces, and you probably will, too!
What would you wish to see in another version of you?