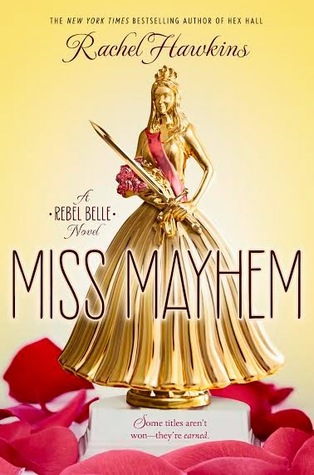 Miss Mayhem (Rebel Belle #2),
by
Rachel Hawkins
Publication:
April 7, 2015, by Putnam Juvenile
Genre:
Young Adult Fiction, Contemporary, Romance, Paranormal
Pages:
288
Format:
Hardcover
Source:
Borrowed
Rating:
Life is almost back to normal for Harper Price. The Ephors have been silent after their deadly attack at Cotillion months ago, and best friend Bee has returned after a mysterious disappearance. Now Harper can return her focus to the important things in life: school, canoodling with David, her nemesis-turned-ward-slash-boyfie, and even competing in the Miss Pine Grove pageant.




Unfortunately, supernatural chores are never done. The Ephors have decided they'd rather train David than kill him. The catch: Harper has to come along for the ride, but she can't stay David's Paladin unless she undergoes an ancient trial that will either kill her . . . or connect her to David for life.
My Thoughts:
Rebel Belle was actually one of my favourite reads of last year, as all of Rachel Hawkins' books are to me. They're wondrous, unique and take magic and paranormal aspects to a new level. With Miss Mayhem, I see it as a little worser than the first book, but nothing close to a horrible sequel leading me to second book syndrome. This was thrilling, wild and full of action all at the same time.

If you've ever read my review of the first book from last year, you'll most likely be able to tell that I was so in love with Harper, David and the whole concept. My eyes couldn't stop lingering from the pages, and I needed more. I even told myself that I wouldn't be able to read anything new for a few days until I got over the tragic book-hangover that Hawkins got me into. I must say that this as a whole was a terrifying sequel. WHOOA. I am never able to get enough of paranormal from Rachel's writing. She's the only character-maker who I can read without barfing from grossness.
"But that would mean wishing he'd never kissed me the night of Cotillion. Wishing we'd never laughed together and held hands and all the other things that I already missed. I wondered if David was thinking that, too, but in the end, he murmured, "See you then," and hung up." (Hardcover, page 153)
We start off here basically right from where Rachel left us off with in the first novel. Harper, David and Ryan all think that everything is now going all right with the whole magic situation, but now Harper's life is again turned around when David is going to be trained by the Ephors. It all goes upside down as she has to make the decision whether to risk her life or suffer for the rest of it.
This was exactly like a thriller novel where all turns horribly with one wrong action. The wrong action here was Harper turning against all of her friends. I mean, she was a good person but she acted pretty cruelly to Ryan, Bee and even David at times. I can obviously comprehend that this is just who she is, (as people noted that she's a Southern brat), and I've grown to love her to even this point, but I realize that it's all because of her that everything went wrong. She's the one who carried the story to slow points since she became clueless with relationships, how to deal with her parents and all of the wrong things in life.

Like I mentioned above, Hawkins knows how to rule the genre of paranormal. With every book that she writes, she adds some kind of paranormal thing in it, from witches to vampires and werewolves. But she never takes the cheesy route of writing and creates plot twists having to do with the weird stuff like that. She relates it all to real life, like boarding schools (in Hex Hall) and to a more romantic based thing, in this trilogy.
"'You are trying to be too many things to too many people, Harper Jane.' Aunt Jewel's fingers were cold, the skin papery , but she held me tight as she added, "And I think one day, one day soon, you're gonna have to choose." (Hardcover, page 207)
Looking at the plot, I do have to say that it was the quality that I had a problem with. I mean, the writing sure is stellar and beautiful, but I found there to be some slow moments in the middle that left me rolling my eyes out of exaggeration. No biggie, but it's just a thing to let people know about beforehand since they may not be in for that kind of thing, know what I mean? It's not like I was second-guessing myself and wondering if I should put the book down, it was just a negative aspect.
But other than that small teeny thing, everything else was practically perfect. And hey, especially the characters and friendships. GO GIRL POWER BETWEEN BEE AND HARPER! Hawkins really made them like best friends, and it's not like one of those stories when the main character has a secret and she hasn't told her bestie yet, IT WAS THE OPPOSITE. They battled all of the battles together, and although there were secrets, it seemed like they were two peas in a pod.
And actually, the two exes who readers expect to never become friends again—Ryan and Harper, were both so supportive of each other and it definitely was a bright spot in young adult literature. Hawkins led our minds out of what we usually expect coming from character-relationships, and I was so thankful with the outcome. And it's all because magic was led into his life accidentally. Woot! *throws a party* I'll honestly be sad if I ever have to see them argue horribly or anything like that. Yay for magical stuff! *looks onto the next couple*
Then we have Harper and David. AWWW. Although we were led into some kind of breakup that didn't seem to last too long, they usually were pretty happy with each other and their relationship. They are like one of the only couples in YA lit that I see understanding each other so well since their situations are so alike. It's not like they chose their magical lifestyle and that they have to live fighting for their lives, you know? Yeah, yeah, yeah, people have noted that David's gotten weirder and that he's hiding something (which eventually really tells that us in the plot-twisting end), but I support them. I'll give them a 5/5 for today, heheh.
After having to deal with a rather low-rated plot in my opinion, I was sure that the ending would be exactly the same as what I saw from the start. NO. I built up TEARS, people. I couldn't believe that this kind of suspense would be thrown at us and now we have to wait another year until the next and final book in the trilogy. I literally sat there afterwards, thinking about the other POV that needs to be written by the author–DAVID, and what he's up to and why the hell did he do that. Not that I'm upset at him or anything... it's kind of mutual between us since he doesn't seem like the happiest wise guy around. But anyways, I'm SO sure that lovers of the first novel (like myself) will also fall in love with this one. It was fantastic, minus plot and Harper. BRACE YOURSELF FOR MAYHEM AND BEAUTY PAGEANTS.
Any good new paranormal recommendations?