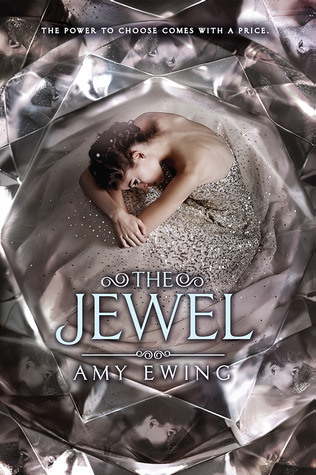 The Jewel (The Lone City #1),
by
Amy Ewing
Publication:
September 2, 2014, by HarperTeen
Genre:
Young Adult Fiction, Dystopian, Romance, Fantasy
Pages:
358
Format:
Hardcover
Source:
Purchased
Rating:
The Jewel means wealth. The Jewel means beauty. The Jewel means royalty. But for girls like Violet, the Jewel means servitude. Not just any kind of servitude. Violet, born and raised in the Marsh, has been trained as a surrogate for the royalty—because in the Jewel the only thing more important than opulence is offspring.




Purchased at the surrogacy auction by the Duchess of the Lake and greeted with a slap to the face, Violet (now known only as #197) quickly learns of the brutal truths that lie beneath the Jewel's glittering facade: the cruelty, backstabbing, and hidden violence that have become the royal way of life.




Violet must accept the ugly realities of her existence... and try to stay alive. But then a forbidden romance erupts between Violet and a handsome gentleman hired as a companion to the Duchess's petulant niece. Though his presence makes life in the Jewel a bit brighter, the consequences of their illicit relationship will cost them both more than they bargained for.
My Thoughts:
Only in rare times comes a book where I feel the complete opposite about it than the general bookish public. Usually, I always think it's bad when others think it's good, or we have mutual feelings about it all. But now–NOW, I'm simply sitting here wondering why the heck are people hating on this gorgeous state of mind beauty that changed my life. WHY. WHY. WHY?!
"The walk back to my chambers is a blur. Out of the Jewel. Lucien has just offered me my freedom."
The Jewel is a book that's been on my mind and radar since before it was released when I was captivated by the cover and the saying that it's like Kiera Cass's The Selection, which is one of my favourite books to this date. I still picked it up and bought a hardcover finished copy although everyone was hating on it since before the release date in September of 2014. Looking at my feelings now, I'm unable to stop thinking about it and all of the pain that it provided me with–a huge headache and dizziness after reading it all in one sitting, mixed with the suspense, plot twists and action scenes that almost had me bursting into tears. I prefer writing this review now since my mind is clear and all focused on Ewing's story, and I know what I'll be dreaming about tonight.

It basically is the perfect dystopia, mixed with magic and romance, but not too much of both. I'll get to the real stuff later, I'm just letting you know what you're here for before actually going onto the actual summary and the main storyline of the book. It was plotted to perfection, by the way. AND THIS WAS STARTED OFF AS AMY'S THESIS PROJECT, WHICH LED TO A STUNNING DEBUT!

This world is split up into circles, where different kinds of people with different social statuses live... and sometimes hide. Violet Lasting was picked up and thrown into intense training to live up to the expectations of the royalty when she was twelve, but she wasn't sure about what this really meant for her future. Yes, she has the perfect blood type and the talent of playing the cello, but it was increasingly difficult for her to learn how to perform the magic that she needs to eventually give birth to a new royal family member. These days, only certain people can give birth without having a child who's deformed or born with a disability, so that's why 200 ladies are chosen for The Auction. After 4 years in practice, Violet now goes to the Auction and gets chosen, and her whole life changes forever.
It doesn't. What can you possibly expect to happen in a sci-fi romance? We've got to keep in mind that Violet and the other girls are forbidden from seeing their families or friends from the outside in the Marsh (the poorest part of their world), and I'd say that I would be put in immediate stress and depression, too. Once you're put into the richest part of their setting, the Jewel, you get everything that you want when you want it. There's only one day when you'll see your family before the Auction, and that's it. Violet actually was one of the lucky ones, because after reading about what her best friend, Raven, went through, as well as Lot #200, Dahlia, went through, she was one of the lucky ones. A smack on the face doesn't do any bad, actually.
What a lot of people continued to complain about from page one was the unrighteousness going on throughout. Yeah, the surrogates were treated SO unfairly. Like, it makes me want to cry. But was this by accident and did the author make it look like it was okay and fine for the stupid royalty to do whatever they'd please to? Um, no. They all were suffering from this absurdity that their world held. What were they supposed to do? They have no choice and no voice throughout, and if they had none of the magical arcana that Violet was lucky to have, they would've all been killed, probably. It all depended on their strengths.
For those of you who don't really understand the concept, it's pretty complex but gorgeous. Unlike the typical dark-world kickass dystopias that I always seem to read (by accident when I'm looking for something else), the concept here was a big chunk of social status and voices. We get a brief meeting of Violet's family in the beginning, and you can basically say that Ewing had a threshold of all kinds of people from everywhere in the city: The Marsh (Raven, Lily and Violet herself), The Farm (where Violet's brother works), The Smoke (where Ash is from, heh) and the Jewel, where the bitchiest bitches live. They all have to do with each other, and without one, everything would fall apart. Expect Hunger Games-like trains, and pills that knock you out for hours straight.
"'Well guess what—I'm human. I'm not perfect. I was trying to do the right thing, but you know what? I don't care anymore. I don't want to be right, I don't want to be good. i wasn't supposed to have you any more than you were supposed to have me.'"
Thatta girl. We have a bunch of kick-ass characters that were present throughout the story, and even if they were wimps, I think I still would've loved them. I just can already picture a movie cast and who would play who. But Violet, she was something else. The fact that Ewing hadn't imaged her as perfect was what made the book better. She made stupid mistakes and choices sometimes, but she learned from them and she became stronger in the end. There were tons of moments where she was a wink away from bursting out in tears, but she kept her head held high and thought of the good. I think Beatrice Prior would've dissipated in her situation, everyone. Here we have a new girl in town.
At least for me, I can tell that it rarely happens when I know that I am so in love with a book from the start. It usually takes me some time to read, get a build-up and feel the tension beginning in my heart, but this happened from the start. It was like this book was written for me, since it's the perfect example and mix of everything. You looked for all sorts of genres? This is for you. There's tension, plot twists (LIKE HELL), and moments where I surely wouldn't have known what to do with myself if I stopped reading. By the way, you'll need a bunch of time on your hands because this will be one sitting for you, absolutely.
What are people's problems and issues with the romance? I DON'T CARE IF IT'S INSTALOVE. I DON'T CARE IF THERE'S A MINIATURE LOVE-TRIANGLE PRESENT. I DON'T CARE IF THERE'S NO SEX. Like, chill. It's a smooth romance that took place because Violet needed someone amazing in her life to help her cope. But it's not like she was using Ash for anything, either. Take a look at Romeo and Juliet for example—instalove, AND PEOPLE LOVE IT. This will be a classic gorgeous stunning thing one day, I tell you. I LOVE YOU ASH, ASH, ASH, ASH YOU'RE MY HUSBAND, OKAY? GO OFF WITH VIOLET IN BOOK 2 SO US FANS CAN BE SATISFIED. LOVE YA. That'd be my message.
Mixing in with special friendships (Annabelle and Violet, and Raven and Violet), I think and strongly believe that the character relationships were unlike any other. It's like The Selection, if you ask me. But I'm obviously not stating that it's copying it, but it has the same gorgeous things that brought me to adore both books at the same time. Bam. Sparks fly.
LOT-197, Violet Lasting, and the girl who was a strong surrogate who has the talent of changing things' shapes, colours and form with the shut of her eyes has left a legacy. I'm not trying to sound cheesy or too obsessed, but I proudly am at the same time. I can't stop thinking about this book and my feels are exploding all over the place as I'm especially thinking about ALL OF YOU—haters or not. I'd recommend that you see the true side of this or else you're seriously missing something.
Whether this book had the cover of a plain brown paper bag with the grossest image on it, or whether it has this electrifying simply amazingly stunning cover, I love this inside and out. I'm simply going so far with it that I'm feeling like it's my kid or something. Ewing went through all of the aspects that make and add up to create a favourite novel, and I'll absolutely be reading this one over and over again. AND I DON'T REREAD BOOKS.
Amy Ewing will be at Book Expo America on May 27 this month, and she's actually the first author that I will go to see on my autographing schedule. I put her on before I read this book, and it must've been fate that made me go to see my new favourite author first, because I just can't wait for The White Rose after that shocking ending. I. NEED. MORE. AFTER. THE. CRAZY. SUSPENSE. AGHHHH!
What was the last book that made you feel the same way I do now?