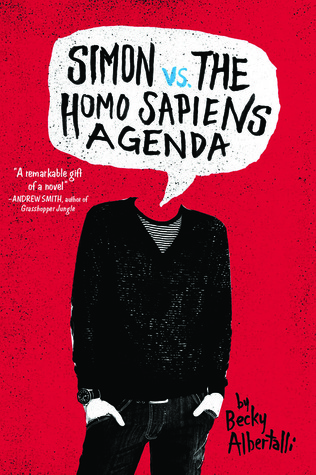 Simon vs. the Homo Sapiens Agenda,
by
Becky Albertalli
Publication:
April 7, 2015, by Balzer and Bray
Genre:
Young Adult Fiction, LGBTQ, Contemporary, Romance
Pages:
320
Format:
Hardcover
Source:
Borrowed
Rating:
Sixteen-year-old and not-so-openly gay Simon Spier prefers to save his drama for the school musical. But when an email falls into the wrong hands, his secret is at risk of being thrust into the spotlight. Now Simon is actually being blackmailed: if he doesn't play wingman for class clown Martin, his sexual identity will become everyone's business. Worse, the privacy of Blue, the pen name of the boy he's been emailing, will be compromised.




With some messy dynamics emerging in his once tight-knit group of friends, and his email correspondence with Blue growing more flirtatious every day, Simon's junior year has suddenly gotten all kinds of complicated. Now, change-averse Simon has to find a way to step out of his comfort zone before he's pushed out—without alienating his friends, compromising himself, or fumbling a shot at happiness with the most confusing, adorable guy he's never met.
I guess that I can say that the first possible comment that comes to mind when I think of this book (or even after I set it down just last night) was: awesomeness and randomness. Most books don't give you that feeling where you feel that there's no other book like it around or there's no other book that made you feel that same way. But this? THIS GAVE ME EVERYTHING EXCEPT ABSOLUTE ADORATION. It needed a little teeny bit more of that. But overall, you'll feel like someone just stuffed a box of yummy Oreos into your mouth (or whatever your favourite food is) without you thinking about the guilt of it not being good for you.
For the last half of 2014 and practically every single hour of 2015, I've heard something about this book. It's so raved about, just like Victoria Aveyard's Red Queen. Talk about a year of fantastic but fangirled debuts, huh? That's right, my friends. I'm definitely not complaining about this, because especially after reading, I feel that it needs all of the buzz and rave that it can possibly have and handle, since every single true YA reader needs to read this book. You just cannot go through life and continue your daily life without it. Simon Spier has written a diary, and a guide for teens to follow, no matter what kind of love you truly believe in. It's all about the mix and the diversity in relationships. That's the best thing about modern day, since so many people support everything, all kinds of stuff.
"I guess it was about loneliness. And it's funny, because I don't really think of myself as lonely. But there was something so familiar about the way Blue described the feeling. It was like he had pulled the ideas from my head."
To be honest, I'll tell you the truth: I actually thought that this book was some kind of brainwashing piece of literature. I thought that Albertalli was messing with readers' heads and imaginations. Yeah, it's most definitely a true contemporary where everything is sweet and simple (or at least, we expect it to be), but I was waiting for something else entirely to be announced. NO, NOT PARANORMAL STUFF. But maybe, I wanted the ending to be different? I guess we can then all say that it was predictable, then. Except here, I never saw that coming. The real mystery and point of this book was all about who Blue was, no? And it was like a detective mission where us readers are trying to look and peer at the clues that Becky has given us, all in a matter of 320 pages. It wasn't simple.
To this point, I've skipped the summary, but don't you all wise guys know what this is about? Of course you do, (just look at the paragraph about raving and hype again) but I'll let you remember some of it again. Simon Spier is secretly gay. No one actually knows, because he hasn't told anyone yet, except for the mysterious Blue, a guy who goes to his school who Simon met on "the Tumblr." They message each other about their lives, and it turns out that Blue is gay, too, and Simon begins to share some intimate feelings of affection that might change things forever, especially after he hears about who Blue really is.
Sound the sirens. Seriously, sound the freakin' sirens because this book is a drill for reality. Albertalli basically spent the book talking to teenagers from Simon's point-of-view. He struggled to find people who really understand and who are like him, and this was all about his story. With elements and themes of LGBT, high school life and simply being an unpopular teenager, there's something that everyone can relate to, here. It absolutely doesn't have to be anything about the romance, obviously, but I saw the true form of what high school really is and how people are manipulated by the media and rumours. If you feel that your high school was so angelic, I'd give you a push to go for this and see what the schools in today's society really are like.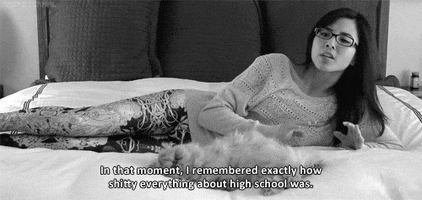 "If she thinks me drinking coffee is big news, it's going to be quite a fucking morning."
Another thing that really shocked me was the humour and wit. I rarely laugh in books—I just can't unless it's really hilarious or relatable that I just can't imagine what other people think. But I can't even count the number of times I shredded a giggle or a chuckle. SIMON JUST KNEW ALL ABOUT THE RIGHT THINGS TO SAY OR REPLY AT THE RIGHT TIME. And I kept thinking in my head, "Thatta boy. You know how to be a real person, not just a well-driven character. Wow," without any regrets. *throws a party*
Moving on to the actual storyline, things could've been better. The idea was cute and simplistic both at the same time and impressive, but something was missing. The writing didn't hold a wow-factor that left me in a state of shock feeling like this book is a new favourite or whatever—something to do with bookish affection, but I liked it. I enjoyed it, it made a nice Tuesday night read. I'm glad that I've gotten the chance to finally read it and understand what everyone is talking about—the new buzz read of 2015. There were some plot holes and moments where I felt that I needed a recap or extra detail on the character-to-character relationships that were going on between Simon and his friends, but it was what it was.
Simon Spier is an absolute genius. He tested out his feelings and what love really means to him (and this created a true reader bond between us) and I felt that I was his best friend, because the writing and narration of his POV was exactly the way I wanted it to be from the start. I always wanted to have a gay best friend, just like Sarah has in Orphan Black, or how Nick and Abby have Simon here. You get another gorgeous view on love, and it's adorable!
Do I seriously have to go on and talk about Blue and the whole ending that left me weeping, at least inside? Well, you'll have to fangirl and cheer for your own sake eventually, but let's just note that you'll have all of the happy, wedding bells ringing in your head, and when you open your eyes and waken from Simon's world, you'll see a gorgeous wedding on the television of pure love. Hah, you'll see what I mean. NO, THIS DOESN'T MEAN THAT THEY GET MARRIED, THIS ISN'T A SPOILER, YOU WONDERFUL WEIRDOS AND OREO-EATERS. But I get why people share such a ship onto their relationship, because they were meant to be from the start, and can only understand each other. It's so hard for a friend of yours to understand and let you keep your head on their shoulder if you're feeling something like this, no?! I'm here for ya, Simon!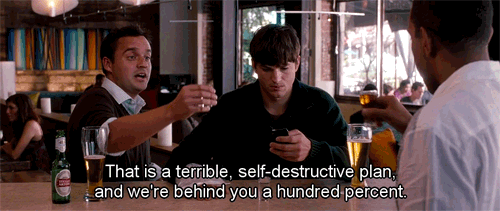 You know how this book has a 4.33 rating on Goodreads? Yes, you've got to embrace that rating because it's practically absolutely correct.
Hence, everyone's finding out about it day after day and hour after hour and we just can't stop talking about it because no one's read a book like such for a long time. With LOL moments, a relatable setting and a genius protagonist, everyone will truly predict and feel like this
agenda
is actually meant to be written for them to devour and become addicted to, although there's a problem with the writing. Farewell, fellow homo sapiens and friends of mine!
What is the most relatable contemporary YA book you've read?