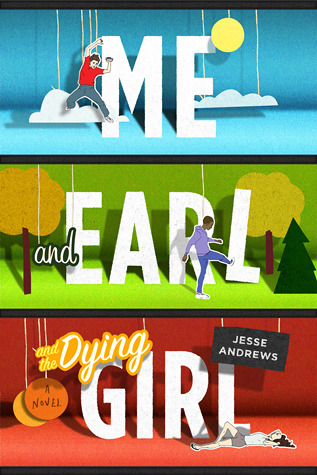 Me and Earl and the Dying Girl,
by
Jesse Andrews
Publication:
March 1, 2012, by Amulet Books
Genre:
Young Adult Fiction, Contemporary, Romance
Pages:
295
Format:
Hardcover
Source:
Borrowed
Rating:
Greg Gaines is the last master of high school espionage, able to disappear at will into any social environment. He has only one friend, Earl, and together they spend their time making movies, their own incomprehensible versions of Coppola and Herzog cult classics.




Until Greg's mother forces him to rekindle his childhood friendship with Rachel.




Rachel has been diagnosed with leukemia—-cue extreme adolescent awkwardness—-but a parental mandate has been issued and must be obeyed. When Rachel stops treatment, Greg and Earl decide the thing to do is to make a film for her, which turns into the Worst Film Ever Made and becomes a turning point in each of their lives.




And all at once Greg must abandon invisibility and stand in the spotlight.
I'm always in the mood for a humorous, laugh-out-loud read with specks and sparkles of romance and a unique premise. Here, Jesse Andrews cemented a novel that will stay in readers' hearts forever, and now we're just all wanting to be best friends with Earl, Greg and the fabulous Rachel, alongside taking place in a movie and living in the outskirts of the horrible times of high school.
I've been wanting to read this book for a
looooong time.
I've seen people reading it all over the place, and you can already picture my nerdy awkward self fangirling and getting envious over the fact that these people have this
beauty in their hands.
Something like TFIOS? Okay, I'm in, as anyone would expect me to feel, especially since this deals with the subject matters of romance and sickness. This book was dead-on hilarious, and I kept laughing, smiling and gushing the whole time while I was reading. A book taken place in a male protagonist's point-of-view always makes my day ten times better, as I've always wondered what it would be like to
live in a guy's point-of-view in a hard struggle in their lives.
Greg was chill and pretty easy-going with everything, including high school and his life, but there is a soft spot in everyone, including this guy right here. *nods head*
"Who knows? Girls are insane, and dying girls are even more insane. Actually, that sounds fucked up. I take that back."
This features our main character, Greg Gaines, who feels that he's able to fit in every high school sociable group in his school.
Everything.
Looking at his story, I must say that for a high school senior, this guy certainly knows what he's doing. His personality makes him able to stay with the jocks, the goths, or the crazy Church people who bother him constantly. For all of his life, we must say that he's had trouble with love, and has never really dated anyone for a long time. There once was a girl named Rachel, who he pushed away when they were in seventh grade. Now, she has leukaemia, and Greg's mother pushes Greg to go and talk to her, keep her happy. It seems like a dumb idea at first, but this began something wild and kept a legacy for readers continuously.
What I mostly adored about this book was the fact that the characters weren't in a full-out romance involving kissing and sweet moments. This was something that readers had to visualize in between the lines, and if you really look at Rachel and Greg's connection, then there's a chance that you might see the love that they shared. At times, it felt like more of a friendship or sibling-kind of love, but at others it seemed to be a gorgeous love story. That's my kind of thing. The story claimed to be (like looking at its title), Greg, Earl and Rachel. Earl was part of this story, too—he was Greg's best friend and helped make movies and played a pretty big role, and you can't just say that it was only Rachel and Greg. There was more to their connection, and we had a whole bunch of memorable characters who were mentioned on every page.
I know that readers will adore the script format. Andrews switched the novel's format from regular narrative writing to a script format, since Greg and Earl made their own movies and played around with these things. Everything was set to be in Greg's liking, and this was the way he imagined things. He was a guy with a huge imagination, and you could see that through his made-up situations that he formed in his head before a big moment in his life happened. This also was taken place from Greg's POV, and he knew that he was writing a novel. The best part where this was evident was in the end, where we read through the Epilogue and found out what happened to the characters afterwards.
Jesse Andrews shows that books don't get happy endings either. He continuously said this in the ending pages, and you'd expect this to be cheesy and everything. Yes, some of this was, like the concept where there's social groups in his school, but in a way, that's also a normal thing for settings. On the other hand, Greg didn't get a huge rumbling round of applause after his whole school watched his movie about Rachel. He didn't get to have those perfect last moments. It wasn't a book, it was like a life story of a teenager, a memorable one, for that sake.
I can tell you that I enjoyed reading this book in an overall matter. The plot itself was a very fast-motioned aspect, where there were no struggles for me to finish the book. It was so easy-to-read, and many pages were flipped with delight and a huge smile from toes to head. Andrews' writing is truly spectacular. His style reminds me of The Spectacular Now or The Perks of Being a Wallflower, with teenage problems, but fun and games most of the time. It taught us lessons, and it was just a simplistic read with a simple plot that stole the hearts of many.
SO GREG WAS MY PROBLEM. Yes, he was hilarious, and relatable, like your average teenage guy. You could honestly meet him on the streets and not notice anything strange or eerie about him. That was the good, positive part about him. But really, he was too self-centred. The other good thing here is that this book is his, instead of Rachel's and all about her fate and her knowing that she's slowly dying inside and out. But, I felt that the author gave him too much control of things. He liked attention, and when he got it, he did whatever it takes to make sure that he'd continue to get that attention and praise. He made movies, and then he went crazy. He complained about his life, and he continued to complain. Get my flow? *wriggles eyebrows* Nothing changed about him, and I'm seriously wondering if that ending was the real feeling, or just feelings because he knew that he had to feel that he had to act like that for Rachel.
And Rachel? Eh. I can see the kind of impact that she had on Greg and the story and all, but I didn't see anything particularly different or special about her. She didn't care for Greg, she just went on with her life and I saw that she was using him for some happiness in her life while it lasted. Yes, there were tons of pity and pathos that I felt for her, but I didn't see anything diverse about her. Nah, I didn't expect a girl of a different race or anything—that's not what I mean. She was just a Plain Jane person, and her weirdness just got me rolling my eyes.
Bunching up everything from beginning to end, I'll tell you this: This was a funny read that was simple, but was lacking development and something unique. I'm really excited for the movie, as this will totally be a hit for the summer, but that's what I see it as: a summer novel. You know, this isn't your typical cancer story either, as it's about Greg and everyone else, but—I would prefer something that left me crying, left me smiling from head to toe, or something that left a meaning in my heart.
Huh. I don't know, anyone will either love this or hate this. In my opinion, it was closer to loving than hating, and it made me happy, feel the golden sunshine rising on my head. In a way, it's typical and it's not at the same time, and most people will run for the chance to read it because even by the cover, everyone can tell that it's promising us something else. I'm really glad that I've finally given it a chance, since it's been stirring all over me and I knew that I'd have to go for it eventually. Here's friendship and a great premise. June 12, COME FASTER.
Will you go for this book, or wait for the movie? I'm telling you, you'll have to go for this either way eventually, my friends.