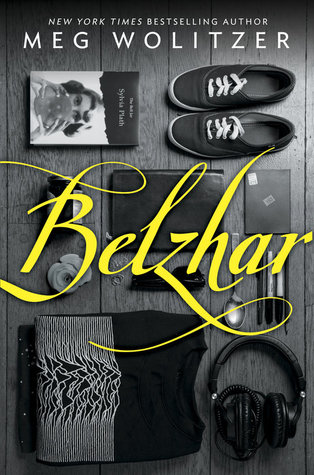 Belzhar,
by
Meg Wolitzer
Publication:
September 30, 2014, by Dutton Books
Genre:
Young Adult Fiction, Contemporary, Romance, Paranormal
Pages:
264
Format:
Hardcover
Source:
Borrowed
Rating:
If life were fair, Jam Gallahue would still be at home in New Jersey with her sweet British boyfriend, Reeve Maxfield. She'd be watching old comedy sketches with him. She'd be kissing him in the library stacks.




She certainly wouldn't be at The Wooden Barn, a therapeutic boarding school in rural Vermont, living with a weird roommate, and signed up for an exclusive, mysterious class called Special Topics in English.




But life isn't fair, and Reeve Maxfield is dead.




Until a journal-writing assignment leads Jam to Belzhar, where the untainted past is restored, and Jam can feel Reeve's arms around her once again. But there are hidden truths on Jam's path to reclaim her loss.




From New York Times bestselling author Meg Wolitzer comes a breathtaking and surprising story about first love, deep sorrow, and the power of acceptance.
Beware of contemporary aspects mixed in with the wonderful stuff of paranormal. For real. Belzhar surprised me, threw me upside down, and left me longing for more. What the hell did I just read? I just read a story that I never expected to like this much. The ending will leave you shocked and you'll sincerely wonder as I did, if this was an illusion.
"Books light the fire—whether it's a book that's already written, or an empty journal that needs to be filled in. You all know what I'm talking about I think."
Belzhar... Belzhar... Belzhar...
Since mid-2014, I've been wondering what that eerie word means or what it's supposed to mean in this case.
It's a mythological world, my friends, and it's felt by the chosen ones.
Now don't get all sassy and begin to roll your dazzling eyes at me, because I know that deep-down inside of you do you feel the same way as me, and you feel that it's something that you'd like to be a part of. I want to go back, back to see and be with some people who I'm not friends with at the moment and enjoy the spare and happy moments that I once had with them. This is what the setting that Wolitzer created, and at first, our wonderful protagonist, Jam, wasn't sure of the world either.
This all began with the coming of Jam Gallahue into a boarding school after the death of her boyfriend, Reeve. This isn't your typical boarding school in Vermont, though. This one is therapeutic, and everyone in Jam's English Special Topics class has gone through
some tragic event that they want to go back to to figure out the secrets behind.
This class is strange, and at first, no one knows why the past students have been obsessed and feel like their lives have changed, but as soon as they get handed red journals, they get to go back into the past back to events with people that they loved, or who may not be with them anymore.
Expectations, expectations...
every review that I've read about this book talks about how blew their minds, and I have to absolutely agree with this. I started off thinking that I would be throughly impressed by the contemporary-loss tragedy kind of plot that the author seemed to have presented to us before, but as we speedily moved on (I finished this in one sitting, guys!) I realized that this had a mix of themes and concepts. Yes, loss was a big part of it, but it was also mental illness and depression. Jam's character was so loss into her own little tragedy that grew in her head that she didn't realize the real meaning of everything. I can't even imagine what her parents were thinking about this all.
They knew the truth, but thought that their daughter was going crazy, period.
Who would've thought that a magical world would help her realize the truth instead of some random therapy that most people were getting at her school?
Does one honestly think that Jam really needed that bulls---? She didn't. And hey—that was one big chunk of the diversity that I saw all throughout the book. And by diversity, I mean uniqueness in the book that most don't hold. And I'm telling you, if I knew beforehand that this book held an alternate-world-society theme, I might've not picked it up in the first place. The summary of this book didn't share anything—no clues, no nada. You can call me a big supporter of this book—I'll do whatever it takes to make sure that it's getting popular, since it deserves it all.
"On the line where it says "Reason student is applying to The Wooden Barn," your parents can't write "Because of a boy." But it's the truth."
When I began reading, I would've never thought that it would end up to be this amazing. It started off as most suspense novels do—with a mysterious beginning where readers are left to repeatedly ask questions and try to solve the wondrous mystery that the author is cluing in on. But once we got to the middle and Jam's character development sprung up and out of control, where she really began to make friends and show her real side, I became obsessed and I couldn't let myself put the book down until it was over, where I didn't want to let it be over, either. I sat up until midnight, scurrying through the pages and letting the emotions run over me. By run over, I mean car run-over.
This point now brings us to the subject of THE ENDING. THE ENDING THAT I NEVER SAW COMING AND WHICH WAS CONFUSING BUT UNDERSTANDABLE AT THE SAME TIME AND I CANNOT ACTUALLY BELIEVE MY EYES ON WHAT I HAD JUST READ. Can I actually soulfully admit that I was such a loser to not see this coming? Since books are usually believable, where we actually nod our heads and feel like the author/protagonist is stating the truth, I never thought that the events would be a lie, in a way. I'm not spoiling anything here, but it all was a lie and Jam even fooled herself, when you think about it. Who'd think that some journal would spark up the real stuff and make it clear?
"This turned out to be the night we fell in love. We'd known each other for sixteen days. We'd have only twenty-five days left."
It became clear—crystal clear, in fact. Meg answered all of our questions, including everything behind the teacher's choice on Sylvia Plath, whose books I now intend to read, where The Bell Jar is now on my TBR on Goodreads. We ended off on a happy but strange ending, and it's not like I had to figure out the ending for myself. That would just suck, and it wouldn't work out well for this novel. Instead, it was everything I would've ever asked for and more. If I was in a public area while reading and I came up to this point, I would've yelled and ripped everyone's hair out of surprise and astonished behaviour.
Jam was a leading main character. Do you get what I'm saying? She's not (at least for me) what most people describe her as—whiny and monotone. I felt all of the depth in her, and I just understood her. She's a teenager, and I'm sorry but—what can you possibly expect from her? Tragedy and heartbreak is honestly like a sickness, and you won't see the sunshine until it's all clear to you and until people stop bothering you. And guess who taught me that? My wonderful friend, Sierra. Or in this case, Jam's wonderful friend as well. And man, LOOK WHAT HAPPENED TO HER. I swear that I thought something else was going to happen to her.
The romance? You can hardly say that there was any. Jam was so mixed up with her feelings in the middle of the book that she just did whatever seemed right to her at the moment. So what if she kissed Griffin? You can't call that instalove. They weren't in love, and Jam even noted that it was a mistake since she can't get over Reeve. (Who I always saw as a douchebag anyway.) They just had a tiny fling, and since they both understood each other with Belzhar and all, it was merrier and better. I giving Meg another thumbs-up for that aspect, too.
What can I say about this book? I can really go on forever. This definitely was one of the best books I've read this year, and thankfully my school library had it or I probably would've never taken the chance for it until maybe two years later. I loved all of it: the beautiful writing, the spectacular ending, the references to amazing poets, the characters and themes. The whole book itself was like a book inside of a book, and I understood and felt all of the emotions that Wolitzer was throwing at me. This was unlike anything I've read before, and I'm encouraging you to join in on this because you won't be disappointed. No weak points, I promise. And I keep promises too, just like all of the characters did to me, to give me a memorable Saturday-night read. Those don't come along often.
If you got to visit a universe where you get to meet anyone and live in your own personal event with them, who would it be?