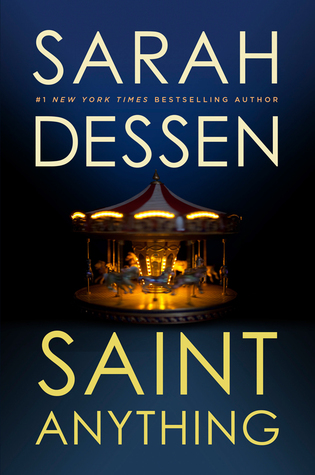 Saint Anything,
by
Sarah Dessen
Publication:
May 5, 2015, by Viking Juvenile
Genre:
Young Adult Fiction, Contemporary, Romance
Pages:
448
Format:
ARC
Source:
Publisher
Rating:
Peyton, Sydney's charismatic older brother, has always been the star of the family, receiving the lion's share of their parents' attention and—lately—concern. When Peyton's increasingly reckless behavior culminates in an accident, a drunk driving conviction, and a jail sentence, Sydney is cast adrift, searching for her place in the family and the world. When everyone else is so worried about Peyton, is she the only one concerned about the victim of the accident?




Enter the Chathams, a warm, chaotic family who run a pizza parlor, play bluegrass on weekends, and pitch in to care for their mother, who has multiple sclerosis. Here Sydney experiences unquestioning acceptance. And here she meets Mac, gentle, watchful, and protective, who makes Sydney feel seen, really seen, for the first time.




The uber-popular Sarah Dessen explores her signature themes of family, self-discovery, and change in her twelfth novel, sure to delight her legions of fans.
For a year and a half, I haven't read anything by Sarah Dessen, since I binged and read everything by her in one whole summer. And let me tell you, I was OBSESSED at that time. Every time she writes something new, it comes with a new concept, story, theme and subject that's bound to get readers up and going and eager for its release. I had been SO EAGER for this one, and I'm so glad that I have an ARC of it.
Saint Anything was unlike Dessen's other reads. It was darker and sadder, but not in some kind of gothic way. It contains just the regular amount of Dessen sass and bittersweetness that all of her other books have, just with more emotion being felt. There were times where I felt like crying my eyes out, but no tears came out because the whole book was fast paced and left my heart racing. I'll get to more of this emotion heart-felt stuff a little later, but it's one of the most extraordinary aspects of this novel.
"It was one of those moments that, even while it was happening, I knew I would remember forever, even before the ring came into view and my grasp. I didn't reach for it, though; I didn't need to. I felt like I'd already won." (ARC, page 199)
From the first chapter, we're introduced to the main scene of this book that brought everything together: the sentencing and the courthouse incident. We meet seventeen-year old Sydney, whose brother Peyton has done so many bad things in his life. They used to be super-close, but after he got manipulated by the rest of the teenage world, he's now sentenced for 20 months in prison, and this is all impacting the rest of their family, forever. Sydney feels like she's lost, and all of her actions revolve around those of Peyton's. When she meets the Chatham family, things seem like they're about to get better.
Readers are prone to see that FRIENDSHIP IS A HUGE PART OF THIS BOOK. I mean, Sarah's novels always are, but Sydney needed it or else she wouldn't be able to stand her life and herself for that sake. Without the Chathams and the first interaction at Seaside Pizza, things would've gone to the drain hole. Layla, Mac and even Rosie were life-savers, and I thank the book gods for handing such memorable characters to us for 417 inspirational pages. Along with self-discovery, family and siblings, this relies on the plot the whole time through.
My overall thoughts before I get into the deeper, more specific part of the plot and such? It was truly enjoyable and remarkable. It's not my favourite Dessen read, and it's obviously not the worst one, either. I see it more as a book that will help shape 2015 and all of contemporary literature since I know that it deserves to. All of this lovely lady's work does, and she keeps doing it awesomely over and over again. I can't forget about Mac and Sydney, as their relationship took so much time to mend and in Sarah's bookish worlds, one simply does not hear of the aspect of instalove.
"I was used to being invisible. People rarely saw me, and if they did, they never looked close. I wasn't shiny and charming like my brother, stunning and graceful like my mother, or smart and dynamic like my friends. That's the thing, though. You always think you want to be noticed. Until you are." (ARC, page 3)
Can we just sound the alarms and throw a plain awesome party? After typing in that quote and rereading it, I just recognized (again) that this was so relatable. Sydney was the pure definition of me and a teenager. She was normal—not reckless as some of her friends were, and she just loved her family and friends but wanted a role and choice in life. She became a best friend for me, since I saw so much of myself and others in her. That rarely happens, I tell you. When it does, I know that this book is something else. *winks*
What I feel that I'm trying to prove is that everything was perfect (and could've been so outstanding that I would frame the cover), but something was missing as well. I could say that the plot was too overused, and that was part of the issue. But I guess that this is typical Sarah Dessen and what we can only expect with her novels. The characters were phenomenal and so was everything else, but it did lose one star from the storyline.
LAYLA OMG. First of all, I ADORE that name (I find myself fangirling a lot with this review and reusing capital letters over and over again by the way) and she was an amazing friend. She wasn't fake like Jenn and Meredith were (Ew. No way.) and was like the perfect friend who has problems and issues just like you do and is always by your side, ready to give you a big hug. Get what I'm saying? She's a saint, hah. (But one who does bad things anyway because she's a fabulous rebel, who also plays in a band.) AND I LOVE THE ASPECT OF A BAND, BY THE WAY! Saint Anything was awesome. WOOT!
And MAC? Kiss me. Literally I was waiting and reading on my front porch step for the whole time until he'd come on his horse and ride with me to through the sunset and into the rainbow ahead. *giggles* I can't even explain how cute he was, and HE HAD PIZZA. That's honestly a key to a girl's heart, and darn, Sydney sure was lucky, just letting everyone know. He's mine too, by the way. So don't go ahead and think that you can grab him for yourself with your absurd grabby hands. Hmmph. :P
I'm twisted, to be honest. Twisted in the gorgeous words that feel like home, and twisted in my favourite YA genre. There were just so many amazing things about this book, and I can't let myself forget about them. You won't, either, and I recommend bracing yourself for the magical characters and pretty great writing. Since the weather's getting so darn hot and nice, then I'd recommend sprawling yourself on your lounger and spending a few hours with this beauty—it's worth it, since it's beautiful, too. Lemme just get back to my concert watching Mac and Layla and even Eric play, haha.
*An advanced review copy was provided by the publisher in exchange for an honest review. Thank you so much!*
What's your favourite Sarah Dessen book, if you have one? Are you excited for this new read?