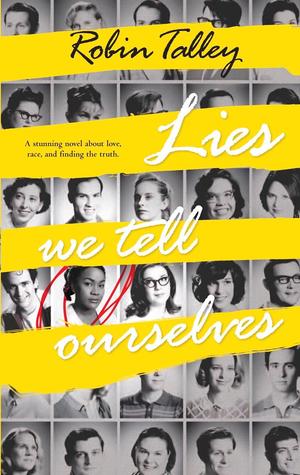 Lies We Tell Ourselves,
by
Robin Talley
Publication:
September 30, 2014, by Harlequin Teen
Genre:
Young Adult Fiction, Historical, Romance, LGBT
Pages:
384
Format:
Hardcover
Source:
Borrowed
Rating:
In 1959 Virginia, the lives of two girls on opposite sides of the battle for civil rights will be changed forever.




Sarah Dunbar is one of the first black students to attend the previously all-white Jefferson High School. An honors student at her old school, she is put into remedial classes, spit on and tormented daily.




Linda Hairston is the daughter of one of the town's most vocal opponents of school integration. She has been taught all her life that the races should be kept "separate but equal."




Forced to work together on a school project, Sarah and Linda must confront harsh truths about race, power and how they really feel about one another.




Boldly realistic and emotionally compelling, Lies We Tell Ourselves is a brave and stunning novel about finding truth amid the lies, and finding your voice even when others are determined to silence it.
In modern days (aka, today basically), we are prone to watch the news and see things being disastrous and unjust. It's a normal thing for everyone, and the news usually only carries negative and sad stories. Robin Talley here has delivered a novel that deals with many different themes and concepts that I believe every single YA reader should read, no matter what genre they're used to reading.
The cover of this book has always caught my attention and I've always felt that I need to read this book, but it's been hidden away in my TBR shelf on Goodreads until I spotted this beautiful masterful copy at my school library. Now,
that's a perfect place to store this book.
Anyone from a school is now able to pick this book up, whether they enjoy reading or not, or if they read constantly or not. Dealing with some feminism, civil rights and human rights and some aspects of LGBT literature, this is a book not be set away or tucked behind the shelves. I must say that it's one of the most diverse reads that have been released in the last little while.
Surprisingly,
this is a historical novel.
It actually takes place back in the times of the late-1950s, where the battle between different races was common, and every person took a different side. This is a novel that many historical inspirational figures would love to read, since it seems so real and I can just picture and image it happening like it's a story that history teachers will remind their students of year after year. Really, this is just
fiction,
but I'll tell you that it's more real than anything else I've read for a while. Does the fiction part of this change my opinion any other way? Absolutely not, it seemed like an autobiography or a memoir, for crying out loud! *smacks head of cheesiness*
"Rule One: Ignore anything the white people say to you and keep walking. Rule Two: Always sit at the front of the classroom, near the door, so you can make a quick getaway if you need to. And Rule Three: Stay together whenever you possibly can."
For the whole book, the author divided the points-of-view into two: Sarah's and Linda's. In the beginning, you're unable to tell that these two very different ladies will have to end up being with each other, and even surprisingly, romantically. I won't tell you anything, but I'm just letting you know that things are quite possible in the wonderful literature of today. Authors simply always go beyond the boundaries in magnificent ways and leave readers startled. That's exactly how I felt through most of this, to be honest. Sarah Dunbar is our main-main protagonist, whose story is really the main structure of this whole novel. She's black, and is one of the first students of her race to attend a high school in Virginia that promises a better education for her and her family. The thing is, this high school is all-white. And now, people are beginning to torment her which brings her into seeking for a friend, and this friend is Linda. Since they are practically forced to work together for a project, a bond forms which changes everything between them and others.
The emotions that were found throughout the book crushed me. I just can't go on and tell you how sad everything was and how Talley made me feel. No other book's events left me thinking about historical events so deeply like this one, and the author actually dug quite deep into the true subject matter of racial contexts and unfairness found throughout a lot of America, where their uncivil times were all placed in the same time as this book was taken place. I was left outraged at some moments, close to tears, and in an overall subject, I was left not myself, instead I was one of Robin Talley's characters, witnessing the horrible events and structures that was found all throughout the story and still long and dodge in our hearts.
If we get to the real point of this book, I feel that people might feel that the world is a crazy place. And that's what the wonderful set of characters we had here taught us... or at least, me. I felt that the actual point of the novel was very clear but we have to go deeper into it to actually feel the emotions and get yourself sparked up with gorgeousness and feels and everything that this novel has to share since it has so much subject matter that one can absolutely blow up of thoughts.
"I have to start being more careful around Sarah. I need to make sure she knows I haven't changed my mind about integration or any of the rest of it. I never will. She's wrong about everything. I can't let her gorget that. I can't let myself forget, either."
Going into the plot, that was my only complaint and problem that I have to admit.
Yes, the meaning and everything was there....
but the story itself was really slow. I totally understand that it needs the development since things cannot just brighten up and become better and happier with the snap of your fingers. But I wish that there was more fast-paced moments since contemporaries suck when they take forever to get to the point. For the first half of the book where the most action happened, everything was okay, but once we surpassed the middle moments, I got a little bored and questioned the existence of this novel. I'm just kidding, you know.
Sarah and Linda as characters as a whole were wonderful. AGH. I shipped them from the beginning although a love-hate relationship was certainly present between them. They both were similar in so many ways, and Talley made sure to show that they were both actually running away from some source and force in their lives, and being together was the thing that saved them both from going insane and becoming even worse people. I felt so much guilt for both as many people tried to ruin and damage their relationship, but since they were both so close, they tried to accomplish and do whatever it takes to make things better and save themselves from losing each other.
Sarah had to be my favourite character from the two points-of-view. She was strong and a fighter, although there were many people who tried to bring her down because of who she was. At times, yeah, she felt that she couldn't handle anything any longer, but she did this for her sister and for her parents, to accomplish something and make them proud. If this was a true event in history and not just based on true events, this would be in the history books, my friends. She proved the real stuff and side of feminism as well as human rights, all because of this one school project that changed her life forever. And I'll say, it certainly changed YA literature forever as well.
In the end, I can tell you that this was a great read. It was light and heavy at the same time, especially when looking at the subjects and plot of the book. Everyone will have to be in a certain particular mood while reading this because it can go one way or the other for all of you. I think that people will either love or hate this, and nothing much in between because it all depends on what you support and your usual liking. For me, this was absolutely more great than bad, and I recommend it for everyone looking for a diverse read for a night. Friday night read, everyone?
What is the latest book that dealt with a memorable and unique subject that you read?