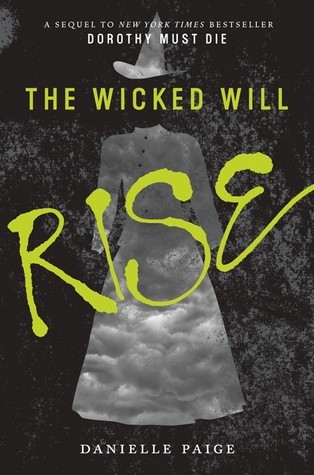 The Wicked Will Rise (Dorothy Must Die #2),
by
Danielle Paige
Publication:
March 31, 2015, by HarperCollins
Genre:
Young Adult Fiction, Fantasy, Adventure
Pages:
293
Format:
Hardcover
Source:
Purchased
Rating:
½
In this dark, high-octane sequel to the New York Times bestselling Dorothy Must Die, Amy Gumm must do everything in her power to kill Dorothy and free Oz.


To make Oz a free land again, Amy Gumm was given a mission: remove the Tin Woodman's heart, steal the Scarecrow's brain, take the Lion's courage, and then Dorothy must die....


But Dorothy still lives. Now the Revolutionary Order of the Wicked has vanished, and mysterious Princess Ozma might be Amy's only ally. As Amy learns the truth about her mission, she realizes that she's only just scratched the surface of Oz's past—and that Kansas, the home she couldn't wait to leave behind, may also be in danger. In a place where the line between good and evil shifts with just a strong gust of wind, who can Amy trust—and who is really Wicked?
After reading the utterly raved about Dorothy Must Die back in 2014 and enjoyed it to the fullest circumstances, I've felt that I've been sitting here at the front of the line, waiting for this sequel to be released. Now that it's over and done with, I must say that this was every bit just as spectacular as the first one. Action, killing, assassinations, some unexpected romance, witches, magic, and the evil Dorothy, Danielle Paige has given readers every bit of awesomeness and continues to.
I can't even explain to a reader
how much this series means to me.
I've gone through reading hundreds of retellings (I'm obviously over exaggerating here, by the way) before this series came into my heart, and I haven't been impressed. No series or book can possibly justify and prove that the real thing is just as good or amazing. And although I haven't read the actual book
The Wonderful Wizard of Oz,
I know the story pretty thoroughly, inside and out, and Danielle Paige just redid it perfectly, although this story comes with its own consequences and
twists.
There wasn't much evil in the actual movie/book except for The Wicked Witch of the West, but here, this is like the apocalypse of Oz and we certainly find out more from where the fictional place came from in this filler read.
"Just as I was wondering if I would ever see her again, I heard her funny, foolish cartoon voice echoing down from somewhere high above us: "Remember—don't be wicked. Unless you really have to!"
This beauty takes place right from where the first novel left us off with: Amy's struggle and hunger for revenge on Dorothy. Since she had just made the attempt to stab that bit-- alive and kill her, it hadn't worked and she missed. Now, although Amy isn't wicked (at least, not yet) she wants to help the people and friends that she made in Oz and capture the Tin Man's heart, the Lion's courage and the Scarecrow's brain.
Things are about to get wicked and crazy, my friends.
Here comes an overpowering sequel that's full of action, adventure, plot twists, and mouth-opening moments where you will not believe what's happening before your eyes. This is the novel of truth, where the characters discover the meaning of Oz and what it really is, and Amy discovers her role, as well.
I feel that Danielle Paige gets me. Her writing is soothing, unique, and she writes the story with pride, and in a good way. Her characters are born/made to be confident and likeable, heroic in a way. I could honestly read anything that she writes and I'll be impressed. Her books deserve the highest award of any award of gratitude and achievement since I cannot simply compare these books to anything else. I won't say that there are books even better than these ones since they're so difficult to find in the YA world. I don't know what's with the people who are arguing and debating whether to read this or not because the author supports the stuff with the "Full Fathom Five." What does that have to do with this spectacular writing? Put yourself in her shoes, people.
Now that I've got a little rant out of the way, I can now slowly mature through this review like a normal person would see from a likeable book like this one. Oz has just gotten wickeder, and the writing has, too. Day by day, at least in this fictional world, I feel that the world setting is getting darker and darker, which gets me to my point where I'm telling Amy to hurry the hell up and save everyone or else Dorothy will kill them all with a snap of her well-polished red fingernails. It's as easy as that, and thankfully throughout this novel Amy has developed the magic and wickedness in her which will help the plot in the next and final novel. *cries* This has gone way too fast.
"The tail. It wasn't glowing, exactly, but it had something like a halo around it. A jittery, golden aura so pale that it barely registered."
What does that quotation tell you?
Beauty? Beauty.
Moving on, I can seriously talk about the author's writing forever. I'll just repeat the same things over and over again and feel like it's the first time where I'm saying it because for a debut, I feel that she's written 50 novels with this much practice it feels like. This was fast-paced and full of just the right amount of action for a sequel. There wasn't so much info-dumping and dialogue that readers' brains would just mush up, just like the Scarecrow's did. *SPOILER* Everything was perfect, and it feels that the amount of wickedness inserted was measured on the dot.
From beginning to end, I couldn't even blink an eye because I didn't want myself to miss a moment.
I started reading this with a dumb impression given on my face—I forgot what the book was about. Okay, I hadn't forgotten a lot of it, but the names of characters and their roles seemed a bit fuzzy. I had been afraid that there would be no recap of the previous novel and I would walk around like a living zombie, searching through summaries and reviews and scurrying, trying to regain my brain development back to the way it ended off in April 2014. We didn't need NO regaining. Ms. Paige delivered a fast-paced beginning, and into the second chapter, readers already had a recap and sensed some foreshadowing which brought us to wonder and think about what will happen next.
Amy Gumm is as fast and as furious (yes, movie reference, hah hah *sarcasm*) than ever. Looking at her development from the first book to now was a huge jump, although I've always seen that cool streak in her. I feel that since this novel and sequence of events gave her the ability to understand more about Oz and her past life in Kansas, she now feels that she understands and has no questions, which leads her to want to help her friends even more. She never stopped fighting, and her kick-assness was so drastic that I felt that she slept with one eye open, watching her surroundings 24/7. See what I mean? She never stopped fighting, and although the magic made her a little messed up (Nox even saw that as well), she was as hard as a brick.
WHERE THE HELL WAS THE ROMANCE? That's my only complaint. Yeah, there were about three kisses throughout the novel, and one was a complete misunderstanding which then brought Amy into guilt for even taking that chance. Anyways, you'll find that out when you read it and you'll see what I mean with that aspect. It felt that the first novel had more emotions and feelings involved in terms of the romance, and I think that having some love in this book is essential. Readers would like to see a development, something new and great coming to the protagonist who has been faced with cruelty for most of her time in this new world, and she barely got anything. And what the hell is up with Nox lately? Where's my fictional crush?
"Just being able to stand outside like this and breathe the air. You should remember it, too. Think of all the things you've already gotten to do; all the things you'll still get to do. Okay, so maybe things could be better. But you have this life that's just sitting there, waiting for you to take it. It could be worse."
What's going on with Pete?
THAT ENDING JUST BROUGHT ME TO SHREDS AS WE SAW WHO HE BECAME. Anyways, I'm curious to see what Paige will continue to do with his character, since he plays a pretty large role in Amy's life, and he was the first one to ever save her and help her see the true meaning of Oz. *shrugs* Hmmph.
So now,
we're brought on to the 50-paged action ending.
I mean, the development took about 50 pages to get to its main point, and let me just say that there were
deaths and lies involved.
I just couldn't believe that the author ADDED IN ANOTHER SUSPENSEFUL ENDING AND WE HAVE TO WAIT FOR THE FINALE FOR MORE. Amy went crazy, PETE WENT CRAZY, and Nox helped Amy out, and Dorothy still fought for her fucking throne.
It's the usual, but the unusual thing as well.
I couldn't stop and when it was over, I felt that the book broke up with me, like a relationship.
Well, this was one drastically gorgeous novel. It took a stand in YA SEQUELS, MY FRIENDS. Most sequels don't go well for me, but this one went in a whole new direction and was almost AS PERFECT as the first book. That's a rare event—and I won't ever forget the feels that came upon me when the action was present. That, and the needs of romance, but the rest of this was fabulous. With the inspiration of Amy, I feel that I'm turning wicked myself. Jeez, what's coming upon this world, and Oz? A RECTANGLE WITH A PIECE CUT OFF IN THE UPRIGHT CORNER? DUDE. DUDE. DUDE. You'll have to see that for yourself, my friends. *waves* What the hell is with this release date for 2017? *looks onto the future years* Until I'm 17, Danielle Paige's books.
What's your favourite fairy-tale retelling? THIS IS MINE, EVERYONE.