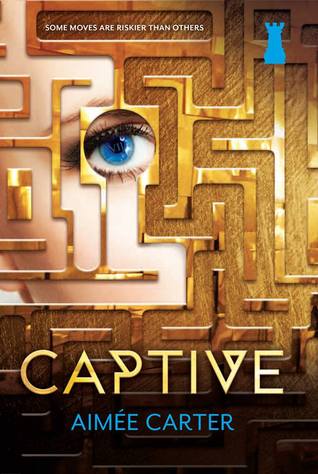 Captive (The Blackcoat Rebellion #2),
by
Aimee Carter
Published On:
November 25, 2014, by Harlequin Teen
Genre:
Young Adult Fiction, Dystopian, Romance, Science-Fiction
Pages:
304
Format:
Physical ARC
Source:
Publisher
Rating:
For the past two months, Kitty Doe's life has been a lie. Forced to impersonate the Prime Minister's niece, her frustration grows as her trust in her fake fiancé cracks, her real boyfriend is forbidden and the Blackcoats keep her in the dark more than ever.




But in the midst of discovering that her role in the Hart family may not be as coincidental as she thought, she's accused of treason and is forced to face her greatest fear: Elsewhere. A prison where no one can escape.




As one shocking revelation leads to the next, Kitty learns the hard way that she can trust no one, not even the people she thought were on her side. With her back against the wall, Kitty wants to believe she'll do whatever it takes to support the rebellion she believes in—but is she prepared to pay the ultimate price?
*A review copy was provided by the publisher in exchange for an honest review. Thank you!*
Huh. After reading Pawn and Carter's past novels—as she always writes in a manner where you feel the strong need and ability to go on and purchase her other books, I found that I was unable to wait any longer for this sequel. It turns out, there wasn't a lot to wait for except for more instalove and having to choose between two men who both suck.
Captive is a very romance-based story where the love is most of the problem. I mean, we all have Knox and Benjy on our minds, trying to figure out who's the best for Kitty. You know, they both know about her secret… and Benjy is working for the palace to see Kitty… Doesn't this ring a bell of The Selection? Like, I understand that it isn't a completion to fight for love or whatever, but this is most definitely something that's unknown between the two men who are fighting for the same girl. Just saying, people…
"Everyone in this place is an enemy." I turned away and began to pile my plate with bite-size desserts. "I'm not."
First thing's first—this really should've been a standalone, to be honest. Why are trilogies suddenly the new thing? This was barely a dystopia, and now we've gotten a full-blast series that continues and not much happens? You may think that I'm crazy for giving this a three-star rating if all I'm doing is raging for now, but it's the truth in some ways.
This takes place right off where the first book left us off, in a miniature plot twist/cliff hanger. Kitty's just discovered that her role as being the PM's niece is there for a reason and she begins to have trust issues. Obviously, who wouldn't? You're sitting there, basically in a prison where you don't understand why you were placed in that position in the first place. Isn't there a reason for everything? I still have a ton of questions on what will happen in the end, as I was often left confused and wondering while reading. It was as if Carter was focusing on the steps leading off to Kitty's romantic adventure with Benjy in the end where she can just let loose and forget that there was so much trouble behind her—for things she didn't even do.
The way this book left me in the end was weird. I felt like something was missing, and that this book took my dignity and expectations for any future stories of Carter's away. I'll probably read the third book, just to see what'll happen, though.
"I invite you into my home, feed you my food, let you sleep in a warm bed, and this is how you repay me?" He flipped a switch, and yellow light filled the room, revealing walls lined with rack after rack of gleaming metal objects. Some I could name—knives, saws, screwdrivers—but others looked like they were relics from some ancient time."
I do have to say that there was a major character-development phase over here. Kitty has become stronger and wiser, as she now knows her rebellion and what and who's against her in her world. She's so fucking kick-ass and is definitely is Carter's best heroine to date. I'm just sitting here, wondering who'll she pick in the end, especially since both guys don't really seem to catch my eye. I'd probably go for Knox, though. There's more love with him! *gushes*
Boom—that was the plot for you. What we got here was a pretty good showcase of the plot, with a few boring moments in the middle where my mouth was aching of my yawning, to tell the truth. I was wondering what the ending would give to us (and the truth was that it was really eye-popping) and I guess you could say that I do have a few theories in mind of what'll happen in the end, or the future for that time being.
With a great heroine and a strong plot and ending, I'd say we've got an okay novel over here. It's most definitely not the best book of the year so far, but I'm going to say that I'm captivated to read the third and final novel to see the fate of the characters—because hey, everyone deserves a happy ending.