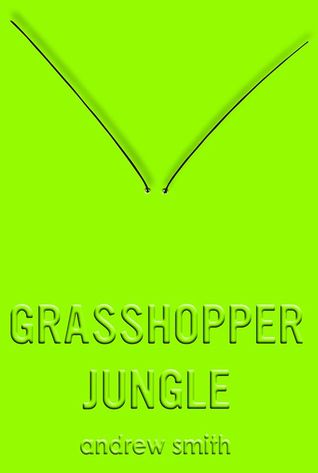 Grasshopper Jungle,
by
Andrew Smith
Published On:
February 11, 2014, by Dutton Juvenile
Genre:
Young Adult Fiction, Contemporary, Romance, LBGT
Pages:
388
Format:
Hardcover
Source:
Borrowed
Rating:
Sixteen-year-old Austin Szerba interweaves the story of his Polish legacy with the story of how he and his best friend , Robby, brought about the end of humanity and the rise of an army of unstoppable, six-foot tall praying mantises in small-town Iowa.




To make matters worse, Austin's hormones are totally oblivious; they don't care that the world is in utter chaos: Austin is in love with his girlfriend, Shann, but remains confused about his sexual orientation. He's stewing in a self-professed constant state of maximum horniness, directed at both Robby and Shann. Ultimately, it's up to Austin to save the world and propagate the species in this sci-fright journey of survival, sex, and the complex realities of the human condition.
The real funny thing here is that my background is Polish. So guess what? I totally ended up
with the laughs and giggles here
when reading those funny words. And the history of Austin's family was so weird but cool. Grasshopper Jungle was absurd, strange but my type of novel since I got the jokes. *grins sheepishly*
This book had it all. It was a contemporary romance with craziness, theories and grasshoppers with weird voodoo skills. The characters were struggling but hilarious and total gangsters. You felt like you were living in an alleyway since they were so rebellious and funny. I'll be sure to read more from Smith in the future after giving this one a try.
So this all began with a bunch of grasshoppers and a simple Polish legacy. Okay, okay, there were some struggles with orientation and hormones, but that was the main story and it kept me busy for a few hours. Austin Szerba is sixteen and spends most of his time with his best friend, Robby and his girfriend Shann. Please, please don't forget about those hormones as well because they were like Austin's best friend as well. There wasn't a chapter without a mention of hormones, haha.
In a regular, non-absurd novel, you would've thought that the weirdness that this book kept on going wouldn't have fit—but it sure did in this situation. Most of the time, I kept thinking about how this book didn't really have a main concept, but it was really about the feelings and thoughts of the characters. Don't forget about the character development as well, and the fact that this is a large book, one of the thickest that I've read at the time.
What I loved about this book was the fact that I could relate to it. This was teenage innocence and rebellion. You could've seen the most random things in the plot, but in the end, it all made sense to the characters. Remember what happened to Austin's brother's parts? Um, that was a little disturbing and weird, but it all made sense because fate is just strange like that. It also had a strong idea going on that the world was ending, but to tell you the truth, that was confusing and I was like whaat-the-heck because it didn't show any signs in the plot at all. What was this praying mantis stuff as well? (That, I can call weird and not really likeable for me.)
The book began with a boom and a stud. It seems really easy to like this book. Smith's writing style is very unique and took contemporary to a whole new level in the point of view of a crazy teenage boy—which I have to deal with everyday since school. So now I guess I can say what it's like in the minds of the guys that I go to school with—and now I'm a little scarred. Scarred as in "What the hell are they thinking half the time" kind of thing. This plot was very fast-paced and cool and chill. I liked this story and its stuff. I had a ton of favourite scenes, and I could barely find myself bored most of the time.
The characters were the thing and idea I would choose to stay away from if I were you. Austin, the main character, was quirky and adorable, but he was a little too self-centred and kept questioning his existence and what he should do in every situation. Like dude, you're a human being, and what happens at the moment happens. You can't change it later. He overthinks things too much and worries about what Robby or Shann would think when they both love him, both more than a friends-way. Robby was a little too rebel but then scared at the same time while Shann was like the mother of the trio. She knew what she was doing.
The romance? Haha, it was awkward but sweet. Shann and Austin were like Bonnie and Clyde and tested things out and how it worked for them. They always tried to get their love to work as best as possible but they didn't realize until the end that it takes time to create. Okay, I'm sounding like Oprah or some love therapist here, but it's the truth.
Picture a grasshopper jungle. That's right, you can't, really. At least not clearly. That's what this book was. It was unique and unthinkable of because it was a contemporary. No, there wasn't any fighting or action of course, so anything could happen because it was just so real and like fate. You should honestly really go for this if you need a relaxing break in your life. Take a sip and indulge!