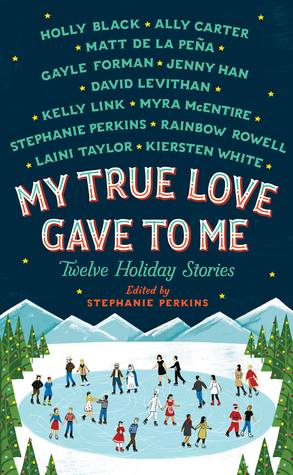 My True Love Gave to Me: Twelve Holiday Stories,
by Stephanie Perkins and Other Authors
Published On:
October 14, 2014, by St. Martin's Press
Genre:
Young Adult Fiction, Contemporary, Romance, Chick-lit
Pages:
320
Format:
Hardcover
Source:
Gifted
Rating:
If you love holiday stories, holiday movies, made-for-TV-holiday specials, holiday episodes of your favorite sitcoms and, especially, if you love holiday anthologies, you're going to fall in love with MY TRUE LOVE GAVE TO ME: TWELVE HOLIDAY STORIES by twelve bestselling young adult writers, edited by international bestselling author Stephanie Perkins.
A most anticipated Christmas gift, a light onto my heart, a book that will stay memorable forever, My True Love Gave to Me truly satisfied me and my likings. Stephanie Perkins as an editor was probably the best thing ever, and this gorgeous holiday-edition included stories from all of my favourite authors, from beginning to end, and I discovered some new ones, as well.
"I need you to be my person," Mags said. "I need to see you. And hear you. I need you to stay alive. And I need you to stop kissing other people just because they're standing next to you when the ball drops."
Peace, hope and holiness. I ended up having a ton of favourite stories, and a few ones that I rather would've skipped, but altogether I know that I will be picking this up over again and again every Christmas, especially for the warming of my heart and the feelings that I got with every couple in the story. I just can't get enough!
Midnights by Rainbow Rowell (5 stars): AGH. After reading this one, I had the highest hopes for this book—especially since it also began with my favourite author's story. You see, Rainbow can just create and captivate you in a short story's time from the first page.
Her characters were sweet as candy canes, to be honest. Mags and Noel? Favourite couple ever. And it's so adorable (but probably true for many people) on how they fell in love at first sight—although they didn't realize it at first. New Year's Eve? That's the most romantic getaway, ever, period. We started off with them as young bugs, but through every page and every year as they got together, they finally realized the chemistry they once had, and always will have. That kiss just was the fireworks for me,
and this story was the main highlight of the book.
The Lady and the Fox by Kelly Link (5 stars): BAM, the sequel story was gorgeous as well. I never have heard of Kelly or her books before, and I was kind of doing the gnawing-on-my-lip thing as I was about to begin this one—expecting the worse. I guess you can say that I'm not much of a risk-taker, eh? Truth to be told, I was extremely proud of what this turned out to be.
Of course, Link created a quirky and strange way of telling a love story, but it was cute in its own way. That's another way that things captivate me. After the catastrophically gorgeous ending, I sat there and prayed for more gratefulness from this author in my eyes.
My my, can I just say that Daniel and Miranda were adorable? At the same time, their story had such a deep, beautiful meaning and the title of the story definitely made sense all in the end. I laughed, I teared up, in just a matter of moments.
Angels in the Snow by Matt de la Pëna (5 stars):
And this… This was the last of them. The last of the 5 stars, haha. It's funny since this was the third straight-in-a-row book in this 5-star sequence. It was so sweet and simple, but it warmed my heart at the same time. The protagonist was depressed, but
love saved him.
I SCREAMED AND LAUGHED AND PANICKED BECAUSE I DIDN'T WANT TO FINISH IT. But then the ending came, and I was happy.
Angels in the Snow
really was like reading about gorgeous holy angels… These characters.
Polaris is Where You'll Find Me by Jenny Han (2 stars):
Jenny Han is one of my favourite authors, and I actually know tons of people who adore her work, even my friends who don't actually read so often. I've read all of her books, and this short story actually needed a lot of work, in my opinion. I was lurking for something bittersweet, but what I ended up getting was a story too focused on the
Christmas aspect,
rather than the gorgeousness of romance and love. I am in love with all chick-lits with a little more bitterness, but this was something that I felt lost and bored from. Was that a good thing? Absolutely not.
It's a Yuletide Miracle, Charlie Brown by Stephanie Perkins (4 stars):
STEPHANIE PERKINS IS BAE, OKAY? Like honestly, Isla killed me in August, and from then on, I've been waiting and crying and pleading for more from her. This wasn't her best work and certainly not the best story from this book, but I really enjoyed it. *feels the feels* I chucked, blushed and
wanted something full-length.
I better get that in the future!
Your Temporary Santa by David Levithan (4.5 stars):
UMMM I LOVE DAVID, PERIOD? To be honest, I didn't expect something amazing—but this was. It was hilarious and definitely diverse and unique, as Levithan always hands to us. There's really never a piece of his work that disappoints me!
Krampuslauf by Holly Black (3 stars):
Um, what was this? I got confused and I felt like I didn't want or need a fantasy novel in this. I understand that it's what Black usually goes with in her writing, but I didn't fall for it. This is supposed to be about Christmas and the romance, not some spells and acorn-stuff. This wasn't my sort of thing, really.
What the Hell Have You Done, Sophie Roth? by Gayle Forman (2.5 stars):
Another disappointment from an author I love. This was probably the story that I was anticipating the most for, and especially for the best, but I was left confused.
Please. All I wanted was a good read that would make me think about the stars and dream of hot cocoa and peppermint sticks.
Beer Buckets and Baby Jesus by Myra McEntire (4 stars): Hah. This was probably the most quirky, absurd but different read from this whole selection. I've heard so much praise on McEntire's books, and I'm so captivated to get more from her!
Welcome to Christmas, CA by Kiersten White (3 stars): Meh. This didn't turn out as amazing as it did to others... Sure, food was a major and crazy aspect and all, but White's work isn't that fantastic as I heard it was... I hope that Mind Games will be great, though.
Star of Bethlehem by Ally Carter (3 stars): You see, this one wasn't memorable at all. It's been two weeks since I completed reading this book, and I don't even remember what this was even about. So I had to scan over it. This was bland, and as I once fell out of love with Carter's work, I can say that I'm totally not back into it again. This could've been cute, but it needed some more magic into it.
The Girl Who Woke the Dreamer by Laini Taylor (3.5 stars): This was GOOD. I mean, the magic worked in this situation, and Taylor's work is incredibly deep and I'm so ready for DAUGHTER OF SMOKE AND BONE. YESS.
Together, this really was a blast of sunshine. You know, I love those books where you feel like your indulging on something gorgeous and yummy that melts in your mouth, like a cupcake. This was a read that got me obsessed and I couldn't have enough. I love the idea that most had of reading a story a day, but I wouldn't be able to do that. You will be obsessed.