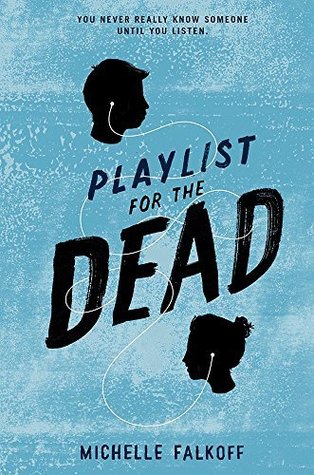 Playlist for the Dead,
by
Michelle Falkoff
Genre:
Young Adult Fiction, Contemporary, Romance, Suicide
Publication:
January 27, 2015, by
HarperTeen
Format:
ARC
Source:
Publisher
Rating:
A teenage boy tries to understand his best friend's suicide by listening to the playlist of songs he left behind in this smart, voice-driven debut novel.





Here's what Sam knows: There was a party. There was a fight. The next morning, his best friend, Hayden, was dead. And all he left Sam was a playlist of songs, and a suicide note: For Sam—listen and you'll understand.




As he listens to song after song, Sam tries to face up to what happened the night Hayden killed himself. But it's only by taking out his earbuds and opening his eyes to the people around him that he will finally be able to piece together his best friend's story. And maybe have a chance to change his own.




Part mystery, part love story, and part coming-of-age tale in the vein of Stephen Chbosky's The Perks of Being a Wallflower and Tim Tharp's The Spectacular Now, Playlist for the Dead is an honest and gut-wrenching first novel about loss, rage, what it feels like to outgrow a friendship that's always defined you—and the struggle to redefine yourself. But above all, it's about finding hope when hope seems like the hardest thing to find.
I read Thirteen Reasons Why by Jay Asher two years ago—and it still remains as one of my most favourite books ever.
Playlist for the Dead
was definitely a reminder of it, but it was more unique and involved so much friendship and subjects that I adore to read about.
"If she kept kissing me like that, I imagined, maybe the other stuff wouldn't matter so much. But I felt guilty even thinking it."
It all began with a deep sleeper, a bottle of alcohol, and an empty bottle of pills. In every contemporary book like this, it all happens differently. Hayden did it fast and in a furious matter. He was stressed, depressed, and didn't have any friends except for Sam. Sam feels the same way—except it didn't happen to him. Sam's the one who found Hayden, his best friend—dead. What he found on a desk was a note addressed to him with a playlist supposedly explaining his death and reasons why.
This was honestly such a simple contemporary story that was filled and turned into something so powerful and meaningful. We went through so many different issues throughout: friendship, stress, anxiety—the issues of teenagers today. I found that it was probably so easy to relate to for many people, as I was fascinated by it all.
Suicide is something that happens more frequently today, and we should become more aware of it and the facts that go with it.
This was something that went through the dark sides of it, and showed the reason why between the relatable characters created by Falkoff.
"There was no reason for the bottle to be there. Unless he'd been even more bent out of shape than I realized; he could easily have taken it out of his dad's liquor cabinet when he got home."
From all that I read so far this whole year, this was probably the most quickest book to read. Although there are so many feelings meant to have felt, the time that I took reading was only about an hour and a half of sadness and sorrow in the point of view of Sam. The plot went by in a fast-paced manner and I couldn't stop reading. It was like a virtual playlist was forming in my head with all of the things I loved about the book.
What I had a little trouble with was the fact that I lost some sense of emotion through the middle of the book. I felt a little disconnected from the story and its characters. But after the thing with Astrid happened, I finally got it. She changed the story, with a predictable but okay ending.
My favourite thing was probably the characters—especially Sam. I AM TOTALLY SUPPORTING MALE PROTAGONISTS. This dude was totally kick-ass and into it all, especially to figure out what's happening in his life and to figure out his friendship between him and Hayden.
"Apparently it was only in the movies that you could just go in and figure out someone's password. Especially if you're a regular person like me and not some computer genius. I guessed Hayden would still be able to keep his secrets from me. Just like before."
The ending came and went. It seemed like Sam moved on and tried to forget, but I can definitely say that he wanted to keep Hayden in his heart. Astrid basically ruined it all and got things worse, but he still kept positive and tried to move on and try to stay away from the negativity.
I was really scared that something would happen to him with depression.
This was a real refreshment for this genre—as I have been definitely finding a weakling in the rest of the contemporary-depression books. I loved Sam and his story, and the feelings that this gave me, despite the boring moments in between. If you're looking for a book that will rock you and your mind and will leave you sitting there, asking for your own personal playlist.
*A review copy was provided by the publisher in exchange for an honest review. Thank you so much!*