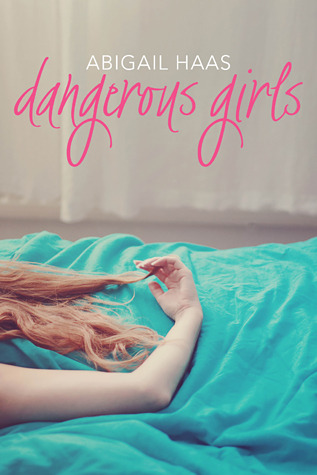 Dangerous Girls,
by
Abigail Haas
Published On:
May 6, 2014, by Simon Pulse
Genre:
Young Adult Fiction, Contemporary, Mystery/Murder/Thriller, Romance
Pages:
400
Format:
Paperback
Source:
Purchased
Rating:
(no this isn't a mistake)
Paradise in Aruba quickly gets gruesome in this ripped-from-the-headlines thriller (Kirkus Reviews) with a twist that defies the imagination.




It's Spring Break of senior year. Anna, her boyfriend Tate, her best friend Elise, and a few other close friends are off to a debaucherous trip to Aruba that promises to be the time of their lives.




But when Elise is found brutally murdered, Anna finds herself trapped in a country not her own, fighting against vile and contemptuous accusations. As Anna sets out to find her friend's killer, she discovers harsh revelations about her friendships, the slippery nature of truth, and the ache of young love.




Awaiting the judge's decree, it becomes clear to Anna that everyone around her thinks she is not only guilty, but also dangerous. And when the whole story comes out, reality is more shocking than anyone could ever imagine...
Everyone, let's just give this book everything—all of the raving, all of the stars possible, the highest achievement in literature history.
Dangerous Girls
did something to me, and I'm unable to let go of my experience. I feel like I've been trampled over, and all of my brains have been taking out of me and all that's left is
a pounding experience.
I'm so obsessed and I never expected it to do something like this to me.
I highly recommend that any YA lover, young or old should go pick this up right now, as you've probably heard the crazy raving review.
This will be another one of them.
I can already say that this takes the top spot on the best book of 2015 (and it's already begun to a great start) and it will stay there. I'm so fucking happy and I feel messed up after reading.
"They say a picture is worth a thousand words, but these only have one: Guilty."
I can already say that this is probably one of the best books that I've read in my life, and definitely the best YA thriller, ever.
The mystery and ranking from my high state of society deserves to be known by all, I tell you. After reading
Dangerous Boys
by Abigail Haas during last summer, I was also obsessed, but
not in a way like this.
What Haas has done to me here is unexplainable, but you'll understand once you read this. I am up to read anything by Haas in the future: this woman knows her stuff and smarts.
You see, I could've made theories and tried to figure out who was the killer. I did have a suspect in mind, but I didn't want to suspect anyone in particular because then the whole experience wouldn't have been as good. Let me tell you, this whole book was a mind-fuck and the ending just left me trapped. Get ready to be trapped in your own little world by staring into space and just thinking about what happened next or what you think should've happened.
I just have to talk about that ending first because we all never saw it coming. It shocked the hell out of me and it showed how real this book was. Haas has related and compared it to so many real-life mysteries that are going on today and that have gone on in the past. Anna's character was simply someone to remember, as she struggled to reveal and think of the truth. Get ready to go through a whole lot of guilt, fear, headaches and mind-blowing, eye-dropping moments and scenes. Don't forget to pay attention to the details and extra clues, because they were there. Not ever in a contemporary mystery novel you will have to pay so much attention to the details, but this had so much of it and it was just hiding in the horizon for the whole time. I guess I'll have to go take a re-read in a few weeks to see what actually showed the truth in between the lines. Damn, I never saw it coming in a million years. I know I'm not the only one, though.
This is about a murder—but not your average murder off the street that just came to be in a random, strange psychopath's mind. This is a story full of jealousy, fear and just simple hatred. Anna, Elise, Tate, AK, Max, Chelsea, Lamar and Melanie, 8 friends who have gone through so much together have arrived in Aruba during spring break for a vacation full of legal drinking, partying, and no stress whatsoever. Anna and Elise have been friends for a long time, and are super close, until the moment where everyone finds Elise dead. They're all sprout into a huge state of shock and are wondering who would have the guts to do such a thing to their outgoing, party-freak friend. They're all taken into questioning, and the one who has the most evidence and lies upon them is Anna. But how could she have done it when Elise was the person who meant the most to her?
This is a story going through past and present, moments during the trial and as the mystery formed to be. Clues, lies and hints were flying all over the place, but I guess that we didn't see them as much until we realized at the end. This book was a perfect mystery. You'll need to read the entire book in one sitting or else you'll have some sort of catastrophic tantrum because you'll need to find out who did it. And when it comes, the answer won't be said just like that. A book is supposed to require you to do some strong thinking and maybe (just maybe) go through a few therapy sessions before you actually understand. At least, that was my situation.
Friends are probably one of the most important thing out there to give you the key to happiness. And what I saw through Anna and Elise was more than just happiness. They were each other, and stronger than sisters. Okay, okay, there were those moments when you did seem to wonder if there was some other connection there other than just friendship, instead lust and passion, like the one where the judge brought up photos of Elise kissing Anna's shoulder. To be honest, many reviewers have seemed to argue over the fact that there was something, but I'm saying no. They were best friends, and that's how they showed their friendship and love to each other. What are you saying, they're not allowed to have sleepovers with each other and share a blanket?
What is this, people?
"The fierce note in her voice warms me, deep in my chest. I lean over and kiss her on the cheek. "Love you." "Miles and miles." "Always."
Yes, the friendship was strong and precious, but there were hints and screams that things weren't always perfect. It's like their friendship had little burps and gulps were hate and jealousy would come out. And then we found out about the thing about Tate and Elise… and my heart literally exploded.
Anna… Anna was a character who you will pity. I pitied her, and I felt so much sorrow and I just wanted to give her a huge hug. She went through so much stress throughout her whole life. From her mother dying of cancer and not getting to really know her, to the bullying incident, to the actual loss, things weren't ever easy for her. I didn't care if she was the killer or not, although through the end, a lot of evidence came out and pointed it at her. (I'm not saying anything here, people.) When you think of the word "mistreated," I see her face. The judges and the public were such… pricks to her. How did they know? Everything she did right turned out to look like it was wrong, and it just made me want to cry.
"The next twenty birthdays and Christmases, the next twenty first days of summer, and last nights of fall. One thousand and forty Mondays. Seven thousand three hundred days of waking up here, penned in under an endless blue sky. Except I won't. I can't."
You see, when the judge was deciding the verdict for the last few chapters of the book, I felt like I was going to have a major full-on panic attack where I was unable to figure out what would happen. I heard my heart pounding in my ears, and I realized that those words that the judge would say would decide the future for Anna, for something she pleaded that she didn't do. It's heart-breaking, naturally, especially if it's a character who's loyal and pitied for by the reader.
The story was fantastic. Every page was like it was giving out a new bit of experience, and hints, and love to me. I shooed everyone who was around me away from me because I was just so much in love. And when it was over, I was depressed. I was sad that I wasn't able to see anything else, I honestly felt like I was able to read this book forever, just continue on, and I wouldn't be bored or tired. It was like I was living with this book, hah.
I guess I can say that my opinion on Anna was probably different than most of yours, who have read this beauty. Anna was someone who was strong and broken, all at the same time. Just because she didn't cry doesn't mean that she killed her best friend. All of the feelings were there, coming from her and… I don't want to give any spoilers out. x)
The atmosphere was there, the court was there, the beach house was there. The setting was something unique and not your average small-town murder mystery where those weird police officers are investigating the scene and put you into one of those scary dark prisons. This was Aruba, somewhere where I've actually visited in the past.
Tate was someone who I fell for from the first chapter. He was Anna's boyfriend, one of her first signs of happiness from when she transferred in junior year. He changed her, and he was her rock. And then he ruined everything and it was basically his fault why everything happened in the end.
As for Lamar, Melanie, AK, Max and Chelsea, I was suspecting that one of them were the killer. It has to be someone who's not really expected, right? But inside, Anna had something for each of them in the end—they were her friends, and some of them disappointed for her as they saw the real her and were afraid of her while they were supposed to be her friends from the start. Does that show that they only liked her because she was Elise's best friend?
But tell all, tell all, they were great supporting characters who really added a blend of a combination of different personalities into this book.
"I'm glad he's here, but surprised, too. I've been expecting Chelsea, even Mel. But Lamar has always been the solid one: quiet and true in his way."
What I'd really like to admit that this romance in this book was forced, secretive and utterly scandalous. I missed the feelings, especially from Tate to Anna. She loved him so much, and… Well you'll see what will happen. But that's how it also was in
Dangerous Boys,
right? No one will ever get a happily ever after, and that truly shows why this is so real and can be featured in a day of reality.
"You see? How simple it is how one little piece of information changes everything. How it all just falls into place. Betrayal."
What this book did to me is unspeakable of. My mind was definitely played with toughly, and I feel like I need to wash all of these lies and mysteries from me to actually cleanse my mind. Watch me be thinking about this book for a long time. I'm so happy with the outcome and the issues it dealt with: partying, sins, murder, lust.
I'm obviously not happy that those things happened (as in a goody-two-shoes way) but Haas did a great job adding it in for some rebellion.

I guess everyone'll have a different experience with this one. I was left terribly broken and mortified and surprised by the ending. I literally felt like screaming and ripping my hair out. But who knows, maybe you'll be ready to begin something else right after you're done. The title and the cover definitely fit perfectly. Thanks for Florence + The Machine stuff, too, you wonderful writer. THIS FELT SO REAL AND I'M NOT READY TO LET IT GO.