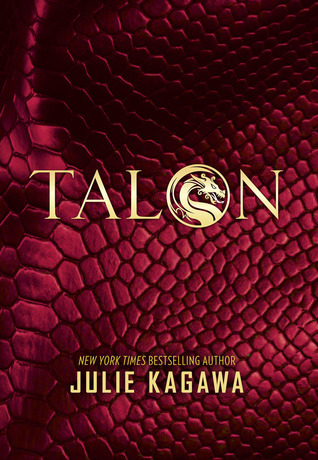 Talon (Talon #1),
by
Julie Kagawa
Published On:
October 28, 2014, by Harlequin Teen
Genre:
Young Adult Fiction, Fantasy, Paranormal, Dragons
Pages:
461
Format:
Hardcover
Source:
Purchased
Rating:
Long ago, dragons were hunted to near extinction by the Order of St. George, a legendary society of dragon slayers. Hiding in human form and growing their numbers in secret, the dragons of Talon have become strong and cunning, and they're positioned to take over the world with humans none the wiser.




Ember and Dante Hill are the only sister and brother known to dragonkind. Trained to infiltrate society, Ember wants to live the teen experience and enjoy a summer of freedom before taking her destined place in Talon. But destiny is a matter of perspective, and a rogue dragon will soon challenge everything Ember has been taught. As Ember struggles to accept her future, she and her brother are hunted by the Order of St. George.




Soldier Garret Xavier Sebastian has a mission to seek and destroy all dragons, and Talon's newest recruits in particular. But he cannot kill unless he is certain he has found his prey: and nothing is certain about Ember Hill. Faced with Ember's bravery, confidence and all-too-human desires, Garret begins to question everything that the Order has ingrained in him: and what he might be willing to give up to find the truth about dragons.
I was afraid with my entire life to read this book, as most of the general bookish public were against its liking and totally not on the positive side of things.
Plus, I've read two books of The Iron Fey series also by Kagawa and I was thoroughly disappointed with the outcome. The first book was pretty good, and the sequel totally was bound to get me mad. From then on, I never really planned on reading any of her other works in the future. But I feel like I have a bookish-fetish/obsession for dragon books, and I knew that I had to read this.
"I'd never gone surfing before, not in my dusty little corner of desert. It looked nearly as much fun as flying, though I doubted anything could compare to soaring the air currents, feeling the wind in your face and beneath your wings."
Talon was amazing, and beyond anything I expected. It was so magnificent and dangerous (as the situations were) that I was at the edge of my seat the whole time, exactly as if I was flying with Ember the whole time.
I read this in an entire sitting, eager to find out if I'd like it or not from the beginning. I instantly fell in love with the idea of a modern-day crossing with dragons in our reality world. Except in this world, a lot of the public knew about dragons and as there were such thing. But this is not too much of a dystopia setting. Don't expect flying hover boards and cars—this is a dragon story based in the contemporary world, very much like Firelight by Sophie Jordan, minus the perfect high school experience. This was summer vacation and 'freedom,' people.
I feel like I need to write this review right after I finished the book to get the facts straight. I'm so obsessed, so ready to binge read the entire five-book series at once. Watch me, for as much as I loved this, I would've spent the entire night reading it all at once.
This isn't one of your average dragon tales with folklore history and all of that garbage. I hate that stuff, to be honest. This is a present-day thing, and at first, I was really confused with why this was named Talon, as they're simply a tiny organization that's overpowering the entire dragon population, like it or not, but it did seem to play a huge role in the later part of the story, as more action and secrets unfolded. This concept was well thought-out and established, and Kagawa sure seems to have an intelligent mind on these gracious, kick-ass creatures of flight.
"He was a creature of light, of energy and power and adrenaline, and absolutely beautiful."
Ember and her 'twin brother,' Dante have been training with the mysterious organization Talon, for almost all of their lives. They've been training for the moment—the moment where they'll get to experiment hiding and living in the human world, specifically in California, where the waves are huge and enemies are lurking. In the past, the dragons/Talon and Order of St. George, a large group of soldiers who are out to kill all of the dragon species, have gone in war and many deaths have lied on both sides. Reports have been saying that a Sleeper, a dragon taken in the form of a human has been lurking around in California (Ember) and they're out to find who she is. Soldier Garret Sebastian has taken this role, alongside his partner Tristan. But when Garret meets Ember, something extraordinary happens. How can a human and a dragon fall in love when they're basically mortal enemies?
Of course I had to add that ending question there. It had to happen, because fate chose it to. *says in a dark Darth Vader voice* And actually, in the end of this book, there were no questions being asked. I was just mortally shocked and needy of the sequel. And the best thing is that it's arriving into my hands on April 28 of this year—that's so soon! I know where I'll be contacting an ARC request… :)
Kagawa's idea and premise for this story is outrageous. Coming from her past books, I expected some info-dumping and bore to add to the mix, especially in the beginning and middle. But everything was smooth, and the depth was there. No questions were asked, and there wasn't too much of anything. I loved this so much.
This book began as a movie. You know, there's the scene when the new guy and girl see their new home for the first time, and can either be mortified or perfectly in love. In this case, they were oh-so-glad to see it. Ember's reaction was the happiest, I must assume, as she felt free and without worries. Little did she know that everything would change in a second. The plot was gorgeous, and I can just summarize the book from beginning to end without any look-backs or flashbacks back into the book. There was so much depth and specialty. I felt like I was eating marshmallows dipped into chocolate—the story was slow but sweet and gooey, as in romance.
The rest of the book was action-packed and right to the maximum limits. There was rebellion, there was fear, and there was sexiness all throughout. The characters were like those gorgeous spies that are totally not James Bond like and never die and take risks and walk out there patting their shoulders—this was all about the sacrifice and risks. Especially coming from the character of Ember, she wanted to rebel and live freely but cautiously. Getting her chance to seek rebellion was what she was waiting for, for sixteen years. Thankfully, she got so many of those kick-ass moments when she walked out of there like a boss, especially after taking hundreds of risks but making sure that no one would know.
"What wasn't familiar was the way my skin prickled when Ember smiled at me, the odd pulling sensation in my stomach when her gaze met mine. The way my throat was suddenly dry as she walked away, her lithe body swaying as she broke into an easy jog, loping down the sidewalk."
Holy shit—well that escalated beautifully.
No but really, the romance was so spectacular, it's like when I looked up and came out of the world for a second, I saw glitter and sparks flying all around me. You'd think that it's cliché for one of those forbidden romances to happen and with a tiny love triangle in the end, but this
was meant to be, I tell you.
Garret and Ember… Well they're just
one.
I saw it from the moment they met, where Colin got beat up to the max.
The romance was detailed so fine and it all seemed to fit together like a puzzle, even though there were things they couldn't tell each other. NO—this wasn't like
Twilight
where there's one human who's completely normal—there's a dragon and a soldier who are supposed to be mortal enemies for life.
But they didn't know.
They both thought that they were completely average people until the secrets came out. Thank goodness that they did. They had to be released or else the book would've bombed itself. I cried, I squealed, I shrieked,
that shows what love can do to you, even if you watch it from afar.
So I guess you now realize that I'm totally on Team Garret. He's hot, he's charming, he can totally whack you out on shooting zombies at the arcade in the mall, and he's selfless. What he did for Ember in the end… That's truly something special. Especially since he's destined to be enemies with her since her kind killed his parents and sister. But love can change anything in a split second, no?
But Riley was there as well. Sure, I felt bad for him when he had to see all of that embracing from afar. But from both sides, Ember's forbidden to be with both of them—since Riley's rogue. So what does that show these about Ember and these guys?
Anything's possible, as long as it matches.
For me, I can totally see Riley as the best friend, the one who would find out everything first before anyone else. Garret's meant to be with her, he was there first.
Ember was the most kick-ass girl that you'd ever seem to read about. She was careless, and all she wanted in the end was freedom and independence, but I guess that we'll have to read the sequel to find out if she really gets that eventually. Now it's about safety and hiding. That girl is something special, I tell you. She puts everyone first in front of her, even if you don't see it. There's no evil in her, just rebellion, but none of the other characters seem to see that except Garret and Riley themselves.
Now the one person who truly surprised me in the end was Dante. What he did was so prickly (as in prick) and I just couldn't believe it. When I started reading this novel, I thought that they had such a unbreakable bond, but little by little did the communication totally disappear. And then, that came along.
"But Dante and I had hatched together and were raised together, and as far as anyone was concerned, he was my twin, my sibling and my only friend."
Yeah, sure. That was page 13 of the book… Look at 445.
Do I have any theories about the sequel? A few, but I guess I'm not going to start guessing because I'll be then disappointed, and it
won't be as good for me.
What I can say at the moment is that this book was everything to me. In fact, it means everything to me. I'm glad I read it today, because at the moment, everything is fantastic in the bookish world for me. The world-development and character-development was exactly
there,
the romance was perfection to the highest gods and I'm still trembling from that ending. This was by far the best dragon book I've ever read. Julie Kagawa, bring it on, because I love you to death with your writing.
One more romance quote, people, because we all know that we deserve it after reading this long fangirl, agonizing review:
"I glanced at Ember, lying in the sand a few yards away, sides heaving. Ember, not "the dragon." She had a name, a personality, a normal life. Or she'd had a normal life, before tonight. Before we'd kicked down the door and tried to kill her for existing."
Now, don't you think that we can relate this today's life and society? Urban problems? Totally, and to everything beyond problems, but how 'bout… reality.