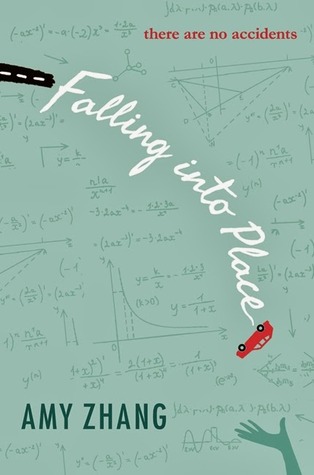 Falling into Place,
by Amy Zhang
Genre: Young Adult Fiction, Contemporary, Romance, Death
Rating: 4/5 stars
Publication: September 9, 2014, by Greenwillow Books
Format: Hardcover Edition (borrowed)
Goodreads Summary:
On the day Liz Emerson tries to die, they had reviewed Newton's laws of motion in physics class. Then, after school, she put them into practice by running her Mercedes off the road.
Why? Why did Liz Emerson decide that the world would be better off without her? Why did she give up? Vividly told by an unexpected and surprising narrator, this heartbreaking and nonlinear novel pieces together the short and devastating life of Meridian High's most popular junior girl. Mass, acceleration, momentum, force—Liz didn't understand it in physics, and even as her Mercedes hurtles toward the tree, she doesn't understand it now. How do we impact one another? How do our actions reverberate? What does it mean to be a friend? To love someone? To be a daughter? Or a mother? Is life truly more than cause and effect? Amy Zhang's haunting and universal story will appeal to fans of Lauren Oliver, Gayle Forman, and Jay Asher.
Review:
"I wish second chances were real."
I've honestly have wanted to read this book for a long time. I was one of those eager sad bloggers who really wanted an ARC of this book, eyeing all of the photos that my bloggy friends added when HarperTeen sent them a copy. I'm not trying to say that I was jealous or anything like that, but the important key and thing here is that I missed out earlier.
Falling Into Place was a book that everyone honestly needs to read sooner than later... eventually. It was fantastic, sad, and crazy. You will be left wanting more by the end, and you'll regret not taking your time to enjoy the beauty and excellence, because this book's message is as rich and beautiful as a chunk of gold. *says in a cheesy way*
As a whole, Amy Zhang has written a book that has a ton of different subjects that are all mixed into one—suicide, science, romance, beauty, art, and jealousy. It's the perfect darker-contemporary that you're all looking for. It's your Prince Charming. The concept was outrageously fabulous, and I'm still poking myself, wondering how this all came to be.
In the beginning, the story begins off fast and sharp, and furious, in a way. Liz Emerson is on the route to kill herself. Sure, she's already tried to a few times but now she has all of the science and things planned out to make this masterful plan of hers to sprout out, and this is the chance to get everything right. She crashes her Mercedes, and off she goes... into the hospital, barely alive. Everyone is shocked by this unbelievable event, including her family and friends, and people who once loved her, and still are trying to support Liz in this awful time. Told in multiple points of view, over here we have a novel that basically tells us the steps into becoming someone depressed, from multiple points of view.
For most of the novel, I felt like I was having a panic attack. But at the same time, I wasn't crying at any point, which I surprisingly did want to do. I mean, I've heard so many opinions on this book and more than three-quarters of reviewers have cried while reading this book. Me? Nada. I did have the feels, but not the kind that made me spout out bawling or anything like that. I felt like a depressed pig, though.
So coming from my past words, you can probably see that I was in love with this story. It's remarkable that a woman at such a young age was able to capture our attentions so easily and beautifully with a debut novel. That honestly proves that you can be a writer at any age, with a dream to succeed.
All of the POVs were spectacular. Amy Zhang switched between the past and the present, and that made me captivated from page 1. I couldn't let this book go. It was like falling into place, and then a huge mega plot twist made me somehow let go, and then I fell back again. This was a beautiful train-wreck.
Liz Emerson. Now doesn't that sound like a name of the average person? Totally. But really, Liz was person who wasn't average. And that wasn't because she was a fictional character, but because all of the stereotypes and things that characters in the book thought of her. Her fighting and battling made her a person gorgeous inside and out, and although that may seem crazy because "she's not real," Zhang made it seem like she was, and that definitely fascinates me. Liz absolutely deserves the warrior award of this century's books, and you'll definitely see that through her character, even if she wasn't there at the moment, but through memories in the past of the book's events.
I JUST WISH THAT THERE WAS MORE ROMANCE! We were left hanging, waiting for something sweet, but I felt like all we got was sour. In some ways, that's totally understandable since this was about Liz's fighting.
Coming to a conclusion, I'm still left breathless. I was captured, thrown around, but was never left behind. The feelings and the romance really didn't get to me, but I was so happy with how everything was left off, and I am proud to say that Amy Zhang is surely going to be getting more positive reviews from me.