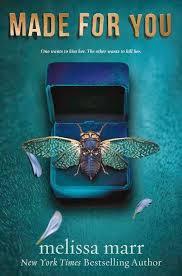 Made for You,
by Melissa Marr
Genre: Young Adult Fiction, Paranormal, Romance, Contemporary
Rating: 5/5 stars
Publication: September 16, 2014, by HarperCollins
Format: Hardcover Edition (borrowed)
Goodreads Summary:
Bestselling author of the Wicked Lovely books Melissa Marr's first contemporary YA novel is a twisted southern gothic tale of obsession, romance, and murder. A killer is obsessed with Eva Tilling. Can she stop him, or will he claim her?
When Eva Tilling wakes up in the hospital, she's confused—who in her sleepy little North Carolina town could have hit her with their car? And why? But before she can consider the question, she finds that she's awoken with a strange new skill: the ability to foresee people's deaths when they touch her. While she is recovering from the hit-and-run, Nate, an old flame, reappears, and the two must traverse their rocky past as they figure out how to use Eva's power to keep her friends—and themselves—alive. But while Eva and Nate grow closer, the killer grows increasingly frantic in his attempt to get to Eva.
For the first time, New York Times bestselling author Melissa Marr has applied her extraordinary talent to contemporary realism. Chilling twists, unrequited obsession, and high-stakes romance drive this Gothic, racy thriller—a story of small-town oppression and salvation. Melissa's fans, and every YA reader, will find its wild ride enthralling.
Review:

*sits at desk, squealing like a maniac* So at the moment, I am in a fuss and am writing my reviews that I need to accomplish writing, and I am literally cheering and yelling and fangirling because I've finally gotten to write this review.
Well, you should, you wonderful people, because THIS BOOK WAS FANTASTICALLY AMAZING AND I AM LEFT WITHOUT WORDS AND AM STILL TAKING DEEP BREATHS AND WHEEZES UNTIL THIS DAY.
Made for You was unbelievably amazing. Melissa Marr writing contemporary? I think that she's done an even better job than of writing paranormal. This woman is a legendary writer.
You: So what the fudge happened in this book that made it so worthwhile and amazing?
Except it was exactly a murder... it all began with an obsession and some crazy thoughts, that geared to the richest girl in town, and the most popular one, Eva Tilling. She's the most popular girl in school, and certainly has parents that are the most known, and is part of one of the founding families in their small town in North Carolina. Eva wakes up in the hospital, and has no idea what has happened. She's all bandaged up, and has broken her leg. And then she sees herself in the mirror, and that ruins everything. She is notified that she was struck and hit in a hit and run, and no one has any idea of who could've done this to her and why. Was it by accident, or on purpose? The thing is, Eva is well liked and there was never any fuss to complain about. But everything is not what it seems... as it usually is. What happens when you were "made for someone?"
This was one hell of a thrill ride. That was the first sentence that I literally thought of when finishing this book, and I guess that everyone will be thinking that. At the same time, this was a crazy mystery/thriller and somewhat of a paranormal romance, but I'd stay away from that thought because it certainly wasn't anything close to what Melissa originally wrote about in her previous novels. She began off with a gorgeous premise and a few interesting points of view.
You'll probably think that you know what will happen. I was so damn sure that I knew who it was. Who "Judge" was. It made perfect sense. And then the ending came, and I was like:
AHSHFGRIJGJ[EHGJGEDHGIHE. WOW. WHO LITERALLY SAW THAT COMING?! I can't imagine how people admit that they saw that ending coming. You literally have to be Nancy Drew to figure that out.
So yes, everything about this book was perfect. The plot was unbelievable and I was glued to the book and was unable to let it go until I finished it. Now, when does that happen to me? Rarely, I tell you. I've read Marr's books in the past and never have been even close to being intrigued as I was here. This was some serious plot-making.
JUDGE WAS CREEPY AS FUDGE.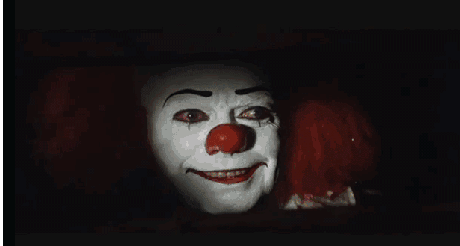 I got so creeped out by him. Reading the POV of a psychopath killer is unbelievably weird. I literally thought of that clown from IT when reading his POV. And then when he came to the hospital and left the flowe—yeah I was screwed. AND WHEN WE FOUND OUT WHO HE WAS—I'll never get over it. (I have a crazy fear of clowns so I am closing my eyes while adding that gif in).
And Eva was your average posh-country princess that you're picturing in your head. But at the same time, she was smart, kick-ass and totally not naive. She wasn't broken, and she was strong while all of those crazy events were happening... TO HER. I don't know how she did it, honestly.
That ending was fabulous, as I already said a thousand times during this review, I NEVER SAW IT COMING. HOWHOWHOWHOW? I don't know, and I seriously don't know how Marr was capable of writing such a perfect book, I felt it coming down from the heavens. Definite favourite of 2014, right next to Dissonance.