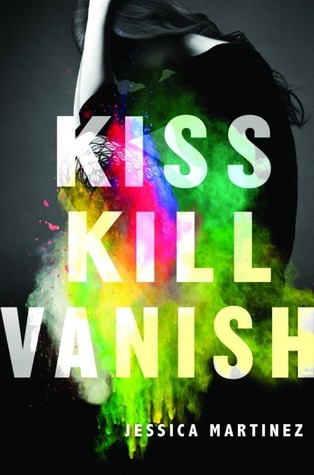 Kiss Kill Vanish,
by
Jessica Martinez
Published By: Katherine Tegen Books on October 7, 2014
Genre: Young Adult Fiction, Contemporary, Mystery/Thriller, Romance
Pages: 432
Format: Hardcover Edition
Source: Borrowed
My Rating:
Valentina Cruz no longer exists.


One moment, she was wrapped in Emilio's arms, melting into his kiss. The next, she was witnessing the unthinkable: a murder in cold blood, ordered by her father and carried out by her boyfriend. When Emilio pulled the trigger, Valentina disappeared. She made a split-second decision to shed her identity and flee her life of privilege, leaving the glittering parties and sultry nightlife of Miami far behind.




She doesn't know how to explain to herself what she saw. All she knows now is that nothing she believed about her family, her heart, or Emilio's love, was real.




She can change her name and deny her past, but Valentina can't run from the truth. The lines between right and wrong, and trust and betrayal, will be blurred beyond recognition as she untangles the deceptions of the two men she once loved and races to find her own truth.
I honestly don't know what she's doing here, but it fits.
For a long time, I've been waiting for the right mystery novel. They come and go, and they go and they come, I guess. Sometimes I find that mystery-novel heroines are such tryhard Nancy Drews, and then there are the authors who totally have a head on their shoulders and choose to write about people who are part of their own mystery, in a way. That was who Valentina Cruz was.
Her story was unbelievable. Jessica Martinez wrote something that definitely sounds like it came out of the mind of James Patterson or Sherlock Holmes or someone
mysteriously magnificent. Kiss Kill Vanish
gave me so many holy-shit moments when I couldn't believe that I was reading such a heart-stopping book. And then came the negative things by the end. And in a way, I was truthfully and strongly disappointed with the outcome. But I guess that's the way mysteries come and go, right?
Mystery-murder novels for me are like historical-fiction, they're either hits, or misses. You never know what to expect because when you do expect something, it usually ends up going in the total opposite direction.
Another Jack the Ripper incident? Hah, yeah right.
This is like the movie
Taken
with Liam Neeson. Man, do I love his acting. He's like the total badass dad who's willing to do just about anything to save his daughter. Except in this case, Valentina's father is the strangest man on the universe who still is willing to protect his daughter in weird ways, and turning her on a different side and making her do stupid things. What father would make his loving daughter *goody two shoe act* to unwanted things?
Valentina thought she loved Emilio. What do you honestly expect to do when you're in love and it seems like the person that you're in love with is in love with you? Nothing, because you're too dazed to figure out right from wrong, and truth from lies. Now, she's scarred for life, and is unable to look at her past life the same way. She fled from the murder scene, the murder scene created by her father and boyfriend, and is living on selfish ways and routes. Now, he's found her, but the truth isn't really slipping out. So is it possible to change your name and act and pretend that the past never happened? Absolutely not.
This so-called "mystery" was too good to be true. It was cliché, and not what I expected. From this moment on, I've learned to not have or receive expectations from mystery novels, because I'm usually left disappointed, or with a "meh" reaction. Why else try?

Bookish atmospheres are strongly important, or at least in my eyes. This was taken place in Canada. *cheers for home country* FOR ONCE. Honestly, I'm used to one of those small-town mysteries that you'll always expect to happen. And then when you'll see what Valentina does to survive... Is horrible. Maybe even as horrible as the conditions that she had to witness prior to the current events.
"Hours. They've passed. The shock has bled out of me, and now I feel empty and scraped raw. Gutless, guilty Valentina."
Scary and unreal to admit, we've just found ourselves an unconfident protagonist. In most cases, I would've fled the book and would've dropped it out of the highest building in the world, but it fit the story. As you read the book, you'll find yourself becoming more and more friends with Valentina, and you'll understand her troubles. She felt useless, and she didn't have a clue on what was happening half of the time. I don't blame her for running away and trying to forget about everything. But she actually wasn't able to.
I was waiting for something deeper. This originally had the look of a great and simple mystery, but what was this contemporary story? It was lacking romance, and by the end, I didn't really see the point or strong message. Thankfully there were a few things impressing me.