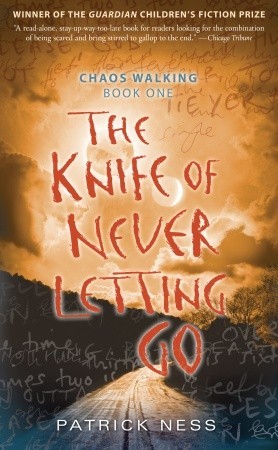 The Knife of Never Letting Go (Chaos Walking #1),
by Patrick Ness
Genre: Young Adult Fiction, Dystopia, Science-Fiction, Adventure
Rating: 3/5 stars
Publication: May 5, 2008, by Walker
Format: Paperback Edition (borrowed)
Goodreads Summary: Todd Hewitt is the only boy in a town of men. Ever since the settlers were infected with the Noise germ, Todd can hear everything the men think, and they hear everything he thinks. Todd is just a month away from becoming a man, but in the midst of the cacophony, he knows that the town is hiding something from him -- something so awful Todd is forced to flee with only his dog, whose simple, loyal voice he hears too. With hostile men from the town in pursuit, the two stumble upon a strange and eerily silent creature: a girl. Who is she? Why wasn't she killed by the germ like all the females on New World? Propelled by Todd's gritty narration, readers are in for a white-knuckle journey in which a boy on the cusp of manhood must unlearn everything he knows in order to figure out who he truly is.
Review:
I fell in love with Patrick Ness's writing back early this year with A Monster Calls. That was probably the most heartbreaking, charming, and special story that I ever read, and that I'll probably ever read. This time around, I came back to the story that really began his fame and the story that captivated every YA reader, The Knife of Never Letting Go. So many people came to adore this trilogy, and I finally decided that it was my turn to come into this world of lies and mystery, in a dystopian setting full of all men, until a girl shows up and changes Todd's life forever.
Out of my little over 200 friends on Goodreads, 118 of them have reviewed this book or added it onto their TBR shelf. And from those who've read this, almost all of them (except 2) have given this a 4 star and above rating. That's wacko, if you ask me. But at the same time, that really shows the kind of fandom and stardom Ness has in the bookish world. And this book was published in 2008. This is probably the oldest dystopian book I've ever read to date!
I'm sorry that I didn't enjoy this as much as other people did, but Patrick, you sure deserve a brilliant round of applause for writing such an unique story that let me thinking.
This story all begins with us getting to know Todd and his dog, and the atmosphere that they're in. From the start, we can already guess that this is featured in a dystopian setting, and that immediately boosted this book's mega excellence points up by 500. This premise is unique and shows that the Chaos Walking trilogy obviously began the era and genre of dystopia. From there on, look at the kind of stories that authors have created! *cheers* Todd is last not-man in his tribe, and where he lives in the New World. Todd, and the rest of the men in his town were infected with the Noise germ, and now he can hear everything that the others think. What they think is called their "Noise," and this basic idea is really what started the rest of the book and really got it going to a whole new level. One day, Todd is forced to flee away from the town, a month before he's supposed to turn into a man, and all he has is his dog with him. That's where everything basically begins.
Mind-reading, a messed up setting, deserts, something like The Maze Runner, we have a bunch of different scenarios all squashed up together to form this wonderful story. Firstly, I must have to say that this book definitely could've been better. It could've ended up better in so many ways. But at the same time, Patrick's writing is what brought this story to a whole different level and is what kept me going. He gave me a chance to experience the "story and life" of a young boy who's all alone.
You don't even know what kind of guilt and sorriness you'll feel for Todd by the end of this story. He was a poor soul. :( I imagined him like an 11 year old walking alone in the desert, somewhat like the characters in the movie Up.
The feelings were there. THE FEELS WERE THERE. In this chunky large book, I did shed a few tears, three or four times overall. I must say that this was a strong story that wasn't fluffy whatsoever. I was left captivated over and over by every chapter, but there were many things missing that I wish were there.
More action. At some points, I felt like the story was dragging on and on, although the end of chapters were exhilarating. And more unique characters. I felt like we got a bunch of characters who were in sticky-situations. That's obviously okay, but they didn't deal with it well. It was droning on and on and nothing was happening that had to do with them. One minute we see them the other we don't. I don't know what was happening half of the time because it was all confusing.
This was a great book, don't get me wrong, I just wish that there was more to the story. I wanted something special, but instead I just got a regular 3 star book. Where's my 5 star?