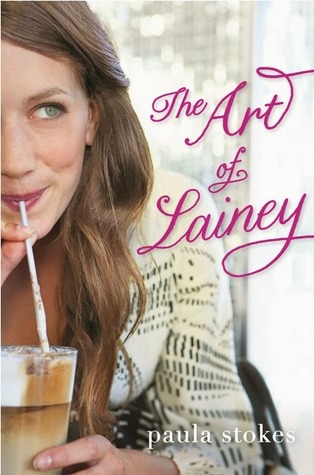 The Art of Lainey
by
Paula Stokes
Published By:
HarperTeen on May 20, 2014
Genre:
Young Adult Fiction, Contemporary, Romance
Pages:
384
Format:
Paperback Edition
Source:
Bought
My Rating:
Soccer star Lainey Mitchell is gearing up to spend an epic summer with her amazing boyfriend, Jason, when he suddenly breaks up with her—no reasons, no warning, and in public no less! Lainey is more than crushed, but with help from her friend Bianca, she resolves to do whatever it takes to get Jason back.




And that's when the girls stumble across a copy of The Art of War. With just one glance, they're sure they can use the book to lure Jason back into Lainey's arms. So Lainey channels her inner warlord, recruiting spies to gather intel and persuading her coworker Micah to pose as her new boyfriend to make Jason jealous. After a few "dates", it looks like her plan is going to work! But now her relationship with Micah is starting to feel like more than just a game.




What's a girl to do when what she wants is totally different from what she needs? How do you figure out the person you're meant to be with if you're still figuring out the person you're meant to be?
This past summer, I headed off to the bookstore, and came back with a book that changed my life forever. Now, you must be thinking that this sounds like the most cliché situation that I could possibly be put in, but I'm telling you—it changed my life. You want to change my life and make me even happier? Hand me a book that Paula Stokes wrote. She's honestly my new and most favourite author. Her words hit you hard and they impact you.
Looking back at my reaction of this story and Lainey's quirkiness, I was so inspired. This book wasn't an one-time event that comes and goes. This was a story that will tend to stay with you forever because it's just so damn real and if I look outside my window, I can see Lainey and Micah falling in love. This was one of the most realest contemporaries I've ever read, and probably the best book I've read this year. It's on my TOP TEN, people. If you know me, I have thousands of favourites. 5 star ratings come and go, but this book zapped me out of my depressing 3 star-state.
"Why do you care?" He glances over. "You afraid of me now?" "No," I say quickly. And it's true. Even if he carries a switchblade and pretends to be badass, he doesn't seem much different from the kid I knew in fifth grade. "I'm just trying to... get to know you again."
That's what this book did to my heart. NO, not set it on fire, but think of the fire-crackling sound. That warmth, that beauty, yeah that's it. I'm still left without words because this book poisoned me with love. It was like looking outside your window and looking at the first snowfall of the season, which I actually am doing at the moment. It was a whole new experience, and I officially have lived another experience with a bunch of gorgeous and memorable characters.
As you begin reading this book, you'll probably be thinking that this is your average contemporary story. Well, IT'S NOT. Lainey Mitchell is living the perfect life—she has awesome friends, a mega-hot boyfriend, and is super-popular and gets invited to the best parties around. And then, everything falls apart when her boyfriend, Jason, breaks up with her. She is unbelieved, and wants him back. But the way she tries to get him back creates a war, and this is something crazily crazy. Teaming up with Micah, the guy who works at her parents coffee shop (did I mention that he's completely gothic and has piercings?) she pretends to date Micah so she can get Jason back, and Micah can get his old girlfriend back as well. But what happens when the unthinkable and impossible happens? Lainey and Micah fall in love instead? But of course that leads to not thinking straight and everyone not knowing what they really want in the end.
This was straight up the cutest story that I've ever read. I must admit, I was a little late onto reading it, and now I feel guilty for not picking it up sooner, and finding out about Paula's amazing writing even sooner. The buzz is correct, the general public is correct! And I'm very happy to say that my expectations were correct, but they were still blown off the wall because it was even better than what I expected. Can't I give this a thousand star rating instead?
I wish that I was able to finish this book in one sitting. But I began it late and I had school the next day and had to study, so it turned into a three-day period. But as I continued reading this book during the three days, I devoured it slowly, more slowly than I would've ever imagined. Everything flowed together perfectly, and I found that this was the way a true and real love story was supposed to be written. Not any other way. Paula Stokes can easily become the next Jane Austen or Shakespeare, she mastered it so easily, at least it seemed that way.
COME ON MICAH





ILOVEMICAH ILOVEMICAH ILOVEMICAH ILOVEMICAH ILOVEMICAH ILOVEMICAH ILOVEMICAH ILOVEMICAH ILOVEMICAH ILOVEMICAH ILOVEMICAH ILOVEMICAH ILOVEMICAH ILOVEMICAH ILOVEMICAH ILOVEMICAH ILOVEMICAH ILOVEMICAH ILOVEMICAH ILOVEMICAH ILOVEMICAH ILOVEMICAH ILOVEMICAH ILOVEMICAH ILOVEMICAH ILOVEMICAH ILOVEMICAH ILOVEMICAH ILOVEMICAH ILOVEMICAH ILOVEMICAH ILOVEMICAH ILOVEMICAH ILOVEMICAH ILOVEMICAH ILOVEMICAH ILOVEMICAH ILOVEMICAH ILOVEMICAH ILOVEMICAH ILOVEMICAH
Micah was perfect. He is easily the hottest YA male character in contemporary history. UGH COME TO ME. I love him so much and am totally jealous of Lainey, but hey, she totally deserves him and his gorgeousness.
"You're like this punk-rock baker," I say, shaking my head. "What's wrong with that?" "A bit of a contradiction, don't you think?" I wipe the sweat from my forehead, running my hand over my hair to tame the flyaways. I can feel it starting to frizz. Micah looks hard at me for a moment as we reach the cars. The sun catches his hazel eyes, reflecting ribbons of green and gold through the warm summer air. "Most people are."
I guess you've probably got enough of me talking. But the important catch here about Lainey and Micah is that they're total opposites—but they match and are perfect for each other. Their romance and love was beyond expectations, and it was slow and devouring, unlike many other stories I've read in the past. Romeo and Juliet definitely have competition, I must announce.
I got everything I wanted and more from this book. When I finished reading, I sat there like an idiot, smiling and praising myself for choosing to read this. The plot was gorgeous, the idea was gorgeous, MICAH was gorgeous, and the art that Lainey provided for us was witty, hilarious, and true. By the end, you will feel like you've witnessed a true work of art.