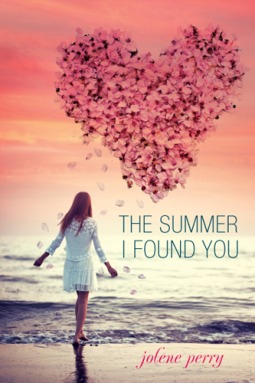 The Summer I Found You
by
Jolene Perry
Published By:
Albert Whitman & Company on March 1, 2014
Genre:
Young Adult Fiction, Contemporary, Romance
Pages:
240
Format:
Hardcover Edition
Source:
Borrowed
My Rating:
All they have in common is that they're less than perfect. And all they're looking for is the perfect distraction. Kate's dream boyfriend has just broken up with her and she's still reeling from her diagnosis of type 1 diabetes. Aidan planned on being a lifer in the army and went to Afghanistan straight out of high school. Now he's a disabled young veteran struggling to embrace his new life. When Kate and Aidan find each other neither one wants to get attached. But could they be right for each other after all?
My first reaction when seeing the cover
I was so excited to read this book. I mean, who wouldn't be when spotting a summery cover when it's like -4 degrees outside? This is a definite seasonal read, I must tell you. And now when looking back at the outcome, I'm very pleased because I did manage to shed some tears of happiness.
First thoughts: DAMN WHAT A BEAUTIFUL ROMANCE. Jolene Perry has written such a freaking awesome story that got me fanning myself because of the feels. The feels were honestly outrageous. What this book did to me was so different and I wish that there was more buzz. MORE PEOPLE NEED TO FIND OUT ABOUT THIS BOOK AND I WILL BE THE PERSON TO DO IT. Jolene Perry is the new Sarah Dessen, except her stories are more from the heart and deal with such tough subjects.
This all begins when Kate's love of her life suddenly breaks up with her on a random day with no explanation why. And then she sees him with a mystery girl, and this obviously breaks her heart. Soon after, Kate meets Aidan, an older guy who lost his arm while fighting in the military. He has lost the job that took his life and made it amazing, but he now guesses that Kate's made it the best ever. But what happens when you have a medical condition such as diabetes and you don't tell the person you love the most?
You better tell them. Kate didn't and well... In the end at the same time, she became a fighter, and stronger than you'd ever expect her to become. Aidan made her stronger. :)
I must admit that I complained of my boredom in the beginning through the middle. The book seemed to have such a huge resemblance to While He Was Away by Karen Schreck and I was all, "Why wasn't this unique?!" but as I continued reading, things happened that made me scream and squeal and fangirl—all of the feels that makes a reading experience even greater.
Aidan was...
SO HOT, LIKE UGH. EVERYTHING ABOUT HIM WAS PERFECT.
His personality. He was so sweet EEE.
HIM
HIM
HIM
HIS VOICE
EVERYTHING—DO YOU GET IT? I just don't know how else to describe his perfection because he was there throughout for Kate and they were perfect. NOT A DOUCHEBAG WHATSOEVER.
The concept didn't seem to originally sound like a deep gorgeous romance story. But that's what it turned out to become! The scenes were... interesting and I'm the type who loves picture-perfect romance, so I obviously kept on reading forever and ever until the book was ever. I found myself taking it slow and reading it on my own basis because I was so intrigued. WHY DID AIDAN DO THIS TO ME?!
Picture-perfect romance, AIDAN, AIDAN, a deep story, touching moments, and did I say Aidan—this book was fantastic. I wasn't able to let it go and I still imagine what would happen next because Jolene Perry is one of the best writers of chick-lit fiction that I've read this year. I NEED MORE!