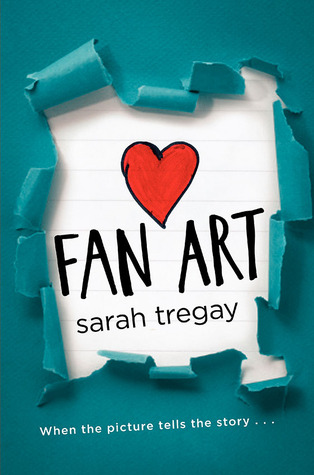 Fan Art, by Sarah Tregay

Genre: Young Adult Fiction, LGBTQ, Contemporary

Rating: 1/5 stars

Publication: June 17, 2014, by Katherine Tegen Books

Format: Hardcover Edition (borrowed)
When the picture tells the story…

As much as Jamie tries to keep it under wraps, everyone seems to know where his affections lie, and the giggling girls in art class are determined to help Jamie get together with Mason. But Jamie isn't sure if that's what he wants—because as much as Jamie would like to come clean to Mason, what if the truth ruins everything? What if there are no more road trips, taco dinners, or movie nights? Does he dare risk a childhood friendship for romance?

This book is about what happens when a picture reveals what we can't say, when art is truer than life, and how falling in love is easy, except when it's not. Fan Art explores the joys and pains of friendship, of pressing boundaries, and how facing our worst fears can sometimes lead us to what we want most.

Senior year is almost over, and Jamie Peterson has a big problem. Not college—that's all set. Not prom—he'll find a date somehow. No, it's the worst problem of all: he's fallen for his best friend.
WHAT HAPPENED? I expected great things about this book... but then at the same time, I expected bad things as well. There were mixed reviews all around, but I am so sad to have uncompleted it.
What was I supposed to do or say? For the 50 pages that I read, I found that nothing was happening and it was a no-plot story. It had the potential to become a favourite, I could see it like that, but it ended up totally boring and unimposing.
Fan Art was diverse. That was probably the only great and positive thing this book had. The rest of the time I was yawning and reminding my eyes to keep themselves open. And for 50 pages? Who would've thought that they'd get that bored so easily?
What I did recognize that this book was about was that Jamie Peterson is going crazy, wondering who he'll take to prom. Everyone supposedly has a date except for him, and that drives him bonkers. He has fallen in love with his best friend, Mason.
And stuff happens afterwards which drives everyone around Jamie crazy but no one knows that he likes Mason except him and himself... and some giggling chicks in his art class. At least that was supposed to happen... But I didn't get to that part because I decided to not give this book a chance.
So for those of you who did love this book, I'm totally sorry. *says sarcastically* Okay, I'm #sorrynotsorry. There are a ton of people, who no offense, have began a book and DNF-ed it at ten pages. So you should cut me some slack here and feel bad for me instead. This book has now depressed me because it ended up pretty bad in my opinion.
I didn't like Jamie, I didn't like Mason, I didn't like the story or the writing. What else was there to enjoy? Nothing, I tell you. The feelings that I got after putting this book down was that feeling when you don't see a speck of snow on the ground on Christmas. Non-white Christmases suck, at least for those of us who have witnessed snow in one way or another.
There was no happiness for me when reading this book. I sat on the couch with a monotone and poker face until I let it go. And then I grinned like a maniac because I was just so happy it was over. *cries inside* It does make me sad that I didn't find any sort of enjoyment when reading this, except for the fact that the romance could've possibly taken a stand if the chance came, but I let it go. No guilt, no regrets, just sadness is what's left of me after I put this down.
I honestly don't even know if I should recommend this book to you or not. In some ways, it's totally worth it if you're not even looking for a good story but just some humour and diversity mixed together. But if you're in for a serious read, I'd run away and hide yourself on top of the tallest building in the world if I were you. Good luck!