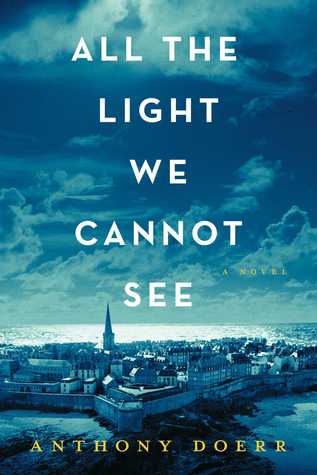 All the Light We Cannot See,
by
Anthony Doerr
Publication:
May 6, 2014, by Scribner
Genre:
Adult Fiction, Historical
Pages:
531
Format:
Paperback
Source:
Gifted
Rating:
Marie-Laure lives with her father in Paris near the Museum of Natural History, where he works as the master of its thousands of locks. When she is six, Marie-Laure goes blind and her father builds a perfect miniature of their neighborhood so she can memorize it by touch and navigate her way home. When Marie-Laure is twelve, the Nazis occupy Paris, and father and daughter flee to the walled citadel of Saint-Malo, where Marie-Laure's reclusive great-uncle lives in a tall house by the sea. With them they carry what might be the museum's most valuable and dangerous jewel.




In a mining town in Germany, the orphan Werner grows up with his younger sister, enchanted by a crude radio they find. Werner becomes an expert at building and fixing these crucial new instruments, a talent that wins him a place at a brutal academy for Hitler Youth, then a special assignment to track the resistance. More and more aware of the human cost of his intelligence, Werner travels through the heart of the war and, finally, into Saint-Malo, where his story and Marie-Laure's converge.
I can say that I finally understand why this book is so raved about. With its captivating message, and a romance that is unlike any other, Doerr has written about that everyone will remember for ages.
All the Light We Cannot See
was utterly fabulous, and it was definitely one of the best war-stories I've read to this date, taken place from the point-of-view of both a blind young woman trying to find her place in the world and a dashing young soldier who's trying to save everyone from the flaws in their world.
Last year in 2014, everyone was talking about this. THERE WERE 5 STAR REVIEWS EVERYWHERE, and I felt so lost as I barely even knew what the book was about. Then for Christmas, I asked for this on my wish-list, and I thankfully got it and brought it with me on vacation. Little did I know that it would be
this depressing and beautiful.
What do you expect from a story taken place in World War II?
"Don't you want to be alive before you die?"
Here we have quiet but mysterious Marie-Laure, who feels that all she has is her father, who works hard and tries his best to help her out, as she's blind and misses the sight of seeing the beauty in her city of Paris. When she is twelve, her and her father have to leave their city and walk for weeks to a small-town where her great-uncle lives. He's the sweetest person and would love to begin to care for Marie-Laure and the friendship that they have is unlike any other. At the same time, we learn about Werner's story, who lives with his younger sister in an orphanage. As he grows older, he becomes an expert at all things electrical and building, and then gets an opportunity to use his talent for the war. Together, somehow, their stories eventually
connect and readers are left shocked.
When we started off, I expected for us to see Werner and Marie-Laure together in a few chapters. I thought that this would be an everlasting love story that continues on and off until the war ends and they finally end up together.
This isn't the case.
Doerr gets this to be a very slow (but beautiful) story where we zoom in and out of their pasts and into the present, jumping in between years. We find about Werner's tough childhood, and Marie-Laure's jump into blindness and the struggles that she had to go through in order to be understood by those around her. Of course, they do get together, but my, does it take a while,
and then they're left apart again,
unable to stop thinking about each other and each other's beauty.
This does absolutely show how a catastrophic situation can bring something good in the end. You may feel like you're forced to be in a situation, but in the end your whole opinion changes because of something that happened or because of a person that you met and whom inspired you. I can tell you that some things have happened like that, but definitely nothing
that special.
And I believe it—there had to have been many stories like this one that changed people's lives.
After this, I have to admit that I was thoroughly depressed. My heart started pumping less and less, and I felt that I've just gone through a loss. No, I didn't go into a reading-slump, but it was absolutely close. The impact that a book like this can have on you is so absurd but cool at the same time. The characters weren't like any other, and they left me shedding tears at times. Every time that I hear a love song about losing one another, I keep thinking about Werner and Marie-Laure. *throws hearts into the air*
You'll need peace and quiet to go through this, as it is very addicting and you won't be able to stop reading. You need to catch all of the special details that the author added in to totally understand the love story that is about to come. *grins* Though it was a little slow at times, especially in the beginning, I will remember the adult novel that warmed my heart to its fullest extent.
Imagine this like an older version of The Book Thief by Markus Zusak. Here's Liesel and Rudy, Marie-Laure and Werner, though they sadly didn't have too much time to spend together, but I can tell you that they connected instantly and the way that they described each other was better than gold. They had hearts of gold.
"When I lost my sight, Werner, people said I was brave. When my father left, people said I was brave. But it is not bravery; I have no choice. I wake up and live my life. Don't you do the same?"
Next off, this really shows how someone can have an impact on you. Both Marie-Laure's father and great-uncle had such influences on her and helped her to learn so much. I loved their characters so much that when something happened to them I would shed a tear and feel it completely, and feel the loss for Marie-Laure. But Marie-Laure herself was a character who needed to still learn more at her age. She's very monotone and I didn't see much emotion coming from her side. I guess she was always frustrated that she couldn't see people... and I felt her, but wished that she was more
confident?
Yes, the ending of this one was heartbreaking and mind-shattering. I loved how Doerr added in an epilogue, where we found out what happened in the future to the characters. (*twitches* Won't spoil book...) Overall, this was an inspiring to many, and I totally see why. The concept was gorgeous, and so was the romance, although it left my heart aching in the end. Yes, the plot was a little weak at times, and Marie-Laure's character needed some work. but this is surely a read that I will remember for a long time, and it gave me a view that we all
cannot always see.