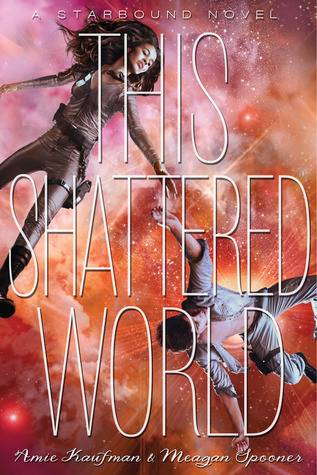 This Shattered World (Starbound #2),
by
Amie Kaufman
and
Meagan Spooner
Publication:
December 23, 2014, by Disney-Hyperion
Genre:
Young Adult Fiction, Dystopian, Romance, Science-Fiction
Pages:
390
Format:
Hardcover
Source:
Purchased
Rating:
The second installment in the epic Starbound trilogy introduces a new pair of star-crossed lovers on two sides of a bloody war.




Jubilee Chase and Flynn Cormac should never have met.




Lee is captain of the forces sent to Avon to crush the terraformed planet's rebellious colonists, but she has her own reasons for hating the insurgents.




Rebellion is in Flynn's blood. Terraforming corporations make their fortune by recruiting colonists to make the inhospitable planets livable, with the promise of a better life for their children. But they never fulfilled their promise on Avon, and decades later, Flynn is leading the rebellion.




Desperate for any advantage in a bloody and unrelentingly war, Flynn does the only thing that makes sense when he and Lee cross paths: he returns to base with her as prisoner. But as his fellow rebels prepare to execute this tough-talking girl with nerves of steel, Flynn makes another choice that will change him forever. He and Lee escape the rebel base together, caught between two sides of a senseless war.
Love, war, peace (just kidding), forbidden romance, and a definite gorgeous world-setting, I must say that Kaufman and Spooner have seriously done it again. The Starbound trilogy is still heart-racing and as interesting as it always has been, and I can't wait for more.
This Shattered World
was one read that I've been anticipating to devour for a long time. I mean, we all have, and the last time I picked up a book by these authors was last summer, when I read TBS. I finished it in one sitting, and I must say that one of the reasons why I became so in love with the series and knew that I had to pick it up was because
of the covers.
These are so gorgeous and I love looking at my copy that's sitting right in front of me at this very moment. No, I'm seriously not saying that I'm judging these any differently whatsoever (I'd read these books with or without a cover), but this just
adds to the fun.
You know how the Goodreads summary describes this trilogy as "epic?" Yeah, I believe that they are
absolutely fucking correct.
For a while, I haven't read such an epic and crazy full-of-action read, and I seriously thought that I was getting sick and tired of dystopias and science-fictions that made me wish to live in the future. NO, this just
whacked
all of those lame series out of here, and this is the boss in town, I'm telling you fellas. Rebellion is in Kaufman and Spooner's blood. *snickers*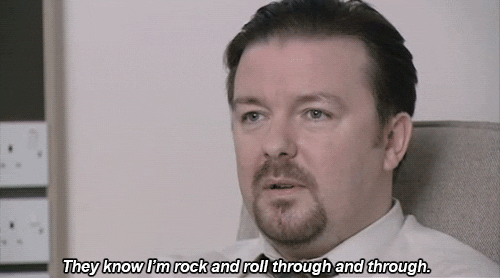 So where does the epic begin? When Jubilee and Flynn meet. But the wild wild thing that caught me surprised (and surely coloured me impressed) was that I was anxious to see how this couple would be. In TBS, I fell in love with Tarver and Lilac, and they still remain one of my favourite all-time fictional couples because of their chemistry and connection. Their story definitely fitted their book, and I was afraid that (a) We wouldn't be able to see them, which we ACTUALLY DID and (b) Lee and Flynn would be disastrous because they wouldn't follow Tarver's and Lilac's footsteps. And I was wrong with both of my immature theories, and I can tell you that the authors have set this in the exact way and I loved them both. Who knows, maybe this was intentional to be something like Romeo and Juliet, as I absolutely adored when Jubilee called Flynn "Romeo."
So, basically these guys are star-crossed lovers. It may seem cheesy, but it's definitely much better than some other lame story where they meet if they bump into each other or something. Well actually, there's a whole backstory to the way they met, but you'll have to read the book to see that since I won't spoil it for you. Jubilee's sitting at a bar, having a drink, and she catches some "pretty guy" starring at her. How is she not supposed to stare back? He offers to buy her a drink, (as the great stories usually do start), and they end up having a chat (not a good one) and they fight each other since they're from opposite sides of the war, or whatever conflict's going on in Avon. Jubilee wonders where this guy's from, and sooner than they expect, they become closer and they end up trying to save each other rather than killing and cutting their heads off, as they're expected to do.
"She was supposed to be brave. But the girl was only eight years old, and she wasn't brave, and when the operatives from the orphanage came to get her, no one had bothered yet to clean the blood from her hands."
Can I just say that I loved the concept of
love and war?
And it's not like there's some sort of royalty here where the girl doesn't do anything and everyone's fighting for her safety. Both sides, boy and girl, are on opposite sides, and they're fighting and willing to save each other from the stupid idiots who are doing stupid things. *laughs* This is like all of those wonderful war stories, but tons of times better since there's a twist and addition of
sci-fi.
FLYNN ABSOLUTELY OWES JUBILEE EVERYTHING. Over the course of the novel, I can't even explain to you how many times has Jubilee risked her life for him. She's kick-ass, bold, and I adored her character. I feel that all of the tragedy that she has gone through throughout her whole lifespan has made her stronger and tougher, and she won't let any stupid stuff get in her way of doing her job. She wants to save her people, as her parents were willing to save her, but then things changed when Flynn's sister made the rebellion, when you kind of think about it. To tell you the truth, I basically liked Lee much better than Lilac, and that's a lot to say.
And Flynn? Yeah, he certainly was cocky, but he was hilarious and passionate. The cutest thing was that he loved Jubilee from the beginning, when they made eye contact by looking at the mirror. *giggles* He was passionate about his love for Lee, and about saving his people and keeping his race sane and his planet exactly the way it should be, just like his sister would've wanted it to be. Him and Lee were two separate souls who certainly deserved love in their lives as all they have ever witnessed and felt was tragedy and sickness of the worlds that they have to be in with injustice and war. But together, I didn't like them so much.
"'I'm not your enemy, Jubilee Chase,' I whisper. 'And I don't think you're mine.' I lean after her until I can capture her mouth again."
You see, what we kept seeing in their love was
breaking apart.
Flynn loved Lee, but it was like Lee faked it and just used him. I'm not sure what else there was to behind her character, but hey, nothing was crystal clear between them until the pages closed and everything finally closed together, like a perfect ending. A weakness in the book? Yep.
What the book then continued to be from start to end was a really interesting and deep story.
I won't say that it was better than the first, because it absolutely wasn't.
Here, this was about a lot of plan-making and scenery changes, which hadn't bothered me, but there was a lack of... meaning. I didn't see the point to this novel as much as I did with TBS, since I didn't feel emotion with this.
I didn't laugh, or shed a tear at all.
I felt like my attitude throughout was monotone, when I really was forcing myself to feel something, but it never came out. The passion from the characters is the main highlight, though.
This Shattered World
actually did shatter me. I was left fawning over the world development that was present, where I was interested in seeing the way Avon was failing, but how hard the characters were working in order to bring their destinies and everything to a happy ending. Of course, this is only the sequel and second book, and
we're still heading towards the finale that will surely fracture, break and shatter our minds.
(Did you get that use of words?) Both Flynn and Jubilee stunned me from the start, and Spooner and Kaufman's words flow so swiftly into my mind that I can easily finish one of their books in one sitting in an instant. I can never get enough, and surely you won't either, as you'll hopefully join into the rippling effect of a fantastic YA dystopia.
Now I know that it's just not me who's obsessed with this series. Hah.
What are some of the best love-war books you've read?