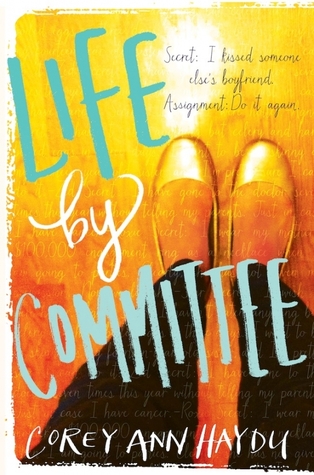 Life by Committee,
by
Corey Ann Haydu
Publication:
May 13, 2014, by Katherine Tegen Books
Genre:
Young Adult Fiction, Contemporary, Romance
Pages:
304
Format:
Hardcover
Source:
Gifted
Rating:
Some secrets are too good to keep.




Tabitha might be the only girl in the history of the world who actually gets less popular when she gets hot. But her so-called friends say she's changed, and they've dropped her flat.




Now Tab has no one to tell about the best and worst thing that has ever happened to her: Joe, who spills his most intimate secrets to her in their nightly online chats. Joe, whose touch is so electric, it makes Tab wonder if she could survive an actual kiss. Joe, who has Tabitha brimming with the restless energy of falling in love. Joe, who is someone else's boyfriend.




Just when Tab is afraid she'll burst from keeping the secret of Joe inside, she finds Life by Committee. The rules of LBC are simple: tell a secret, receive an assignment. Complete the assignment to keep your secret safe.




Tab likes it that the assignments push her to her limits, empowering her to live boldly and go further than she'd ever go on her own.




But in the name of truth and bravery, how far is too far to go?
Whoa, who would've thought or believed that taking mutual advice for your problems or to get your secrets fixed out and leave you happy be so chaotic and messed-up? I guess that's the theme that Corey Ann Haydu has provided us with while reading, where the things that you may have to do to help yourself may only stay in your heart.
The funny thing was, I barely knew what this book was about when I decided to pick it up. This has been sitting in my bookshelf for a few months since Christmas, and I just went for it since I was looking for a cute chick-lit that will leave all of the cuteness in my head and I'll be thinking about it for a few nights. Little did I know that the author has written the much-raved about
OCD Love Story.
That book is known to be one of the most brilliant contemporary-romances that we've seen for a few years, and I have to say that
this wasn't as good as I thought it'd be.
A slut? That's exactly what Tabitha's classmates and supposed-friends call her. Once she gets hot and changes her group of friends, everyone seems to see her as a boy-hogging, kissing, huge-boobs freak.
Umm... what?
And one of the worst things that she sees about herself is that she likes a guy with a girlfriend... who may seem to like her as well. Tab sees that she's in love with Joe, and spending nights unable to stop talking with him in text messages. She can't help herself, and she feels like this personal secret of hers will eventually be bursted, so she signs up for Life by Committee, an internet chat forum where you tell a secret and the people on it will give you an assignment, or else your secret will go out.
What happens when you go too far and listen to those around you too much?
Sh-- will go over the place, I tell you. I don't know this for myself as things have never went so far and out of hand, but Tabitha has really showed this to me. I just can't believe how things got ruined for her because of some crush, and people had peer-pressured her to do things that she normally wouldn't have. Then, people eventually saw her doing these crazy stuff and
her reputation got ruined, again.
"What I meant was: everything changes after tonight, and I'm not sure I'm ready. What I meant was: this was the last perfect moment before I do more terrifying things."
I don't know... this book was seriously lacking something sweet and real. Yes, I did love Tabitha's character as a protagonist, but I don't know if in reality, her actions would go as far and people would be that manipulative. If I read this book a year ago before I have advanced into high school, I think I would've believed Tab's story even more and the rating would've been higher. Now that I'm in this situation, I see that things do go far, but people aren't that manipulative. These days, teenagers just care about themselves (and a little far too much) and will gossip, but won't go and say things to your face. But hey, we're still naïve, just like Tab was. *snickers*
I actually expected this book to be about some school-newspaper columnist who gives advice. Thank goodness it wasn't, or else I probably would've DNFed this out of the complete utterly grossness of cheesiness. After Tabby's dumb actions, she probably could stand up for herself and give good advice to others in school that need it, but I don't feel like going far and begin to try to think about a sequel in the works, since I surely won't give it a chance.
"At the end of September, a little over one month ago, Joe told me he liked my new haircut and he'd never noticed how blue my eyes were until that very day. He told me Sasha wasn't as fun as me. He told me he'd had a dream about me."
Man, how naïve was that, my friends! I did like Tabitha as a character, don't get me wrong. It's just that the writing seemed to portray a role that us teenagers are going to go full-out and be
as reckless and wild as possible.
Guilt and sorrow was what people should've been feeling for Tabby, but the author made her seem like was the biggest and outrageously stupid loser in her school when there wasn't anything really clear to me that she did something wrong. Yeah, she was sneaking around with Joe, who's dating Sasha, but it's not like Tabby's in a relationship. It was stupid-Joe's fault, and if he knew it was wrong, he would've broken it up between them sooner. He simply didn't know what he was doing, and I felt that the author wanted to make something good happen between them, some kind of drama, but it didn't work out to be spectacular.
So, the main characters here were: Tabby, Elise, Joe, Devon, Cate, Paul and Sasha.
The author had to put a love triangle in, right?
Right. There was Tabby and Joe, and Tabby and Devon, although it was a little eerie that they just realized their love for each other in the end and didn't even have a somewhat kind of connection beforehand since all that Tabby could do was daydream about Joe and his cute dreamy personality. I, for myself, didn't see anything special about him, but I guess it was because I didn't like him from the start and there were no googly eyes involved whatsoever.
The only relationship that I seemed to approve on was that of Tab and Elise. The fact that Elise was her only friend really put happiness in my heart, and I felt that Elise was always there for her, but Tab was the one who pushed her away when the stupid LBC came into her life and overtook it. When LBC started, readers can tell that that's all that Tab can think about, and her actions are all given by the people who are on that committee. It destroyed her, her reputation (not that she should care anyways because she's awesome), her love life... and more importantly, her family. The people made her have a hateful relationship with her young parents who are soon going to have another child. Adding to that, Tab got jealous that no attention would be given to her. Poor people.
Life by Committee really could have been better, especially by looking at my reactions of previous chick-lit books that I have read lately. I couldn't connect to the setting and characters as the whole concept and situation seemed unrealistic at times (especially by looking at my experience as a teenager) when it really should be realer and different. The writing did keep me going and I liked the plot and the pacing that it took. Overall, this is a quick novel that's perfect for your first day of summer (or spring) break and you just want to experience a new bookish situation where a girl doesn't listen to herself but goes for the negative influences to decide which step her future will lead her in.